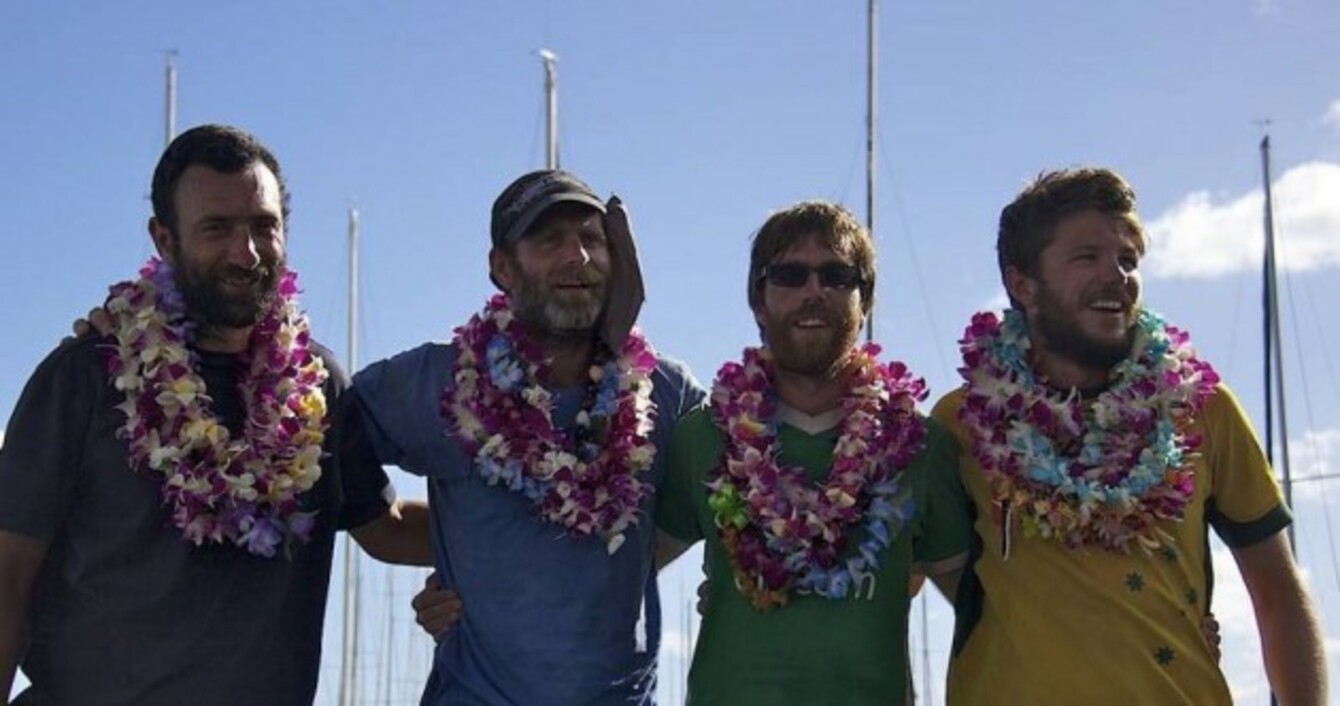 Cavanagh and his teammates pictured upon finishing their journey.
Cavanagh and his teammates pictured upon finishing their journey.
WHEN I SPOKE to Philip Cavanagh last November ahead of his quest to become the first Irishman ever to row the 2,000-plus miles across the Pacific Ocean, he listed some of the daunting challenges that lay ahead of him and his three crewmates.
Among the more disconcerting prospects were severe sea sickness, violent thunderstorms and shark attacks.
However, it's a measure of how smoothly his ultimately successful journey went that when I ask him for his lowlight of this incredible 45-day trip in which his team finished second out of 13 teams competing in the Great Pacific Race, he mentions his iPods malfunctioning.
"I brought four iPods with me because music has been a big part of my life and I imagined I would need music out there," Cavanagh tells TheScore.ie. "I was having a rough enough day as it was. It was kind of a shock to the system, I was thinking you're really on your own out here [when they broke].
"There wasn't enough battery in the solar panel to charge it because it's so powerful. You're on shift for four hours and all you have is the conversation with the person in front or behind you, so you really have to adapt to the situation.
"And when you're used to being alone [with your crewmates] for the whole six weeks, you run out of stories pretty quickly and you're at peace in the ocean while listening to your iPod. Talking to five or six different people with different stories was a bit overwhelming [after I finished], so it's taken us a few days to adapt and get our land [familiarity] back. We were walking around as if we were drunk and we didn't even have a pint of beer in us."
(Cavanagh pictured prior to his journey)
While there are inevitably some "hairy situations" caused by random events such as a crew member falling badly ill or stormy weather threatening to capsize the boat — two challenges Cavanagh and the rest of 'Team Battleborn' had to overcome at certain points of their journey — he believes the biggest test was the moments in between these sporadic bits of excitement, where a participant's boredom threshold and self-discipline is tested to its very limits.
Yet boat skipper Cavanagh, a keen student of sports psychology, was well able to deal with such issues.
"A lot of the teams [fail] because they haven't prepared well enough mentally. It's a tremendous challenge. We adapted to any situation fairly quickly… Leveling off the highs and the lows was really important."
He continues: "It was a lot easier than I thought it would be. You have blue all around you, the blue sea and the blue skies. There isn't a whole lot of visual stimulation, but if you accept the conditions you're in, it's a pretty sweet deal.
"We'd no bills to pay or no worries. So just the peace and some of the wildlife was amazing as well. So fish, sharks, whales, albatross birds, flying fish, that sort of stuff — it keeps you going for days on end."
Furthermore, another coping mechanism that Cavanagh and his crew employed in the absence of music was humour.
Hence, there was no joke that was too childish or ridiculous to make — an attitude in keeping with the positive philosophy that the Dubliner implored his teammates to adhere to.
"I had a vision maybe a year ago with all these rules laid out, but the only rule we really had was humour. If you could make somebody laugh when they were having a bad day, that was worth a thousand other bits of advice or information.
(The crew pictured as they approach the finish line)
"You couldn't take anything too seriously. One of the lads wrote on one of the doors: 'Pain is temporary, glory lasts forever.' But one of the other lads changed it to: 'Period pain is temporary, morning glory lasts forever'.
"So you were kept level-headed by everybody else. You had to take it day-by-day and not treat everything so seriously. And I think that attitude worked to our benefit."
That's not to suggest their trip was all fun and games however, as Cavanagh and co endured no shortage of difficulties along the way.
"I was saying to my Dad that every single day, we thought 'this is the last obstacle to overcome'. And even right at the end, we nearly capsized, so there was something to look forward to every day and something to feel a bit apprehensive about.
"The night shifts were pretty tough because you couldn't see the waves. There were a couple of times where I was knocked against the oars or against the guard rails, so there were times when it was pretty rough and we had 25-foot waves. But we said to ourselves, there's no scenario where we'll give up.
"The second half was not easier, because it wasn't easy at any stage, but in the first half, we had issues with sleep deprivation, yet we kind of settled into a rhythm after that.
"You don't really know what the Pacific is going to throw at you, but in comparison to other teams, there were airlifted rescues and people retiring after 24 hours, so I think we did pretty well in the end.
"But I think I had the worst run out there. I had a hernia and it just got worse and worse. There were certain foods like granola I ate for the last five days of the trip. All I had was granola and water at the end. So they were looking at me with their Snickers bars and cupcakes, but I couldn't eat anything else."
(Participants congregate prior to the start of the Great Pacific Race)
Another concern when embarking upon a challenge such as this is the possibility of running out of food supplies.
While Team Battleborn had enough food to last them 70 days in total, they were so busy before undertaking the journey that they were rushed into selecting their supplies, leading to some unwise choices.
"A third of the meals I ordered were this thing called breakfast skillet — it's just absolutely vile and we basically tried to avoid that at all costs. We had 20 days left of food. 10 days of breakfast skillet, so we just ate less food to make sure we didn't have to go near the stuff.
"We probably didn't have enough chocolate on board. I would have had maybe 15 bars a chocolate a day if I had the opportunity. But we had a lot of water on board and things like that if we needed it, and we had enough for seven days after we finished, so we were okay."
Not only were Cavanagh and co okay, they were positively jovial judging by the videos of their crossing of the finish line. However, there was perhaps one slight disappointment. Having led the race at one point, they ultimately had to be content with a second-place finish.
Yet given the scale of the achievement in finishing the race alone — a feat which many of those participating this year could not replicate — and getting good luck messages sent to them by everyone from former Olympic rower Sir Steve Redgrave to rock band The Killers, the result is something that's a minor quibble at best in their eyes.
(Legendary former Olympic rower Steve Redgrave was among those who paid tribute to Cavanagh and his crew)
"It ended up being a lot closer than we thought it would be. We said before the race that we do want to be competitive and we would love to win the race. But at the same time, we didn't want to win at all costs. We wanted to enjoy the experience.
"Looking back, at the halfway point, we went for a swim that slowed us down. We were a thousand miles away from any piece of land. We just thought about how cool it would be to go for a dip in the ocean with the land 1,000 miles away."
From there, they completed the journey in style, with the milestones occurring with increasing speed. Before they knew it, to their delight, they had less than 1,000 miles to go. Soon after, they were under the 100-mile mark and gradually they began seeing bits Hawaiian land, which meant that the finish line was imminent.
Cavanagh received a pleasant surprise upon this climax, as his parents and best friend from back in Ireland unexpectedly showed up to congratulate him on the historic achievement.
Hence, the 27-year-old rower has come a long way since the early days spent preparing for this challenge in the Sanovitae gym in Liffey Valley and with his trainer Matt Corbett of KiwiFit.
Cavanagh and his crewmates have also raised considerable funds for a number of charities, including Irish Guide Dogs for the Blind, while "people who I haven't talked to in years are giving hundreds and hundreds of Euro".
Nevertheless, for all his relief at finishing, the Bord Gáis worker admits that getting back to reality has been tough, but adds: "I wouldn't call [Hawaii] reality when you're from Palmerstown, walking around in your shorts at 3 o'clock in the morning.
"But it's going to be a bit weird. I'm not really looking forward to the nine-to-five grind that we all have to come back to."
With this in mind, is he going to once again seek a distraction in the form of another elaborate, arduous, energy-sapping challenge?
"If I do, it will not be in a rowing boat," he laughs.
As part of their trip, Philip Cavanagh and his teammates took part in a fundraising initiative for a number of charities, including Aware and Irish Guide Dogs for the Blind. For more details on how to donate, please visit their website at www.pacificrow2014.com.
All images used with permission from Philip Cavanagh.