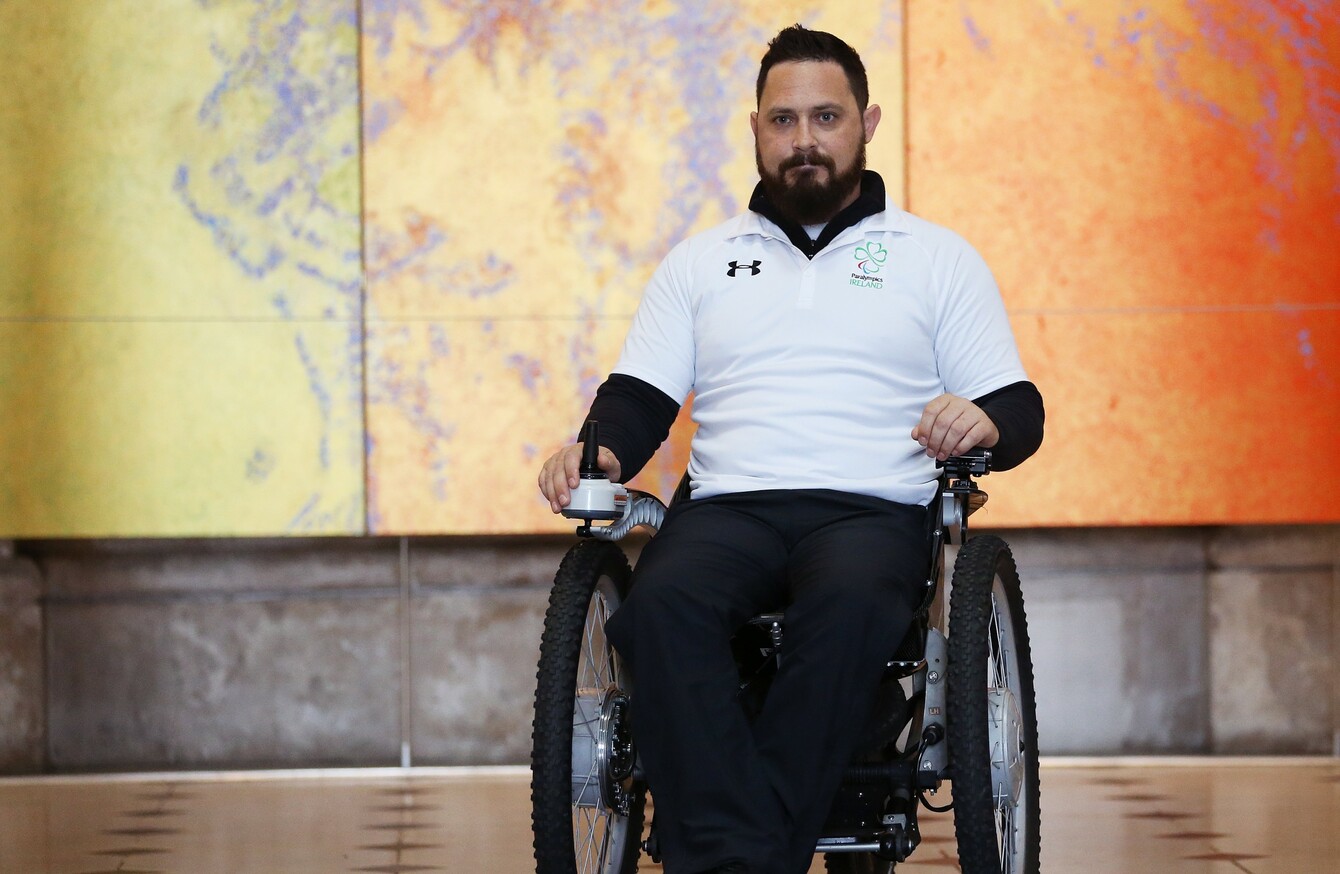 Philip Eaglesham competed for team Ireland at the Rio Paralympics.
Philip Eaglesham competed for team Ireland at the Rio Paralympics.
IRISH PARALYMPIC ATHLETE Philip Eaglesham is working on a revolutionary idea that will enable wheelchair bound people to live more comfortably and interact with their able body peers.
The former Royal Marine featured on today's Marian Finucane show on RTE Radio 1 to discuss the prototypes of his new device and the money he's hoping to raise to fund this project.
Referring the stigmas that affect disabled people, he said that enabling them to be at eye level with others is a proven remedy for that problem.
"There is a stigma around people in wheelchairs and mobility devices where people don't want to offend someone in a wheelchair. They don't know whether to stand up or sit down. There's been so much debate over the years that no-one knows what's right. People prefer different things."
"To be at eye level when you're travelling around, speaking to people, that takes that stigma straight away."
"Taking those perceptions away from the devices that are there is something that we want to do. Amputations and prosthetic limbs, they're deemed as cool now. 10 or 20 years ago, they weren't deemed that way. That innovation unfortunately has come through war and trying to make things better injured service personnel."
Eaglesham, who developed a debilitating condition called Q Fever while serving in Afghanistan, said that the core concept of his endeavor, is to empower "disabled people to live in an able person's environment."
He's in the process of refining a prototype model of a device which aims to do that very thing. More importantly, it will be a cost-effective invention that could amount to savings of up to £10,000 on the models which are currently available.
It's very costly for a disabled person having to widen the doors in their house. They need to put ramps in and a disabled kitchen. If we can make a device that lives in an able bodied environment that opens up people going to other people's houses and aiding that social interaction then it can only be a great thing."
"We have made a prototype that proves everything we want to do in that space and even that prototype, as cruel as it may look, I want to take it home to see the difference it will make to my life. From our launch when we brought it out, we had different people on it and they just wanted to take it there and then as well because of how it will affect and change their lives."
"We're raising money through a company called Crowdcube.com and people get to invest in it from as little as £10. We're hoping to raise a minimum of £600,000 and that will help us make these two prototypes at the end of August. We're very fortunate, we're nearly at £3,000 already and we only launched on Monday evening."
The42 is on Instagram! Tap the button below on your phone to follow us!