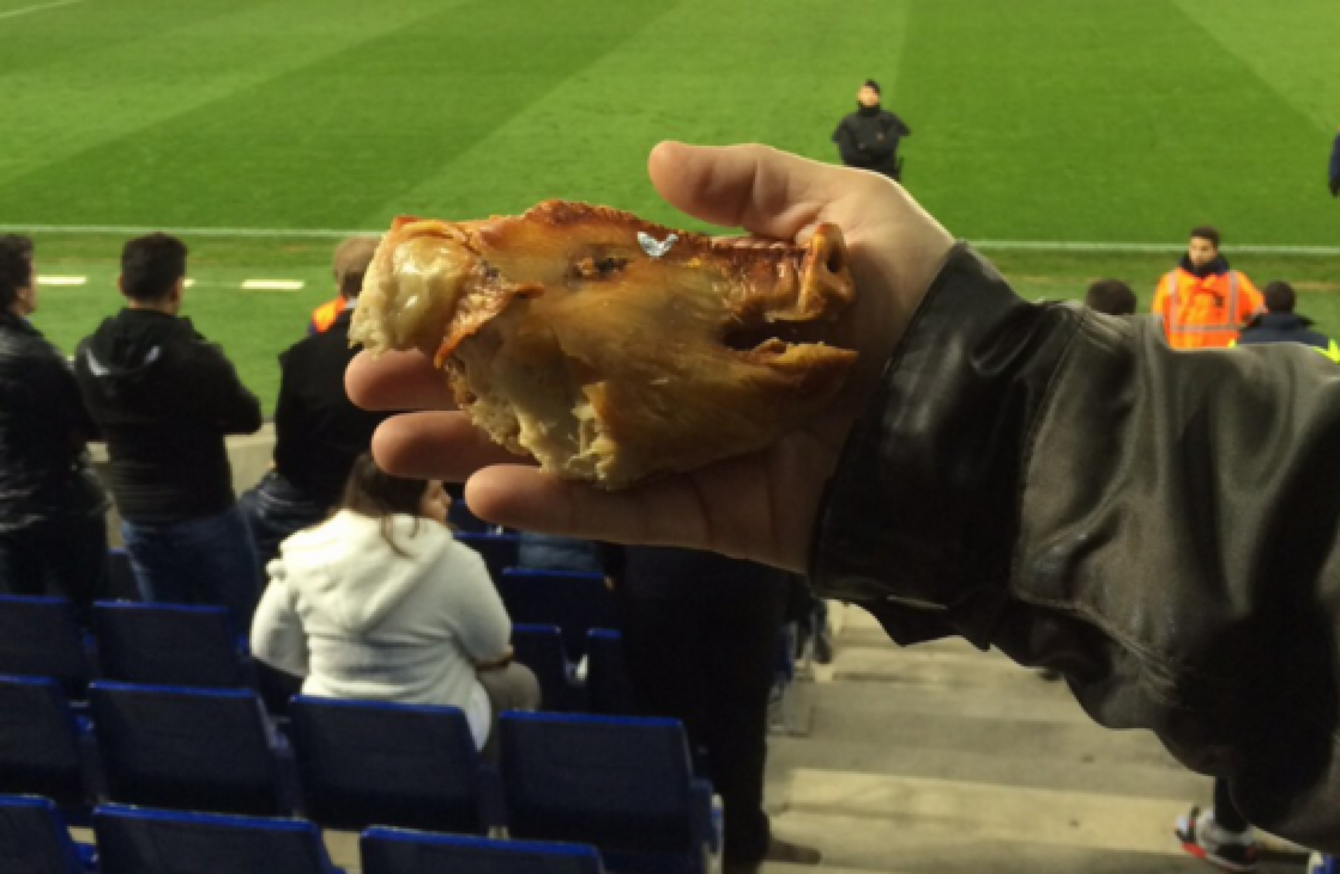 Updated at 16.40
THE BAD BLOOD between rivals Barcelona and Espanyol continued in last night's derby after it emerged Espanyol fans smuggled a pig's head into the stadium with the intention of throwing it at Barcelona's Gerard Pique.
Pique was an unused substitute in the Copa del Rey second leg clash at Cornella-El Prat Stadium and as a result the fans' plan never eventuated.
The 28-year-old defender had been the subject of scrutiny in recent weeks following provocative tweets about Espanyol and Real Madrid.
Espanyol may have a number of cases to answer regarding the behaviour of their fans after offensive banners were unveiled about Pique's pop star wife Shakira and his team-mate Luis Suarez.
"The banners and chants we saw last night at Cornella are unnacceptable and will be studied by the anti-violence commission," president of the Spanish sports council, Miguel Cardenal, said today.
Espanyol are already facing possible sanctions after the Spanish league reported racist chanting aimed at Brazilian star Neymar in the first of the recent clashes between the sides on January 2.
The fans who smuggled the pig's head into the stadium revealed they had planned to recreate the incident from November 2002 when Barcelona supporters threw a pig's head at former player Luis Figo when he was taking a corner for Real Madrid. See the below clip from 1.45 onwards.
Source: Lord Peter/YouTube
On the field, Barcelona sealed their place in the quarter-finals of the cup 6-1 on aggregate, courtesy of a 2-0 win on the night.
Fresh from picking up his record fifth Ballon d'Or, Lionel Messi was once again Barca's inspiration as he brilliantly picked out Munir El Haddadi to open the scoring before the youngster tapped home his second of the night late on.
Last night's troubles were the latest in a number of recent incidents between the sides as a fiery La Liga derby was soon followed by a troublesome first leg of the Copa del Rey tie.
In that encounter Espanyol had two men sent off while their goalkeeper went unpunished for what appeared to be a deliberate stamp on Messi.
https://streamable.com/ychp
Suarez received a two-match ban following that fixture for his role in a tunnel scuffle.
Additional reporting by AFP