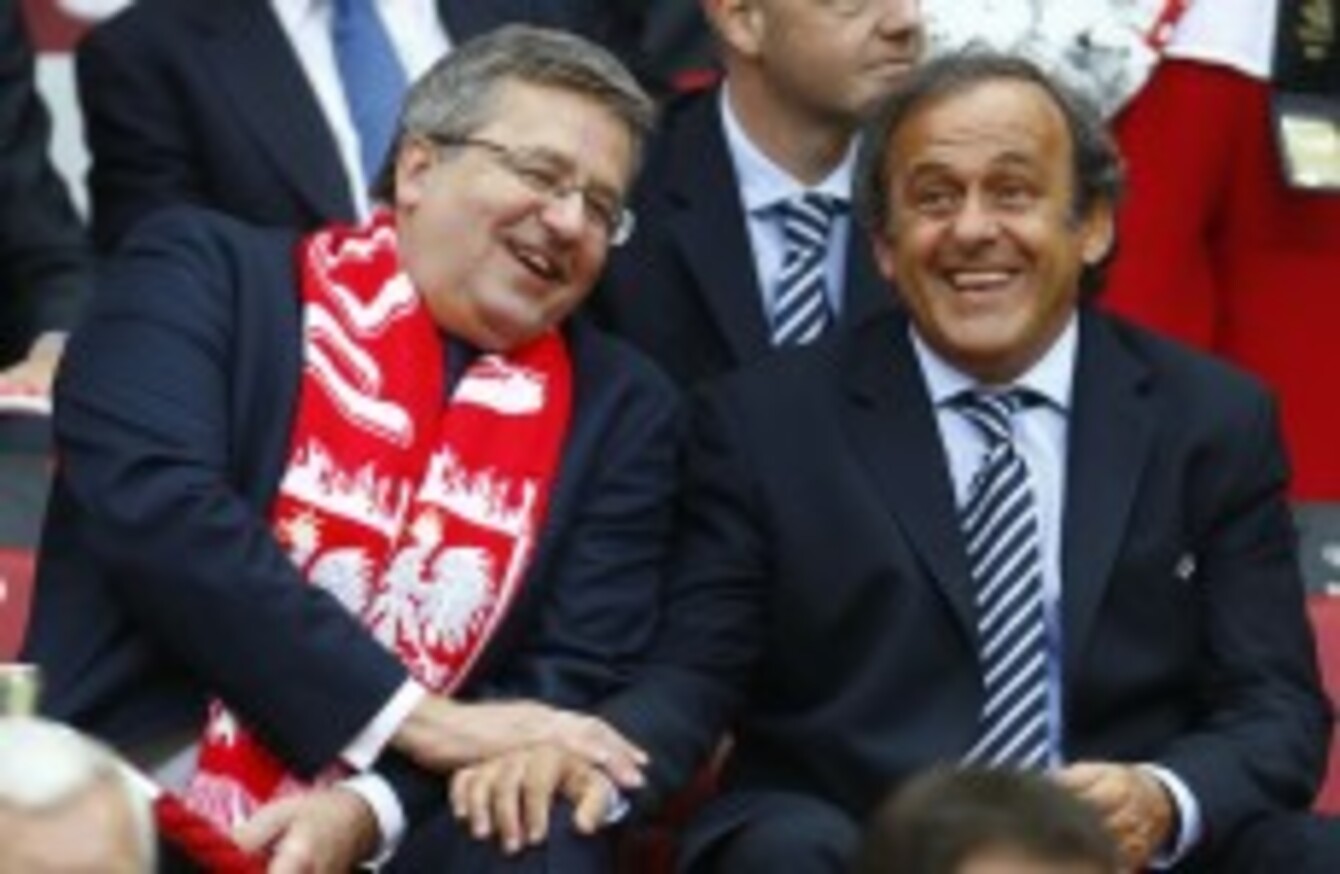 Image: Sergey Ponomarev/AP/Press Association Images
Image: Sergey Ponomarev/AP/Press Association Images
UEFA PRESIDENT MICHEL Platini today condemned Croatia fans who racially abused Italy's Mario Balotelli, revealing that he had previously warned football's authorities in the Balkan nation about the problem.
Croatia's football federation are facing a possible stiff penalty after a racism monitoring group backed by European football's governing body reported that up to 500 Croatia fans taunted Balotelli during the Euro 2012 Group C match last Thursday.
An AFP photographer positioned in front of the fans at the stadium in Poznan, western Poland, also reported seeing a steward picking up a banana from the pitch.
A visibly disappointed Platini told reporters in the Polish capital, Warsaw, that he was "not happy" about the situation and said that he had warned the federation about the problem of racist fans when he visited last year.
"They (Croatia) have a good team which plays well but it's unacceptable when you've got a hundred or so arseholes among the crowd," he said. "They (the Croatian federation) knew (that it could happen)."
"Any form of racism is a problem. One case is too many."
A ruling on the case — the first for racism at Euro 2012 — is expected on Tuesday. The penalty will be eyed closely given Platini's previous assertions that European football's governing body has a "zero tolerance" on the issue.
The same committee last week imposed the threat of a six-point reduction on Russia's next European championship qualifying campaign, after missiles and fireworks were thrown at their opening Group A match against the Czech Republic on June 8.
Four stewards also required hospital treatment when they were set upon after the game, which Russia won 4-1.
Euro 2012 is being hosted by Poland and Ukraine and fears of racist violence at football grounds that overshadowed the build-up to the tournament have refused to go away.
UEFA is already probing separate claims that a section of Spanish fans racially abused Balotelli, who is of Ghanaian origin, and that Russian supporters taunted the Czech Republic's Theodor Gebre Selassie, who is of Ethiopian descent.
Dutch players also alleged they heard monkey noises during a public training session in Krakow, southern Poland, although no official complaint was made.
John Walton/EMPICS Sport
Croatia coach Slaven Bilic said on Sunday that the perpetrators of the racist chants against Balotelli should be banned from watching football and they had let down the country and the team.
"I don't like this kind of supporter, neither do my players. I don't even want them in the stadium," he said. "We are not a racist country, everyone is welcome, which is why we are angry at these crazy supporters and we have to minimalise this.
"We have to sanction these supporters and we must do everything we can to try to stop this kind of supporter for ever."
Croatian football chiefs have similarly condemned the abuse and called on UEFA not to penalise the team for the actions of a minority, calling those responsible "hooligans who should be isolated from all sports events".
Croatia has already been in the dock at Euro 2012.
Last week it was fined 25,000 euros ($31,400, 20,000 pounds) after fans lit flares and let off smoke bombs to celebrate goals in their opening match against the Republic of Ireland, also in Poznan, on June 10.
Missiles were also thrown and a spectator got on to the pitch in Croatia's 3-1 win.