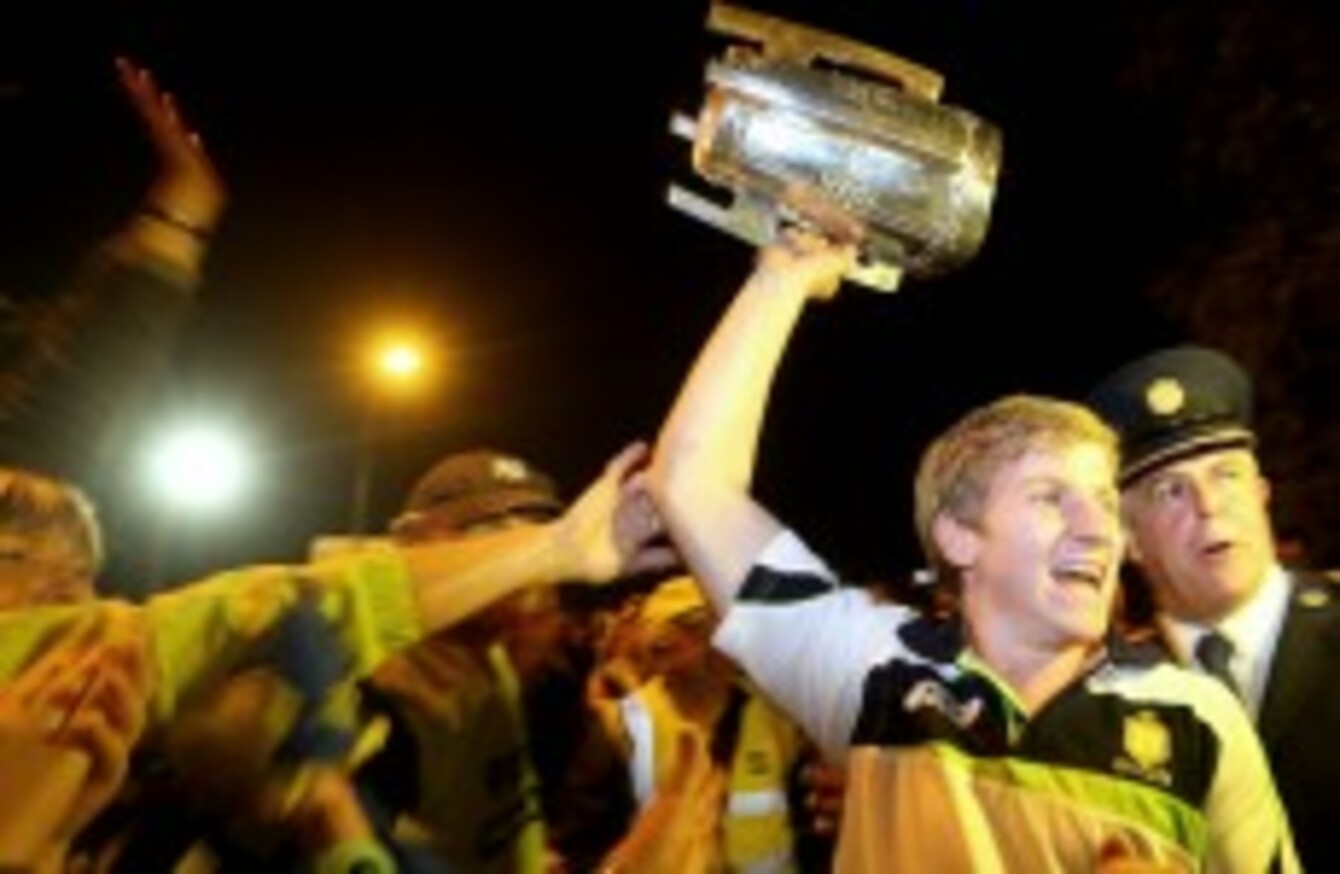 Image: James Crombie/INPHO
Image: James Crombie/INPHO
A CHILDHOOD FRIEND is helping to get Clare's dual star Podge Collins back into peak physical condition following his cruciate knee ligament setback in May.
Collins is targeting a return to competitive action early next year and Cratloe clubmate Sean Hynan is overseeing his recovery work.
Hynan, a dual Clare football and hurling medallist last year at club level alongside Collins, is a personal trainer and fitness instructor who currently bases himself out of the club's gym.
And he's been working with 2013 All-Ireland senior hurling medallist Collins as the gifted forward targets a return to intercounty action next year.
"He's good," Hynan tells The42. "Podge is always in good form, never really down in the dumps or anything like that.
"From day one, he was on the road to recovery and in fairness, he's the ideal client in a lot of ways.
"He's very driven and his heart set on getting back and playing more than anything. The workrate he has is unbelievable."
In this video, Hynan is working specifically with Collins on core strength, using weighted sit-ups and a medicine ball.
"The way I'm working with him, the cruciate part is being dealt with by the specialists," Hynan explains.
"I'm looking at overall fitness and score stability from a strength and conditioning viewpoint.
"But his cruciate recovery is one of the best that has been seen for a long time.
"He'll be looking to return maybe not at the start of next season, but early on.
"Right now, it's more about keeping up his overall fitness for what he can do.
"You don't want to push too hard because you don't want the injury to recur again.
"There's a lot of core work, keeping his overall strength and fitness up, and his diet is second to none.
"It always has been with Podge and that's 90 per cent of the battle.
"He'd never have any problems putting weight on or taking it off.
"It's about keeping him as fresh as we can for as long as we can, making sure that the knee gets back to normal while maintaining his overall strength."
The bond between Collins and Hynan is a close one, dating back to when they were fledgling young players.
"Me and Podge would have grown up together," Hynan says.
"I play for Cratloe myself, football and hurling, and we know each other from U12 up.
"Colm, Podge's father, has been our manager from U12."
Colm Collins is also Clare's senior football team boss and at the start of the year, his son decided to commit exclusively to the big ball code at intercounty level.
Whether Podge returns to Davy Fitzgerald's hurling set-up in 2016 remains to be seen but for now, his immediate objective is to ensure a successful recovery and return to play.
"He'd be up there at the top in terms of recovery," Hynan adds.
"The man's been known to cycle to work and to get back fit, he's in the gym four or five times a week.
"The diet hasn't gone off course, he keeps that to a tee.
"His dedication is unreal, you couldn't fault the man in any way. He's doing everything he can to get back as quick as he can."
Hynan also hopes that his own career as a fitness professional will take off and he reveals: "To be honest, it's on the side at the moment.
"I have six or seven clients. I was working with the Cratloe U21s last year as well.
"I'd like to start aiming towards working with teams, getting into the strength and conditioning work.
"At the moment I do it out of the Cratloe GAA gym. It's a great facility and that's where Podge does the most of his work as well, along with the rest of the players."
On the pitch, Hynan is confident that Cratloe can bounce back in 2016 after relinquishing their county titles in both codes this year.
"We had a great year last year," he reflects. "Unfortunately not this year but when you have the likes of Podge missing, it's a dent in the armour. Hopefully we'll come back stronger next year."