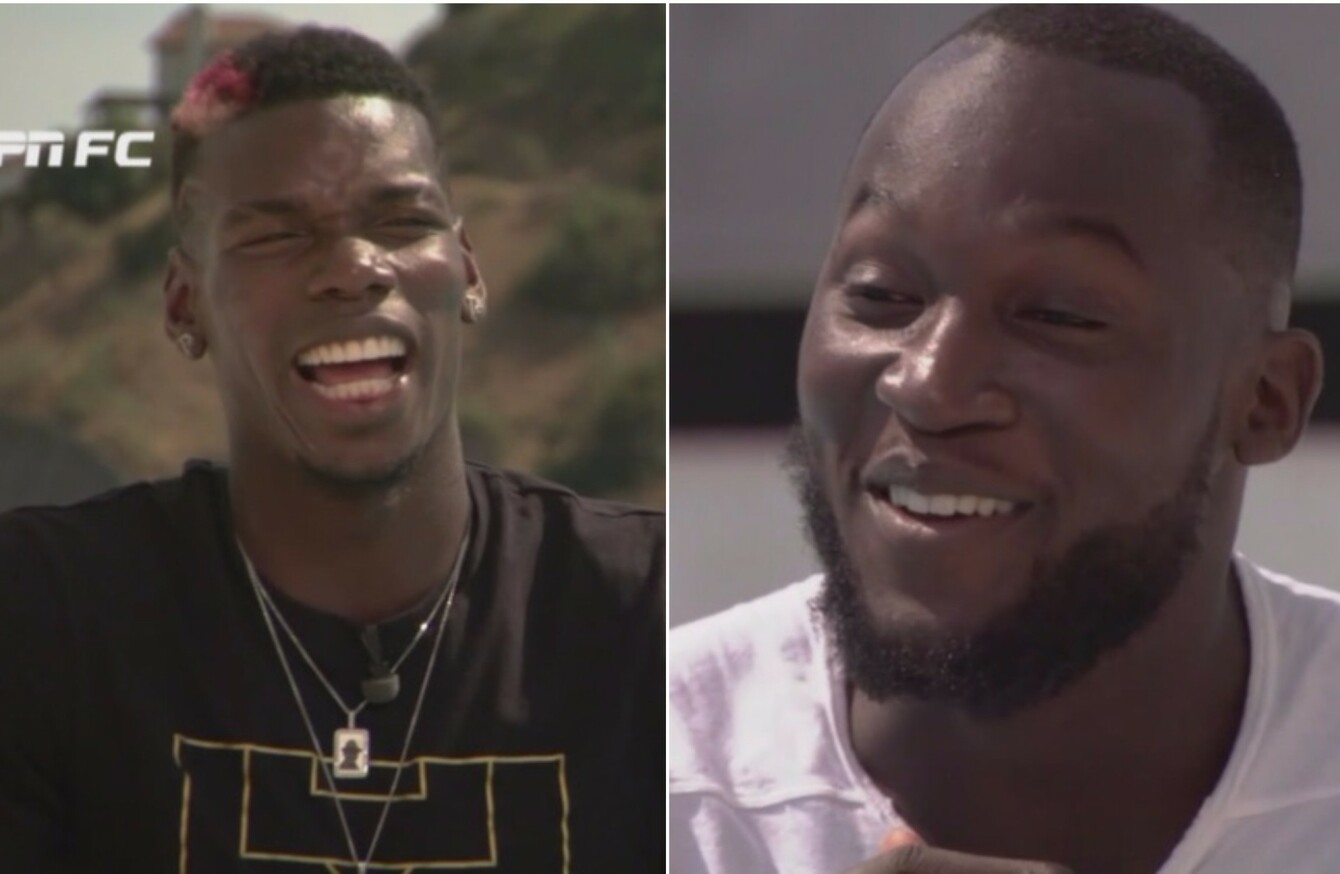 PAUL POGBA AND Romelu Lukaku are realising a long-term goal of playing together after Manchester United confirmed they had signed the Belgian striker from Everton earlier today.
Despite being aware of each other as players since their early teens, the pair met in person for the first time in 2012, when Lukaku's Chelsea hosted Pogba's Manchester United – a game which finished 3-3, but saw neither man used from the bench. They exchanged numbers after the game, and have become close friends in the five-and-a-half years since.
Well, I always knew he wanted to play with me," Pogba told ESPN of Lukaku's signing. "I'm just kidding. We knew it would happen one day. One day. I don't know when and where, and now it's happening, so I'm very happy for that."
Lukaku told the same publication: "I'm really happy. I'm delighted. I always said that the moment would come. When we were younger, I would say there will be a day that we'll play together and we can compete for the trophies that we want to win.
"And now the moment has arrived, so I'm delighted. It's nice to play with one of your best friends in the team."
The French midfielder also revealed to ESPN that he had lobbied for Lukaku's recruitment by United, but quickly added that it wasn't remotely his decision, but that of José Mourinho and United's technical staff.
Pogba and Lukaku, who were on holiday together in California prior to their return to pre-season training with United today, also conducted a joint one-on-one interview on ESPN, with the topics ranging from Pogba's refusal to shake Lukaku's hand following a defeat in a five-on-five basketball game, to Lukaku's feet, which are – by Pogba's account – not dissimilar to those of former NBA great Shaquille O'Neal.
📹 | Pogba & Lukaku 1 on 1 (Part 1). [espn] pic.twitter.com/QfceClGn4o

— Man Utd Stuff (@ManUtdStuff) July 10, 2017
📹 | Pogba & Lukaku 1 on 1 (Part 2). [espn] pic.twitter.com/1TZoEZiQI5

— Man Utd Stuff (@ManUtdStuff) July 10, 2017
📹 | Pogba & Lukaku 1 on 1 (Part 3). [espn] pic.twitter.com/lmBiK8AwCg

— Man Utd Stuff (@ManUtdStuff) July 10, 2017
José Mourinho sold Lukaku to Everton in 2014 after an initial loan spell, but said he was looking forward to working with the 24-year-old marksman once more.
"Romelu is a natural fit for Manchester United," he said. "He is a big personality and a big player. It is only natural that he wants to develop his career at the biggest club.
"He will be a great addition to the group and I know they will make him very welcome. I am really looking forward to working with him again."