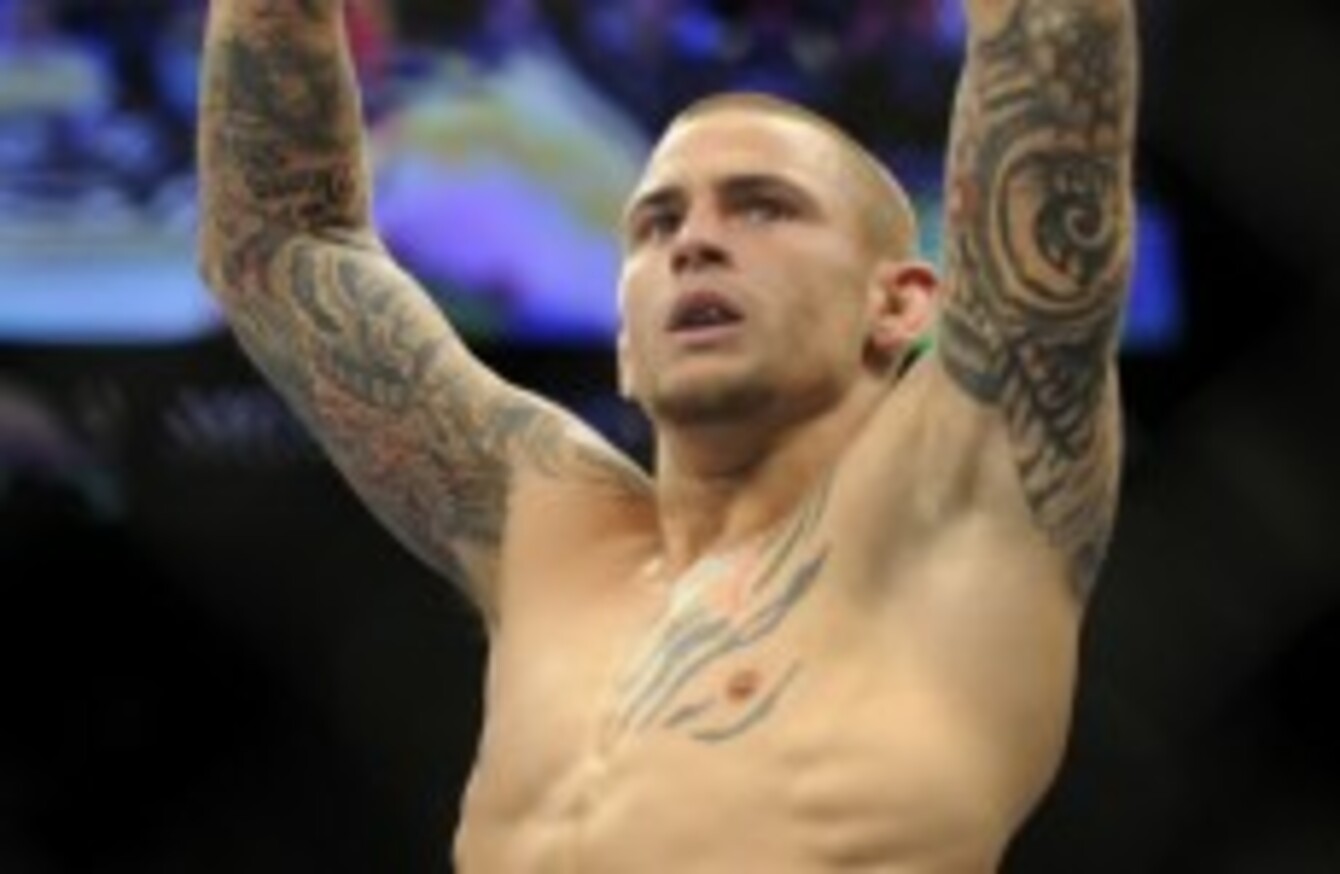 UFC lightweight Dustin Poirier.
Image: Associated Press
UFC lightweight Dustin Poirier.
Image: Associated Press
GIVEN HOW HIS first experience of taking on an Irishman transpired, UFC lightweight Dustin Poirier could be forgiven had he opted to never cross paths with an opponent from these shores again.
But that's clearly not Poirier's style. Little over a year after his first-round defeat at the hands of Conor McGregor, Poirier will take on Joseph Duffy — the last man to defeat McGregor.
The fight will act as the main event at UFC Fight Night 76 on 24 October at Dublin's sold-out 3Arena in front of 10,000 mostly-Irish fans, many of whom tormented Poirier on Twitter before and after his loss to McGregor.
However, the nature of the social media feedback being directed at the Louisiana native from Ireland has changed, he told The42, with the majority able to appreciate the fact that regardless of their respective nationalities, the meeting of Poirier and Duffy makes for an extremely exciting match-up in the UFC's lightweight division.
"Most of the messages on social media are different, for sure," said Poirier. "A lot of these people are just fight fans who want to see good fights. I'm sure they're rooting for Duffy, him being their countryman, but they're mostly just excited to see a fight going down between two skilled fighters.
"I've been getting a lot of good feedback from the fans this time. There'll always be a couple of people who'll talk crap but that's to be expected. For most people there are no hard feelings, but Duffy is still their guy and they're pulling for him. I respect that."
When The42 caught up with Poirier in Las Vegas prior to UFC 189 in July, the American Top Team product said he was keen to feature on the card for the UFC's October return to Dublin — something many people were surprised by, considering his previous relationship with Irish fans.
Poirier insists, however, that his desire to fight in Dublin isn't part of any sort of process of laying the ghosts of the most crushing defeat of his career to rest.
"It's just that Dublin is a fighting city and fighting is what I do best," Poirier explained. "I want to come out there and put on a show. I feel like I have a relationship with the Irish fans after fighting McGregor. I've never been there either so I just thought it would be a fun challenge."
So far, the build-up to Poirier's clash with Joseph Duffy has been much different to the lead-in to his bout against McGregor in September 2014, which featured plenty of heated trash-talking and feisty staredowns. It'll probably stay that way too, but Poirier says he won't back down if things turn sour with the Donegal native.
"I don't go out of my way to be disrespectful to anybody. I wish Duffy the best for the future, but if somebody starts talking negatively towards me I won't hold my tongue. We'll see what happens but I have nothing but respect for him."
During a recent press event in Los Angeles, Conor McGregor stated his belief that Poirier and Duffy were only given the main-event slot for UFC Dublin due to their status as former opponents of McGregor, the UFC's high-profile interim featherweight champion.
But Poirier dismisses that notion, adding that he's keen to face McGregor in a rematch. After his featherweight loss to the Dubliner, Poirier moved up to lightweight and has picked up two wins on the trot. It's expected that McGregor will eventually join Poirier in the 155lbs division.
"This fight has nothing to do with McGregor," Poirier said. "This is me and Duffy. I'm going to beat Duffy and when McGregor comes to 155 I'll be waiting for him. I'll still be here so we'll see what happens."
Should an opportunity for a second shot at McGregor ever present itself, Poirier says he won't make the mistake of investing so much emotion into the contest again.
"I wouldn't go into the cage like that this time," he said. "I'm an emotional fighter to begin with, no matter who I'm fighting, but for that fight I was really fighting angry and that's not how I normally fight. I was definitely over-emotional leading into the fight and during the fight itself."
For now, however, Dustin Poirier's focus is on his headline bout with Joseph Duffy in Dublin next month. Duffy has displayed his impressively wide range of skills in his time in the UFC so far, picking up two first-round wins already in 2015 — one via KO, the other by submission.
Due to Duffy's experience as a professional boxer, many expect the 27-year-old Tristar fighter to have the edge in the striking exchanges. Duffy is no slouch on the mat either, but Poirier expects to have the advantage on the ground.
Poirier said: "Getting two finishes in the first round is not easy to do against anyone in the UFC. Duffy seems like a finisher with good submissions and obviously good striking, so he's well-rounded.
"As for how the fight will play out, we'll have to see what opens up on the night. I'm sure he's going to be looking to keep it on the fight because he definitely can't take me down. We'll see who makes the first mistake on the feet.
"I've been wrestling a lot, so if I want to put the fight on the ground I will. I'm pretty confident that I can take it there whenever I want, but we'll see what opens up."