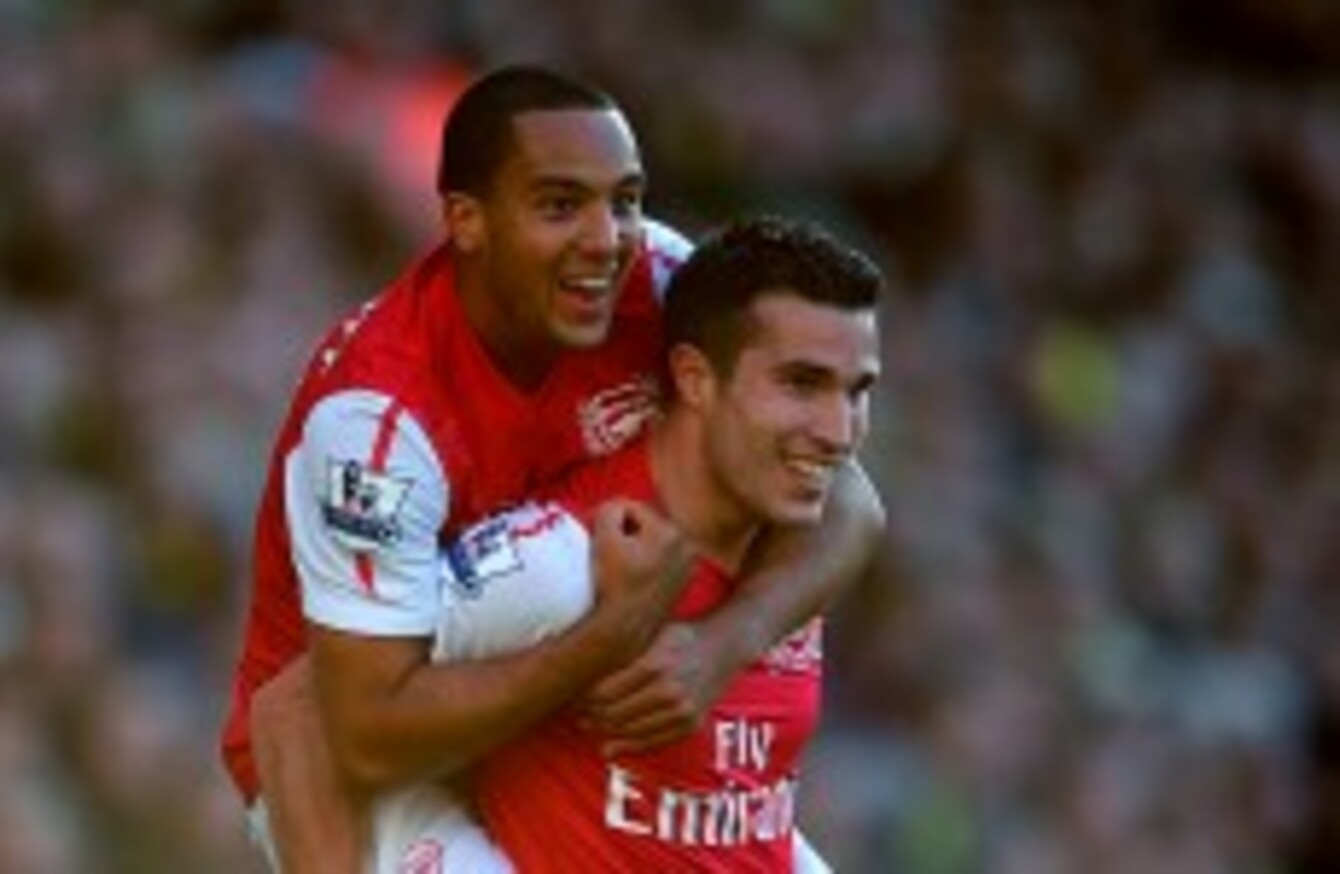 It's not all about Van Persie
Image: PA
It's not all about Van Persie
Image: PA
Arsenal more than a one-man team
Much of the credit for Arsenal's sixth win in seven games will rightfully go to Robin van Persie after the 2-1 victory over Norwich. The exquisite nature of the striker's winner underlined the emphatic nature of his general game at the moment: not only can he end your hopes but he can embarrass you.
But despite the decisiveness of so many of his goals, that doesn't mean many of his teammates do not deserve credit. Theo Walcott, for a start, is now looking a much more productive and efficient player than the caricature of the last two seasons. His surging runs are causing panic in defences while his passing is much more precise. That was illustrated in the assist for Van Persie's first.
Further back, Mikel Arteta has integrated well while Thomas Vermaelen dramatically alters the state of defence. At one point late in the first half, the centre-half absolutely powered a way a dangerously in-swinging Norwich corner. It goes without saying that in the opening two months of the season Arsenal would have badly struggled with such a ball.
Wigan's problems at the death looked terminal
If Wigan can't beat the next worst team in the Premier League at home then their situation is really looking precarious. To a certain degree, Roberto Martinez's side are potentially much better than Blackburn and a fair few teams at the bottom. But with initially fragile – if technical – young players continuously need time to reshape and develop understanding, then it isn't going to be long until they run out of it.
The opposite happened today, however, as Wigan's infamously suspect defence eventually caved to gift Blackburn an equalising penalty in the ninth minute of stoppage time.
Yet, with the way that Wigan suggest something brilliant without ever fulfilling, you get the feeling they could become a much better side with just a 5% improvement in all areas. Unfortunately, their corresponding rate of growth is too slow.
Narrow defeats but widespread credit
In the games featuring both Manchester clubs, it was a case of might meeting merit. Both Newcastle and Swansea showed exactly why they are so well regarded this season by giving fine accounts of themselves. Newcastle were only let down by two mentally clumsy penalty errors and the Welshmen by a ludicrous, once-every-10-games pass. But then that's difference. Against two sides were every gap must be closed and where levelling the balance is so difficult, such errors will prove fatal. At the least, though, Newcastle and Swansea aren't going to be playing against United or City every week. And that bodes very well for their seasons.
And the next best striker in the league is…
For all the credit Robin van Persie receives, consider for a moment Heidar Helguson. In the last month, only the Dutchman has scored more goals than the QPR striker, who proved decisive today. To give Helguson even more credit, he did so in the most demanding and exacting fashion: twice beating Stoke – of all teams – in the air. Rising to such challenges has, naturally, seen QPR rise up the table.