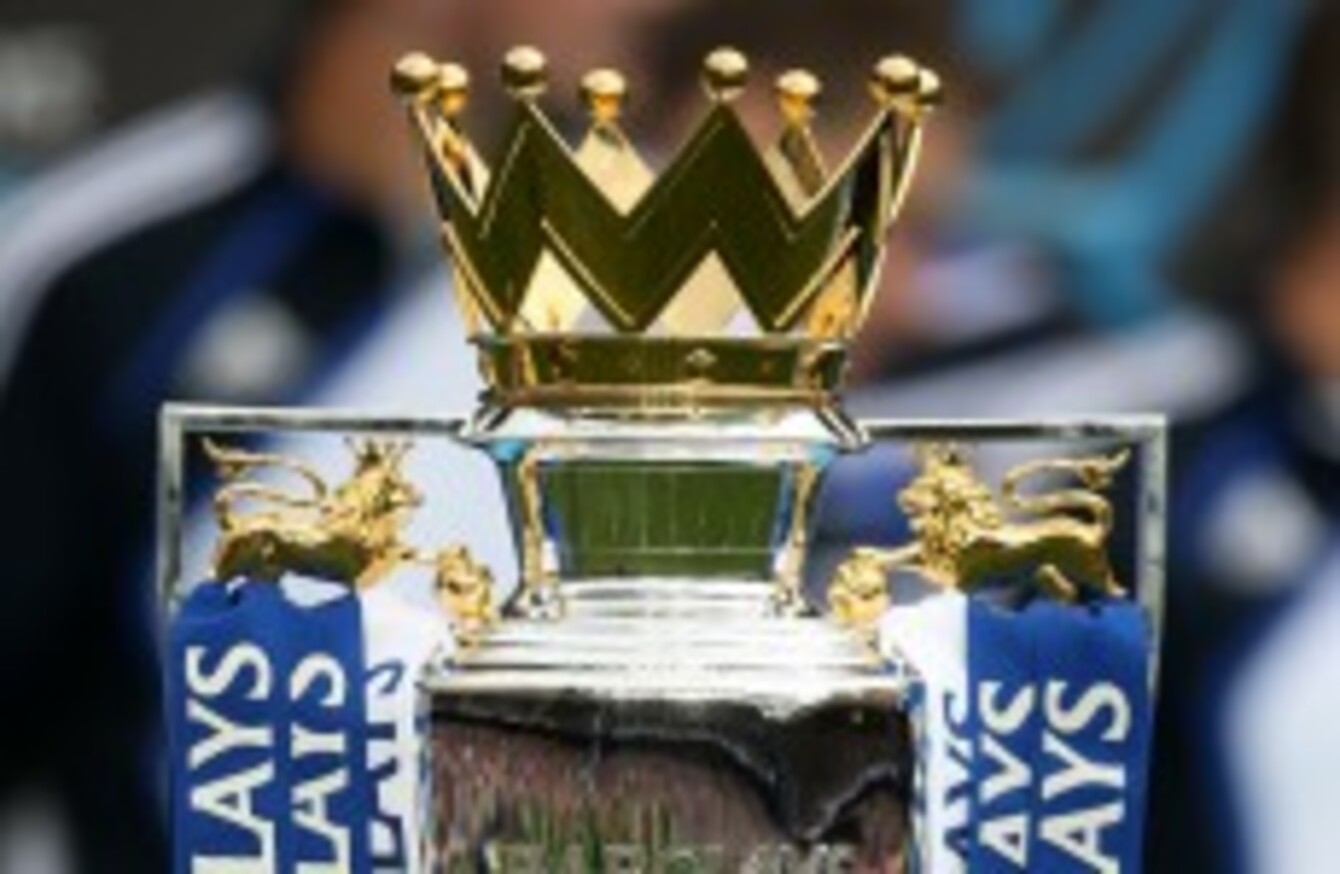 Will sky blue be the colour this time?
Image: Mike Egerton/EMPICS Sport
Will sky blue be the colour this time?
Image: Mike Egerton/EMPICS Sport
ALL TEN PREMIER League games get underway at 3pm this afternoon. Here's the complete lowdown.
Swansea v Lievrpool
Liverpool will be out to overtake Merseyside rivals Everton on the Premier League table when they travel to Swansea City this afternoon.
Should Liverpool triumph in Wales, anything but victory for Everton in their last fixture would see Kenny Dalglish's side leapfrog their neighbours into seventh place.
Liverpool bid farewell to the Anfield faithful for another season in style midweek, thumping Chelsea 4-1 after the disappointment of their FA Cup final loss to the same team three days prior.
"After a disappointing result and performance in the final that was exactly what was needed," Liverpool defender Glen Johnson told the Liverpool Echo.
"We wanted to start where we left off in the final and we did that.
"Now we have to try to get another three points at Swansea and try to finish as high as possible. We want to finish seventh and if we beat Swansea we've got a chance of doing that."
Swansea, on the other hand, could remarkably finish as high as 10th with three points over the Reds in their maiden Premier League campaign.
Brendan Rodgers' side are 12th with 44 points, three behind 10th-placed West Bromwich Albion, who host Arsenal in their final outing.
Swansea have accounted for Manchester City and Arsenal at the Liberty Stadium this season while holding Chelsea and Tottenham Hotspur to draws.
Having sold out every home game this season, Swansea midfielder Joe Allen wants to thank the locals for their support with another high profile scalp.
"There have been games when it must have been hard to keep singing away, but they have just kept supporting us all the way," Allen told the official Swansea website.
"We want to give the fans back what they have given to us all season. It will be a very difficult game but we have plenty to play for – we want to get into the top ten."
Liverpool hosted Swansea in a scoreless draw last time the sides met in November.
The Reds, in eighth on 52 points, trail Everton, who host Newcastle United at home, by one point with one game to play.
Norwich City v Aston Villa
Norwich City hope to finish their season on a high when they play, fellow battlers, Aston Villa.
The match means little, except it will be a final farewell for Villa striker Emile Heskey, who has confirmed he is leaving the club.
Having experienced early season success, Norwich languished near the relegation zone and only confirmed mathematical safety after Easter.
Goalkeeper John Ruddy admits the relegation battle affected the side mentally.
"Although there was never a question mark over the effort we were putting into the games, the collective performance probably wasn't there as it had been all season, because of different circumstances: in tiredness maybe, the mental strain and just everyone having that weight lifted off their shoulders knowing that you're safe. It does things to people," Ruddy told the Norwich Evening News.
Once top flight football at Carrow Road was achieved, Ruddy said the Canaries played with an open mind.
"Arsenal (3-3 away draw) was very enjoyable; we got another point towards our total and if we can finish on an even bigger high in front of our home fans then that would be brilliant," he said.
Villa striker Heskey will play his last game for the club on Sunday. The striker has had a frustrating season, returning only one goal in the last 16 months.
His three-and-a-half year contract expires in the summer, and the former England international believes he still has much to offer at the top-flight.
"I haven't got a club to be honest," Heskey said. "I'm 34, I still feel I can play so I don't see why I need to retire just now. I still want to play at Premier League level."
Heskey will have to reduce substantially his 50,000 pound a week salary, and said this season was one of his hardest.
"Sometimes when you get into a bit of a rut, your head gets down and you can't find yourselves getting out of it," he said.
"We have left it late (surviving relegation) but the lads have been battling on."
Wigan v Wolves
Wigan Athletic can win their seventh game in nine starts while Wolverhampton Wanderers will bid farewell to the Premier League.
Wolves, rooted to the bottom of the table with just five wins and 25 points, have already been consigned to Championship after two seasons in the top flight.
Wigan, in 15th on 40 points, on the other hand, secured their Premier League status for another term with a late winner against Blackburn Rovers in their last outing.
In fact Roberto Martinez's side are one of the Premier League's form teams with 18 points from their last eight games – a feat only matched by Newcastle United.
Wigan skipper Gary Caldwell has urged his side to 'become a real force' in the Premier League next season as they prepare to farewell the DW Stadium faithful for another season.
"Finishing a point higher than last season and in 15th position in the league would be fantastic," Caldwell told the official Wigan website.
"Now as a football club we have to progress and we don't want to be in this position again next year.
"From day one in pre-season we have to come back and show that hunger and that commitment to be a better football team and if we do that we will finish much further up this league."
Wolves have taken just three from their last possible 24 points and are winless in their last 13 matches.
Following recent draws against Swansea and Everton, Wolves midfielder Dave Edwards declared his side are determined to clinch a maiden victory for manager Terry Connor, took over from the sacked Mick McCarthy in February.
"We keep saying it's for TC, and we haven't given him three points yet so it would be good to finish with two draws and a win to put a better mark on it for him," Edwards told the official Wolves website.
Wolves ran out 3-1 winners last time the sides met in November at Molineux with Jamie O'Hara, David Edwards and Stephen Ward striking for the home side.
Andrew Matthews/PA Wire/Press Association Images
West Brom v Arsenal
Arsenal can secure a berth in next season's Champions League group stage with a victory away to West Bromwich Albion.
The Gunners (67 points) are winless in their last four starts but can put third spot beyond the reach of Tottenham (66) and Newcastle (65) with three points on the final day of the season.
A loss or draw, however, would leave Arsenal sweating on the results of Tottenham's clash against Fulham and Newcastle's journey to Everton and could bundle the Gunners out of the Champions League altogether.
The West Brom faithful are expected to give new England manager Roy Hodgson a rousing farewell as he takes change of his last game at the Hawthorns before turning his attention to England's Euro 2012 campaign.
Arsenal manager Arsene Wenger has warned his players not to be overawed by the occasion.
"I believe that it will be an emotional departure, maybe, but I think what is important for us is to turn up with a good performance and win the football game," Wenger said.
"It will be another tense week. When you consider the last three home games, we have taken two points, we have a lot of regrets. Let's hope we will not pay the heavy price for that.
"We don't know whether fourth will be enough. It is not Champions League (proper), it is a qualifier at best. Maybe not at all if Chelsea win the Champions League."
West Brom striker Shane Long believes his Albion team-mates owe it to Hodgson to secure a top-half finish in the Premier League.
"It's been a pleasure playing under Roy and I'm a better player for it because I've learned a lot of new things," Long told the official West Brom website.
"He's turned us into a stable club in the Premier League that are looking up rather than looking down."
Arsenal were 3-0 winners last time the sides met in November with Robin van Persie, Thomas Vermaelen and Mikel Arteta all scoring at the Emirates.
Everton v Newcastle
Everton will be out to silence rivals Liverpool, while Newcastle could clinch a Champions League berth at Goodison Park.
Newcastle, in fifth on 65 points, could climb to third with a win at Everton and go straight into the group stage of next season's Champions League if other results fall their way.
Newcastle would need Arsenal (67 points) to lose at West Bromwich Albion and Tottenham (66) to falter at home to Fulham to move above the London-based sides.
Senegal international Demba Ba, unstoppable earlier this season with 16 goals, is yet to score since countryman Papiss Demba Cisse made his debut for Newcastle in February.
Cisse has netted 13 times from his 12 appearances following his signing from German outfit Freiburg while Ba has been used more on the left side up front than a sole target.
"As I've said all along, I still fancy he'll score before the end of the season," Newcastle manager Alan Pardew told the Sunderland Echo. "And who knows? He might get the most important goal of the season."
Newcastle have won seven of their last nine games, falling to title favourites Manchester City in their most recent outing, while Everton are undefeated in their past eight Premier League starts.
Everton – seventh on 53 points – lead neighbours Liverpool, who travel to Swansea, by one point and are in prime position to secure the Merseyside bragging rights for the first time since 2005.
"It's nice to finish at home and it's nice that there's something on the game," Everton defender Phil Jagielka told the Liverpool Echo.
"We still might need some sort of result come Sunday and if that's the case I'm sure the fans will get behind us and we'll send them home quite happy."
Newcastle edged out Everton 2-1 last time the sides met at Sports Direct Arena in November.
Tottenham v Fulham
Tottenham host Fulham knowing three points could secure a Champions League berth next season.
Tottenham, in fourth on 66 points, trail London rivals Arsenal, who travel to West Bromwich Albion, by one point with one game to play.
Should they win and Arsenal falter, Tottenham would leapfrog the Gunners into third and clinch a spot in the Champions League group stage.
Should Arsenal win however, Tottenham would be left in a fight for fourth with Newcastle United, in fifth on 65 points, facing Everton away.
Tottenham defender Younes Kaboul believes his side deserve a shot at joining Manchester City and Manchester United in the Champions League.
"Arsenal and Newcastle have both been good, but we've been more consistent," Kaboul told the Best of Africa Awards in London. "Let's hope that we can play in the Champions League next season because I think we deserve it after the great season we've had.
"We are going to give everything on Sunday to win and show the country we are here, and we want to play in the Champions League next season."
Fulham have won five and drawn one of their last seven games and could finish as high as seventh with three points from their journey to north London.
While Fulham have failed to score in six of their last seven trips to White Hart Lane, manager Martin Jol, who was sacked as Tottenham boss in 2007, insists there is no pressure on his side to perform.
"At the start of the season, when I saw the schedule, and I saw the game against Spurs in the last game of the season, I thought it could be difficult," Jol told the Ealing Gazette.
"An away game at Spurs, if there's a lot to play for, is a difficult game. But now we have 52 points, there's no problem and we can enjoy the day. If we can get three points there, we can get to seventh. It will be exciting and I love this excitement."
Benoit Assou-Ekotto will miss with a dislocated shoulder and Niko Krancjar is also unavailable, while Bryan Ruiz and Andy Johnson are missing for Fulham.
Chelsea v Blackburn
The turbulent league seasons of Chelsea and Blackburn will come to a close when they square off at Stamford Bridge.
The game is effectively a dead rubber, as Rovers will finish 19th and be relegated to the Championship, and Chelsea will end the season in sixth irrespective of the result.
However, Chelsea manager Roberto Di Matteo will use the game as a chance to fine-tune his side before the Champions League final on May 19.
The Blues will be missing both John Terry and Branislav Ivanovic through suspension in Munich, and Di Matteo may rush back defenders David Luiz and Gary Cahill against Blackburn in a race to be fit for the final.
"We are working towards their fitness and trying to get them back as soon as we can," Di Matteo said. "They were not available for Liverpool so we will have to see (when they could return)."
Other absentees from Wednesday morning's game at Anfield were Didier Drogba, Peter Cech and John Obi Mikel, who were all nursing injuries.
Di Matteo is likely to use the trio sparingly, and may resort to several reserve and youth team players to fill the line-up on Saturday.
It may be the final time Chelsea fans see Drogba at home, if recent reports linking the striker to Chinese club Shanghai have any basis.
Meanwhile at Ewood Park, fans will be eager to finish a season that has delivered few positives.
The one-time Premier League champions have experienced a slow and painful road to relegation that has seen fans turn their back on the club's owners Venky's and manager Steve Kean.
The 'Kean Out' chants have been sung by Rovers fans since pre-Christmas, yet Kean himself maintains he is going nowhere.
"We have the basis of a good young side, we just have to add more experience," Kean said.
"I said a number of weeks ago, it is a changing time for the club. The owners are not going anywhere, I'm not going anywhere."
Steve Drew/EMPICS Sport
Stoke v Bolton
Bolton travel to Stoke City on the final day of the season needing three points and a Manchester City win to secure Premier League survival. Bolton, in 18th on 35 points, trail Queens Park Rangers by two points.
Should they fail to win at Stoke or if QPR force a result, Bolton will join the already consigned Wolverhampton Wanderers and Blackburn Rovers in the Championship next season.
However, victory at the Britannia Stadium coupled with a City win would see Bolton move out of the relegation zone and into Premier League safety at the expense of QPR.
Bolton skipper Kevin Davies urged his side to replicate recent away wins against Wolves and Aston Villa.
"It would be a great escape," Davies told the official Bolton website.  "Let's hope we can do it the hard way because you know it will be difficult at Stoke and they'll want to finish the season off in style.
"It is all hands to the pump and we know we'll have to pull out a massive result. But we have done it before – we did it at Aston Villa – we need some heroes. You need to be putting your body on the line and we haven't been doing that enough."
Bolton have kept just one clean sheet – at home to Arsenal in a scoreless draw in February – in their last 26 outings.
Stoke, in 14th on 44 points, are winless in their last five matches but cannot finish lower than their current position on the table.
Tony Pulis' side can climb to 11th with a win over Bolton should Sunderland, Swansea and Norwich drop points in their final outings.
Bolton thrashed Stoke 5-0 last time the sides met at Reebok Stadium in November.
Sunderland v Manchester United
Manchester United will travel to Sunderland hoping local rivals Manchester City falter. United are equal on 86 points with City atop the table but have an inferior goal difference.
City will clinch the title with a win over Queens Park Rangers, however a draw or loss at Etihad Stadium would open the door for United to claim a record 20th league title.
United have won just two of their last five matches with recent losses to City and Wigan and a draw against Everton to blame for allowing City the best chance at the league crown.
"I know that if we don't win the league then a lot of people will say this is the end of the empire and ask how we will survive," United defender Patrice Evra told the United Review.
"But there's a lot of talent at this club and we've had to deal with a lot. But it's not over yet. I'll say it again: we're not dead."
Sunderland, in 11th on 45 points, have gone eight games since their last Premier League victory against QPR in March but could still finish in the top half of the table with a win at the Stadium of Light.
"Obviously it would be disappointing to miss out on the top 10 because we wanted to do better this season than last," Sunderland goalkeeper Simon Mignolet told the Sunderland Echo. But it's more about winning a game again at the moment.
"It's obviously a good game to play on the last day against Manchester United and everyone's looking forward to it. We're all professionals so we can't get wrapped up in the attention on the title. We have to look at ourselves and try to finish in the top half and try to win the game."
United overcame Sunderland 1-0 last time the sides met in November with a Wes Brown own goal on the stroke of half time proving the difference.
Robert Mancini. Title winner? / SCOTT HEPPELL/AP/Press Association Images
Manchester City v QPR
Manchester City can clinch their first league title since 1968 with a win over Queens Park Rangers on the final day of a memorable season.
City, equal on 86 points with local rivals United but on top of the table with a superior goal difference, know three points at the Etihad Stadium today will secure the trophy.
QPR on the other hand remain locked in a survival battle and need a result against the rampaging City to secure their top flight status for another season.
With Carlos Tevez and Sergio Augero firing up front for City, Yaya Toure, whose brace against Newcastle United last weekend guided City to their fifth win in as many outings, wants to finish the job.
"The job is not done yet," Toure told the official Manchester City website. We have to keep going because QPR need the points, but it would be amazing if we win. It is for occasions like this I came to City – to make history – and I hope I will make history at the weekend.
"Forty-four years is unbelievably long time to wait for another title – it is too many years. Now we have one game left and we have to deliver."
QPR are two points clear of Bolton Wanderers, who will be relegated with Wolverhampton and Blackburn Rovers should they fail to defeat Stoke City away.
Should Bolton win however, they would leapfrog QPR into Premier League safety if the London-based side left Manchester without a point.
"I can't wait for the game – I can't wait to go to Man City," QPR captain Joey Barton said. "They expect us to turn up and them to probably stuff us and go on and win the league.
"If that is their attitude, they will get a reality check. It's 11 men against 11 men, there is a lot of pressure out there. e have one game to go and we are masters of our own destiny."
City edged out QPR 3-2 last time the sides met in November with Toure striking the winner at Loftus Road.