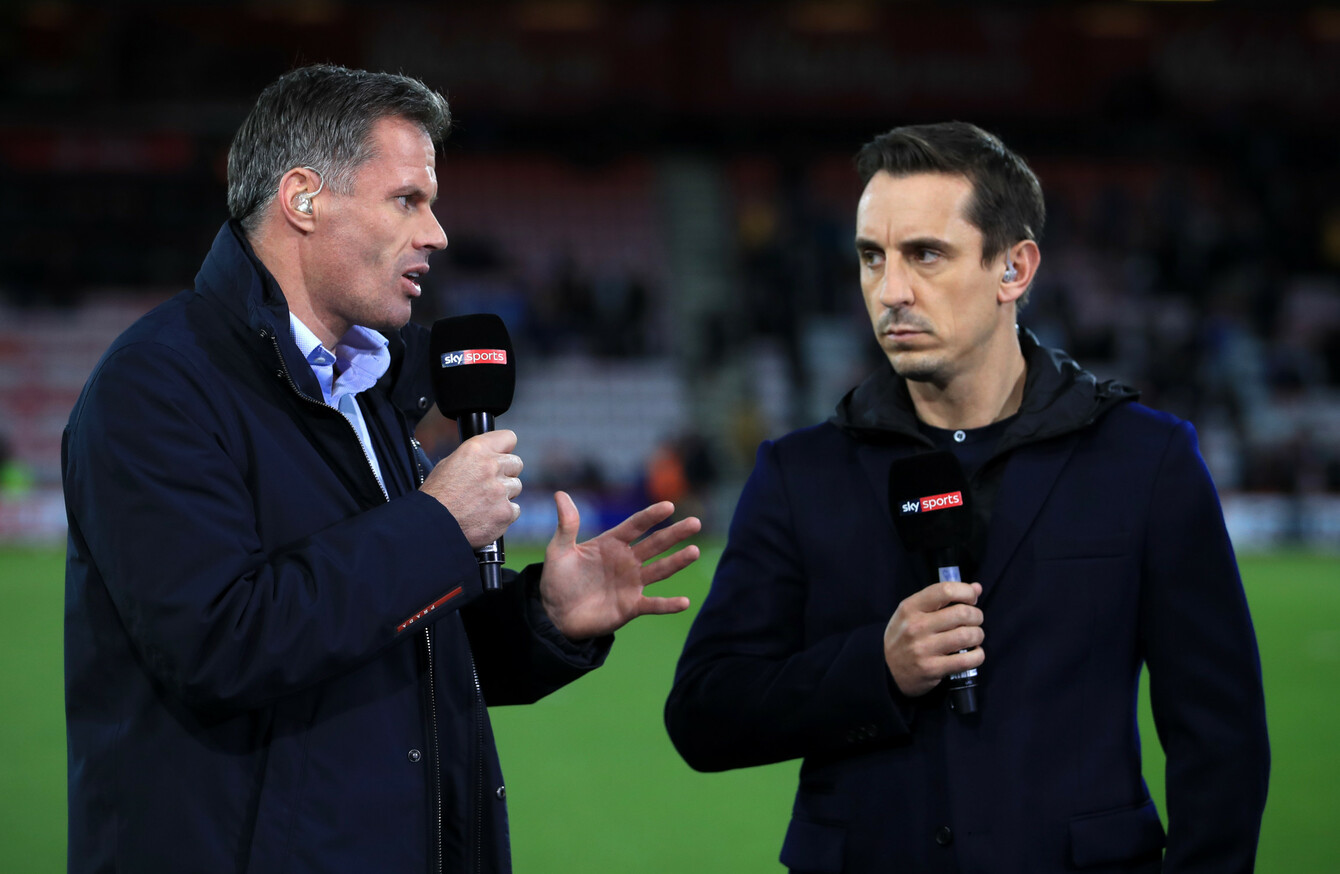 Jamie Carragher and Gary Neville have come under fire for their comments at times.
Image: John Walton
Jamie Carragher and Gary Neville have come under fire for their comments at times.
Image: John Walton
INCREASINGLY, IT SEEMS, elite Premier League managers are concerned with what pundits think.
There were two examples this week of coaches responding to criticisms by the media.
Jurgen Klopp reacted to Gary Neville's suggestion that Liverpool should prioritise the Premier League over Europe by saying: 
"How should that work? What do we do? We don't play Champions League or what?
"Gary should come over and tell me exactly how that would work. How do you prepare a game and not focus on it? You play your kids in the Champions League? That would be funny!"
He continued: "Last year, for example, we had no chance to focus on one competition because we had to qualify for the Champions League and I don't think that even Gary Neville would have said, 'Quarter-finals of the Champions League, let City win'.
"It doesn't work like this. I don't want to be too critical because I don't know exactly how he said it but sitting in an office and talking about football is completely different to doing the job, to be honest.
"But it's an opinion. What did he say about Manchester United in that case? The club he's more interested in. Nothing?"
Jose Mourinho, though he did not address anyone specifically, had similar complaints about certain opinion makers. He felt Marcus Rashford's supposed lack of game time has been exaggerated by sections of the media.
"Speaking about Marcus, I think I can expect that Sunday I'm going to be highly criticised for not playing him tomorrow, because some of the boys are really obsessed with me and some of them have a problem with some compulsive lies," he said.
On the journalists in question, he added: "Some of the persons, everybody knows they have double salaries, they work also for the clubs and of course they are not independent and they conduct things in the direction they want, that's obvious.
"It's natural, not ethical, but I accept it. The ones that wake up in the morning and the first thing that comes into their mind is Jose Mourinho and Manchester United, I feel sorry for them because there are more exciting things in life."
It feels like every other week, Mourinho and co are unhappy with what someone has said, whether it's Paul Scholes or Jamie Carragher or a random journalist. Even a manager as acclaimed as Pep Guardiola is not immune from sniping back at his high-profile critics.
Managers are not the only ones these days who are prone to worrying aloud about what the critics are saying — Paul Pogba's agent Mino Raiola recently tweeted his annoyance about Scholes expressing a negative opinion on the Man United midfielder.
Coaching upbraiding commentators is not exactly a modern phenomenon, as this memorable clip involving legendary former Nottingham Forest and Derby manager Brian Clough illustrates…
Source: footietheory/YouTube
Yet in the 24-hour news cycle, it seems like these kind of testy exchanges are a common occurrence.
Speaking in Dublin recently, Neville said the following on the issue: "A pundit, presenter or commentator never won or lost a football match, or a journalist, for that matter. Even though sometimes the managers nowadays are obsessed with telling you what the media did.
"I never once during my career criticised a pundit after a match. I never thought it was a good idea to give them the credibility and let them know we were thinking about them.
"Secondly, a pundit never crossed the ball, headed the ball, passed the ball. Journalists don't do that. If you're a player at Manchester United or Liverpool or Arsenal, you have to be able to handle the headlines written about you and what's said about you. That's what you are getting into. It's not easy, but you have to handle it or else you'll struggle."
When Alan Hansen uttered his infamous "you can't win anything with kids remark," United at the time responded in the best way possible — by winning the Premier League. Later, of course, Alex Ferguson referred to the comments in his autobiography, but the reaction was far from instantaneous. It is hard to imagine in modern times a top-level manager and all his players letting such remarks slide until well after they have been discredited on the field.
And although some people might argue that coaches would be better off focusing on the matters at hand and giving the standard "everyone's entitled to their opinion" line when asked about Messrs Neville, Carragher et cetera in press conferences, others might argue that there is genuine rationale behind answering back to the experts' provocative comments.
Some managers more than others seek to control the narrative, whether it's denying there are issues between themselves and a player, or saying something unusual or outrageous simply to distract from his team's inadequate performance and turn the attention to a side issue. There is an argument that creating this kind of siege mentality can have a positive impact on the morale of the side in question.
There is also the matter of protecting the players. If, for example, Jurgen Klopp avoided defending Loris Karius from Jamie Carragher's criticism of the player, the goalkeeper is unlikely to be too pleased with the manager.
With social media practically ensuring these days that few comments go unnoticed, modern players — who Alex Ferguson and others have suggested are far more sensitive than their counterparts 20 or 30 years — can be particularly susceptible to worrying unduly about what the critics think.
So it is understandable that coaches would feel the need to back their men in these situations, even if it makes them seem petty or overly concerned about minor issues to some observers.
Premier League fixtures (all games kick-off at 3pm unless stated otherwise)
Saturday
Tottenham v Liverpool (12.30)
Bournemouth v Leicester City
Chelsea v Cardiff City
Huddersfield Town v Crystal Palace
Manchester City v Fulham
Newcastle United v Arsenal
Watford v Manchester United (17.30)
Sunday
Wolves v Burnley (13.30)
Everton v West Ham United (16.00)
Monday
Southampton v Brighton (20.00)
The42 is on Instagram! Tap the button below on your phone to follow us!