ULSTER COACH MARK ANSCOMBE has praised his team's renewed commitment to finish their season with silverware but warns they are entering a period of 'no second chances'.
The New Zealander was livid with his side's lack of cutting edge in the opening 40 minutes of their home win over Cardiff Blues at the weekend. Ulster trailed 13-10 at the break before Andrew Trimble and Ruan Pienaar combined to deliver a 37-13 win that sets up a home semi-final against Scarlets.
The Welsh side, with Lions George North and Jonathan Davies in their backline, were shocked at home, 41-17, to Treviso.
"I saw the result," Anscombe told TheScore.ie, "and hopefully it has knocked a bit of confidence out of them… Even though we've beaten them twice we have to acknowledge that it's knockout rugby. We've got to show that desire, that urgency, and do a job."
While Pienaar and Trimble may have grabbed the headlines, Anscombe was quick to point out that squad players, such as hooker Nigel Brady, were vital in fostering the team mentality that has pushed Ulster to the top of the league standings as we enter the playoff period. Anscombe said, "When you go through careers, sometimes you talk about stars and you remember them but, I think, true rugby folk will remember guys like Nigel."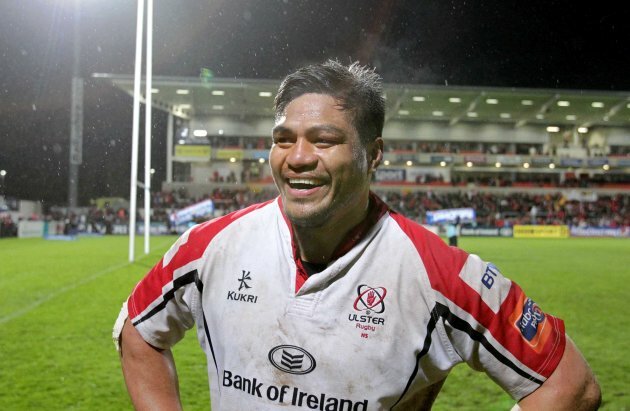 Nick Williams has excelled for Ulster this season. (©INPHO/Presseye/Darren Kidd)
No.8 Nick Williams, a player that got his first rugby break through Ansombe in New Zealand, has been a revelation for Ulster this season since his summer transfer. The head coach declared that Williams' arrival, and form, is not all down to himself. He said:
I mentioned his name and I pushed his case but there are other people that are part of the process. It's not one person. I've known Nick a long time. I know what he is capable of doing. There are certain areas of Nick's game he can be frustrating with but there are lots of good areas of his game as well."
With Williams winning the Pro12 Player of the Year and Ulster topping the regular season standings, Anscombe feels his side owe it to themselves to claim the league title later this month.
You can't feel sorry for yourselves because you've been a bridesmaid for a period of time. You've got to take the opportunities when they come. We had a couple of opportunities last year and one this year [Saracens] that we didn't take." The squad's desire, he added, may be what pushes his side over the finishing line as winners. Anscombe declared:
Desire's that little thing that gets you back off the ground or pushes you to make that extra tackle; the extra work, unglorified work. Cleaning out rucks, chasing, supporting. That's where you can keep yourself going when you're hitting that wall."
*Additional reporting by Megan Joyce of The Front Row Union.