FORMER IRELAND MIDFIELDER Jason McAteer has claimed that Roy Keane refuses to let go of the Saipan feud that led to him leaving the country's World Cup squad in 2002.
McAteer was part of the Ireland squad that was shorn of Keane's services when he left the pre-tournament training camp in Saipan after a blazing row with then manager Mick McCarthy.
The 52-times capped international was a guest on Craig Doyle Live, aired on Tuesday evening, and he shared stories from his footballing career.
McAteer pointed out that Keane had "hammered" him in his autobiography, which was ghosted by Eamon Dunphy.
"Do you know what," he said, "it disappoints me because I'm 40-years-old now and we're out of the game. When you're in football you do have your enemies and your rivalries." He added:
There's the Manchester United and the Liverpool thing and, unfortunately, what happened in the World Cup. It was wrong but I wish he (would have) stayed.
"He decided what he wanted to do was the right thing. I was just disappointed. He's got to live with that. It is nothing to do with me."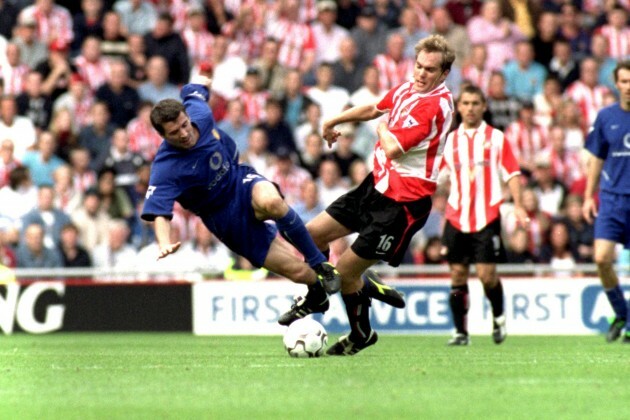 Keane launches into a tackle on McAteer. (Anton Want/EMPICS Sport)
McAteer and Keane had an infamous clash only months after the Saipan debacle, when the United man was sent off for a lunge at the Liverpudlian.
The former Liverpool and Sunderland midfielder explained that he also had a simmering rivalry with another United player, Andy Cole, for years but both men have since settled their differences. He added:
Roy is not one of those people that will let things lie and just get on with it, basically.
"Unfortunately, if we do bump into each other there is an atmosphere, which is sad really because we had some really, really good times together. It is sad that we can't put it to bed."
The midfielder, who scored the goal in the 1-0 win over Holland at Lansdowne Road in 2001, concluded the segment of the show with some words of praise for Keane the international teammate.
He said, "One thing I'll say about Roy Keane is that when you played football with him he was brilliant. On the football pitch he was amazing."
McAteer believes Spain will win Ireland's Euro 2012 group, and possibly the championship, but is confident that Giovanni Trapattoni can come up with a gameplan for the team to reach the knockout stages of the tournament.