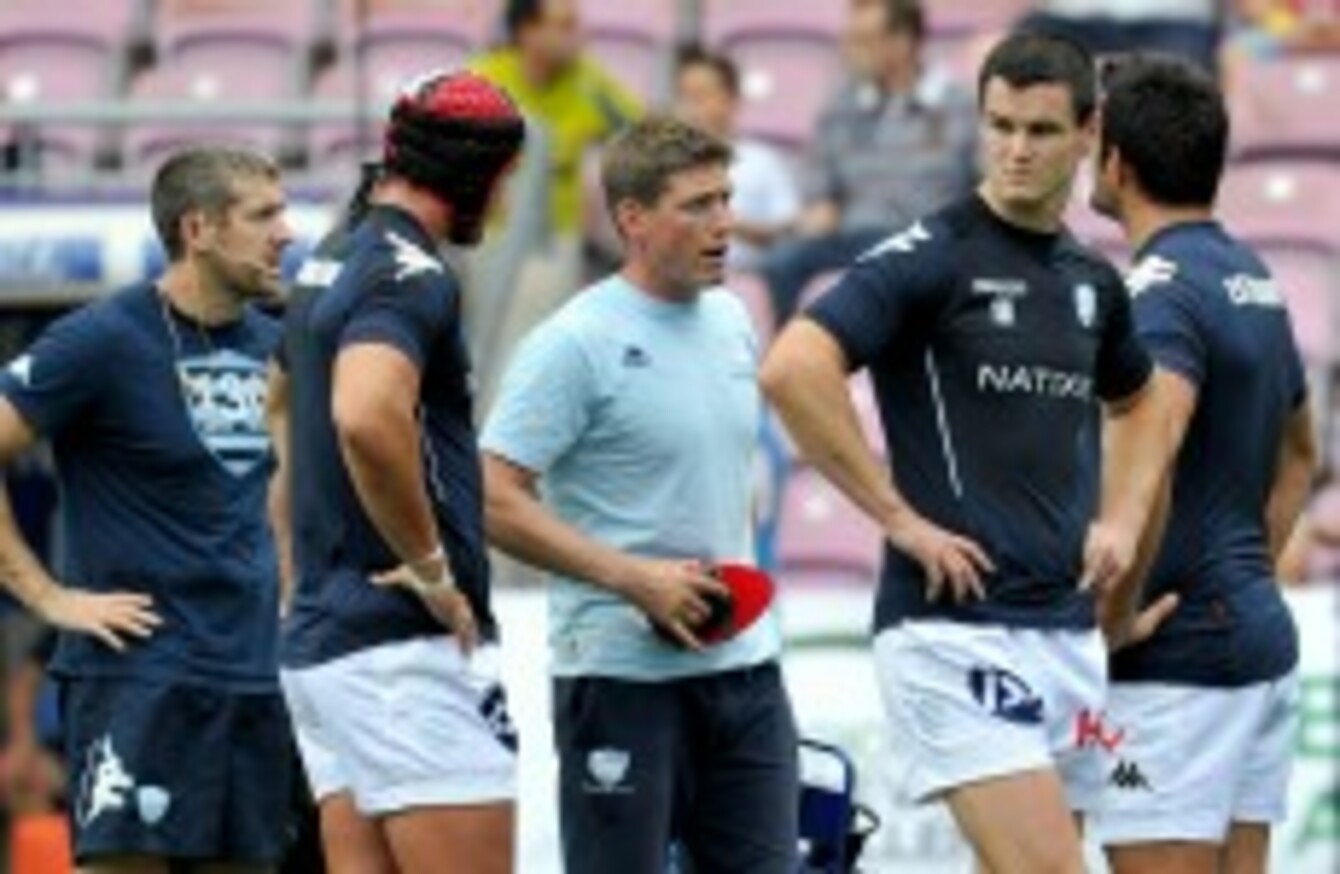 Kruger has been impressed by the impact of O'Gara on the training ground.
Image: ©INPHO/Harold Cunningham
Kruger has been impressed by the impact of O'Gara on the training ground.
Image: ©INPHO/Harold Cunningham
WHILE JONNY SEXTON's attention is firmly focused on beating England today, back in France his club side face another vital Top 14 match as they fight for a play-off spot.
Racing Métro are away to Bordeaux this evening [KO 5.30pm Irish time], and with just seven games remaining in the regular season, the Parisians are aware that every single point counts.
An away record of just one win in nine domestic fixtures doesn't make for enjoyable reading, but then that is something of a norm in French rugby. South African lock Juandre Kruger stresses that "away wins are the big thing which can swing the log in our advantage" as Racing sit eighth in the league.
The 28-year-old lock joined the club last summer alongside fellow internationals Sexton, Jamie Roberts, Dan Lydiate and Brian Mujati. Kruger admits that the performances club president Jacky Lorenzetti expected when bankrolling those transfers have not followed.
As a team, we haven't performed at our best. In the last two matches, we've seen better play and we have had good wins against Toulon, Toulouse and Montpellier. Against teams lower on the log, we should have gone for bonus points but it's something we've struggled with this season.
"With the next seven matches, we'd like to get ourselves into the top six and improve our play. We have all the players, some of the best facilities. At the end of the day, we know we need to play better together."
Kruger spent two seasons with the Northampton Saints from 2008 to 2010, getting a taste for rugby in the northern part of the world. Having returned home to play for the Blue Bulls thereafter, he had grown accustomed to a different style.
His adaptation to the French game, so reliant on forward domination and kicking in the winter months, has been a challenge.
"I think it's probably a little bit stronger [the forward play]. I played at the Saints before and experienced it there a bit. For a forward, Northern Hemisphere rugby is good because it's a grind.
Sometimes Super Rugby is quicker play, but the Top 14 is a nice tough competition and you see a lot more Southern Hemisphere players here every season. It's a great environment to live in and play in."
Kruger is pleased to count Sexton among his teammates, acknowledging him as "one of the best fly-halves in world rugby." When pushed for his impression of the Irishman's impact on the pitch for Racing, the 17-times capped Springbok bounces the question back.
Having listened to a summation of this writer's feelings that Sexton has shown some strong form, if not his best, and has perhaps found it difficult to link with other players intuitively, Kruger explains the situation.
"There's a lot of new international players here. All of us have much more to show and hopefully all of us can play to what we're capable of sooner rather than later. What's most important is that we play well as a team together; that's where we've been struggling.
"There's different players used to different styles, different cultures, different decision-making. The adapting of that is probably the most important for this team moving forward. Jonny can obviously be happy, but it's not really my place to talk about his play."
On the training ground at Le Plessis-Robinson, Ronan O'Gara's influence has steadily grown as the season has passed. The former Munster out-half is a rounded assistant coach, working on defence, attack and individual positional skills; much more than just the kicking that was originally envisaged.
Kruger has been impressed by the Cork native: "Definitely. Ronan's been a well respected player and he gets the same respect as a coach. He's come on very well and he adds a lot to the team in decision-making.
It's obviously a new environment for him as a coach. Ronan enjoys that environment and working with the other coaches; he's a great character within the squad. He brings a good vibe and ambiance within the team as well."
Against a Bordeaux side who are "playing good rugby and scoring a lot of tries," Kruger knows that another defeat will set Racing back in their play-off ambitions. Whatever about keeping Raphaël Ibañez's men from crossing the whitewash, the Parisians need to start doing the same themselves.
Only Biarritz and Oyonnax, the two bottom teams, have scored less tries than Racing's 18 in the Top 14 this season. With time running out, O'Gara will be stressing the need to start taking more risks in attack.