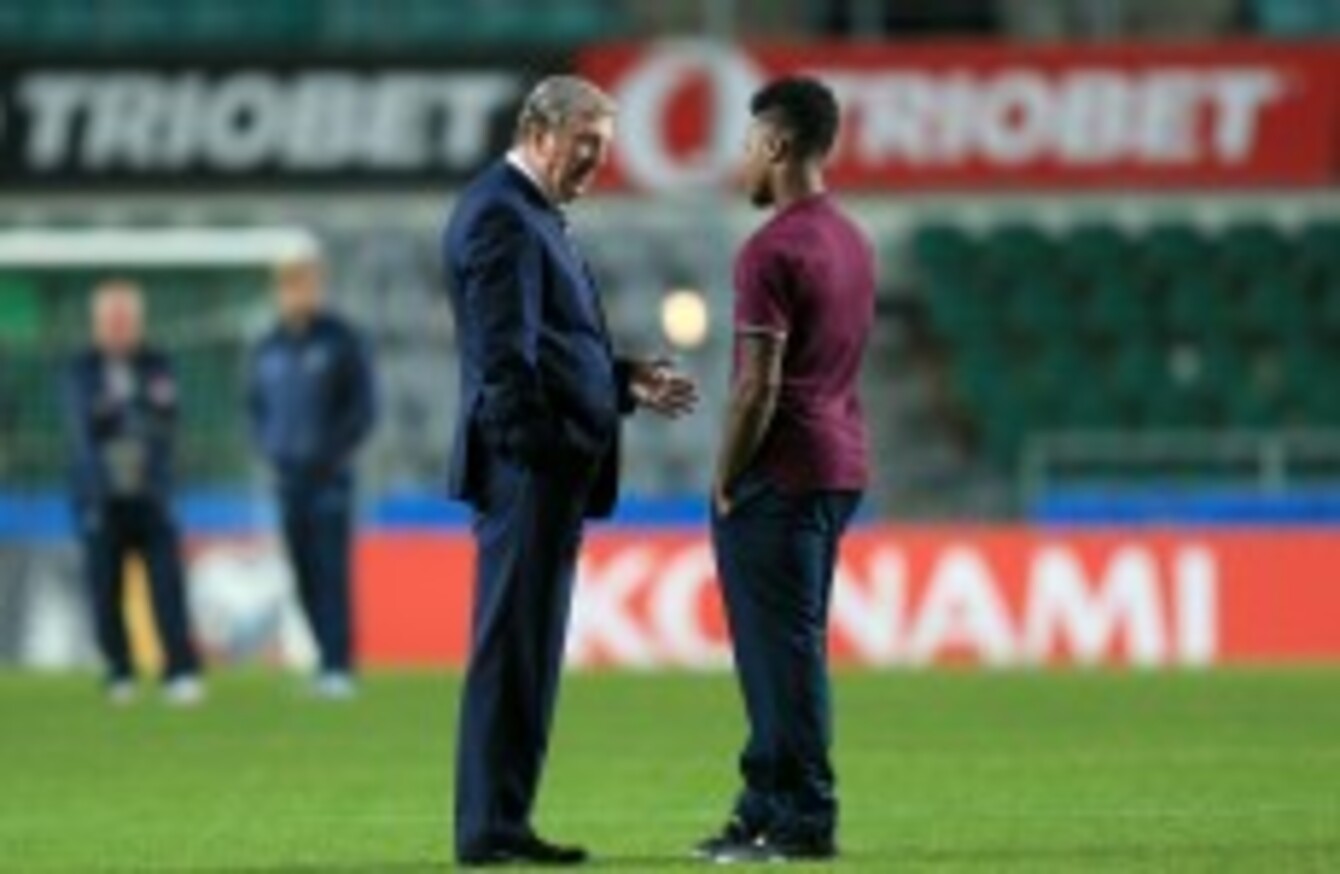 Sterling told Hodgson he was tired before last night's game.
Image: PA Wire/Press Association Images
Sterling told Hodgson he was tired before last night's game.
Image: PA Wire/Press Association Images
ROY HODGSON INSISTS Raheem Sterling's complaints about tiredness left him with no choice but to rest the Liverpool midfielder for England's spluttering 1-0 win over Estonia.
Sterling, 19, was dropped to the bench for Sunday's Euro 2016 qualifier after telling England manager Hodgson he felt below his best both mentally and physically during training 24 hours before kick-off in Tallinn.
But Hodgson's decision to go along with Sterling's wishes — selecting Liverpool's Adam Lallana instead — proved a significant problem as England laboured to break down Estonia, a lowly 81st in FIFA's world rankings, for long periods of a scrappy encounter, even after the hosts had captain Ragnar Klavan dismissed in the 48th minute.
Eventually, Hodgson sent on Sterling for the final 27 minutes and he responded by winning the free-kick that produced Wayne Rooney's 73rd minute winner.
Yet Hodgson, who had already angered Liverpool manager Brendan Rodgers when Daniel Sturridge suffered an injury on international duty earlier this season, was adamant it was the right move to rest Sterling because he doesn't want the youngster to suffer from burnout.
"We were just about to have a light session at the Grove and he (Sterling) said, 'I feel tired and I don't think I am in my best form at the moment'," Hodgson said.
"I admire his honesty for telling me. It was two days after the San Marino game when we did a lot of running then because we had a lot of the ball.
"I had two players – one was telling me he is tired, a little bit jaded. and the other is full of beans so we put the one on that is full of beans and left the other as sub."
Mental fatigue
After Sterling's breakthrough campaign last season went into overtime at the World Cup, Rodgers recently admitted he was concerned about putting too much burden on the teenager, who he rested for Liverpool's defeat against Aston Villa last month.
When asked whether he, rather than Rodgers, should always be the one who rests Sterling to help him recover, Hodgson said: "We do have to take players' workload into consideration, and there are going to be times in top teams where players suffer from some sort of physical and mental fatigue.
But I think it's a bit unfair if all the expectations to give the player a little bit of a break fall on my shoulders.
"He broke into the Liverpool team, had a fantastic season and then went to the World Cup. He is only a 19-year-old.
"It is not as simple as the training you are having may be taking a bit of juice from your legs.
"There is an awful lot going on in your head as well, so perhaps it is quite simply that the season has not started as well for Liverpool, he is in the spotlight for England and Liverpool. Maybe that has had some effect. I don't know. It's a theory."
Although England are top of Group E after three successive wins, overall they delivered a tepid performance that underlined how much work Hodgson still needs to do before his young team can be regarded as strong contenders to win Euro 2016.
Hodgson's side dominated possession without causing real damage and squandered the few genuine chances they created, with Rooney the main culprit.
Although he scored the winner with a fine free-kick, Hodgson acknowledged the Manchester United striker should have put the result beyond doubt before then.
"Wayne Rooney is a very self-critical person," Hodgson said.
"He is happy to score the winning goal, but he knows he and his fellow forwards could have had so many more."
Estonia coach Magnus Pehrsson was surprised England looked so blunt in attack and he said: "In the second half it felt as though England were not dangerous.
"I was surprised and quite happy they weren't."