RASSIE ERASMUS SAYS Munster will make an announcement about the immediate future of Jaco Taute today, a likely boost at the start of another testing week.
While the other three provinces have Pro12 fixtures to ease them back up to European standards after the seasonal inter-pros, Munster have a pivotal Champions Cup match against Racing Metro – the fixture which was postponed in the wake of Anthony Foley's tragic death in October.
"He's every week in our thoughts," the South African said of Foley.
"We're building gameplans and sometimes targets around Axel. Next week will be an emotional week, but we've had a few emotional weeks so hopefully we'll be able to channel it in the right direction."
Despite the rescheduled fixture coming in the week of an Ireland mini-camp, Erasmus will have his full squad to choose from. Munster plotted their way through the player management constraints over Christmas well to take nine points from 10, but in Europe all hands are required on deck.
"It's always been like this since I got here in June, Joe phoned us and said those are the games that you must manage the players.
"They are also supporting the Irish teams in the year of the European Cup. They want the players just fresh when they get to Test match rugby and it's the same for the other provinces.
"I will have a good look at individual performances (from the win over Connacht). The toughest thing is to break continuity and combinations, but then if a guy really plays so well and is knocking down the door it would be stupid not to give a guy like that a chance.
"Currently as coaches, we are playing with a few ideas in our head. There are guys that performed so well that you can't ignore them, but on the other hand: for the other guys it's one big game."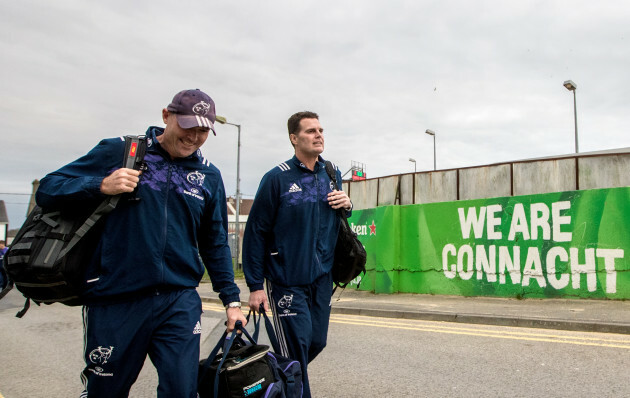 James Crombie / INPHO James Crombie / INPHO / INPHO
Six months into his tenure at Munster, Erasmus seems part of the furniture in the southern province. The difficult hurdles he has been forced to navigate in the first-half of the season are problems no coach should ever have to deal with. But with the team functioning well on the field, the former Springbok says he is enjoying the role so far.
"All my life I've been a coach in the southern hemisphere and you get stale in that. You see one way of doing things.
"There are traditions and things, and I'm not saying this to suck up to anybody, which we haven't experienced before and it's happening week after week. Like coming to play here with this rain and this wind and the way Pat (Lam) has built this club. It's a different challenge. I'm enjoying it, my family is enjoying it.
"Honoured is probably the right word and I'm not saying that to sound right. It's really the way I feel."
Additional reporting by Murray Kinsella
The42 is on Instagram! Tap the button below on your phone to follow us!