RAYMOND DOMENECH HAS dismissed the need for a translator but begins our conversation by saying he will only be able to understand me if I speak English with a French accent. 
I laugh the awkward, just-checking-you're-joking-on-that-one? laugh of the interviewer ready to escalate to panic. 
He repeats his request, leaving it dangling just long enough to flatten my laugh to a stumped, 'right…' before clarifying that he is, indeed, joking. 
Domenech is a far more generous and genial interviewee than his media caricature would suggest, but when he was France manager, these qualities were often undercut by his habit of cracking jokes at the wrong time.
It wasn't true, for instance, that Domenech omitted Robert Pires and Mikel Silvestre because of their star signs: references to astrology were perhaps unwise one-liners used to defuse tense press conferences with a jilted sporting press not getting the tidbits they got from Domenech when he was manager of the U21s. In reality, Pires was left out of squads as Domenech felt he was a disruptive influence. 
And when France went out with a whimper from Euro 2008, Domenech responded to a question about resignation by instead proposing on-air to his girlfriend, a television presenter. He apologised the following day, saying he felt "a moment of humanity when I should have stayed cold and professional." 
Domenech's reign as France manager was extraordinary. It incorporated a run to the final of the 2006 World Cup and was ended by the national shame that became of the 2010 World Cup, featuring two of the biggest controversies in the sport's modern history in between.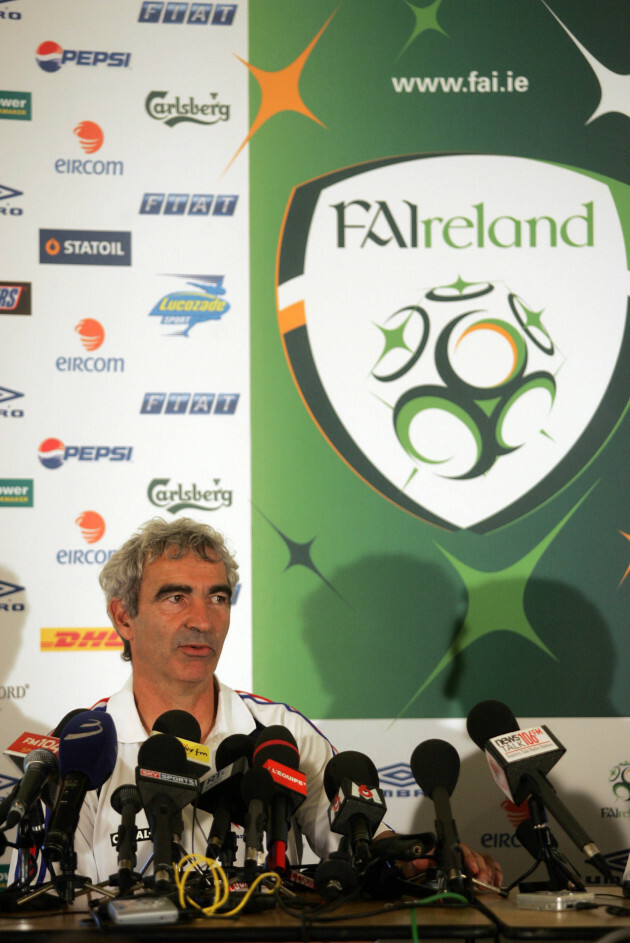 Andrew Paton / INPHO Raymond Domenech at a press conference in Dublin ahead of the meeting of Ireland and France in 2005. Andrew Paton / INPHO / INPHO
And on an alternate timeline none of it would have happened and Raymond Domenech would have been Ireland manager instead. 
"Yes!", he exclaims. "I had a meeting with the people who were looking, I think I made the [shortlist] of three coaches, and they took the coach of the U21s, I can't remember his name." 
The name he is searching for is Brian Kerr. Domenech says he was interviewed for the role before Kerr was given the job, though made no promises about bringing back Roy Keane after Saipan. He says he didn't talk about any individuals, including the man he was striving to succeed: Mick McCarthy, whom Domenech had coached at Lyon more than a decade earlier. 
"We spoke about football and Ireland", says Domenech. "About what sort of football I would like to play, like every time you want a job: you speak what you know of the players, the team, and the spirit of the country. There are no particulars. It was a good choice for Ireland to choose an Irish coach. I would have liked to coach Ireland, I like the spirit of this team and the fans." 
Domenech sampled that spirit a couple of years later. He ascended to the top job in France after Euro 2004 and played Ireland in qualifying, winning 1-0 in Dublin thanks to Thierry Henry's stunning goal. 
That game was presaged by an ominous sign for the rest of Domenech's reign. Before the game, he received a call from who he told was President Jacques Chirac, who was then recuperating in hospital from illness. The voice on the phone asked Domenech to have his players put their hands on their hearts while singing Les Marseillaise before kick-off as a show of support for their president. The players followed Domenech's instructions when he passed on the message.
Only after the game did the manager discover that the voice on the other end of the phone was not Chirac, but a prank-playing comedian. It was an embarrassing moment, but worse would come. By the end, the squad struggle to maintain even an illusion of team spirit and communality. 
France squeezed into the 2006 World Cup automatically – partly thanks to Shay Given's terrific late save from Alexander Frei's effort in Switzerland's final-day draw against Ireland – and then, inspired by Zinedine Zidane, ran to the final in Berlin. By the time they lost a penalty shootout to Italy, Zidane was sitting in the dressing room, sent off for headbutting Marco Materazzi, the image of his lonely walk past the trophy frozen for posterity.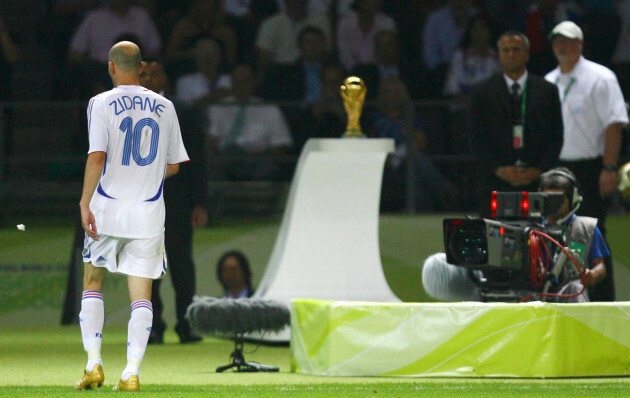 Alamy Stock Photo Zidane walks by the trophy after his red card in the 2006 World Cup final. Alamy Stock Photo
Domenech didn't see the incident at the time. In fact, hardly anybody did. 
"It's the first time in the world we used the VAR", says Domenech. "Just by the fourth official there was a TV monitor for the people who were working for the TV, and the fourth official saw what happened on the TV. He said it to the referee, he told the referee that Zidane had headbutted Materazzi. Nobody saw it aside from Buffon, Materazzi and Zidane. They were the three people who saw what happened. Afterwards, it was the TV. It must be a red card, but nobody saw him." 
What did Domenech say to Zidane afterwards? 
"Nothing. What can you say? You lose a final, all the players in the dressing room were disappointed, more than disappointed. You can't say anything in this moment." 
And what did Zidane say?
"Nothing. He said nothing. Two days later he tried to apologise; 'Je m'excuse' he said on TV, 'but I don't regret anything.' 
With the benefit of time, Domenech says people now talk to him about the run to the final – which included Zidane's astonishing performance against Brazil in the quarter-finals – but there is a hint of regret in his voice when he ruminates on football's adamance on a single winner. 
"In football, when you reach the final and don't win you are a loser", he sighs. "It is different in other sports. In other sports when you are in the final you get gold, silver, and bronze, you are second and third, and it's a good thing. In football when you are second, you are nothing."
The 2006 World Cup would soon take on the hue of glorious nostalgia when judged against what followed for Domenech. Euro 2008 was wretched, with France finishing bottom of their group, drawing with Romania before being beaten by the Netherlands and Italy. 
He held on to his job after the Euros, but that hold was slipping. The criticism was intense and occasionally vitriolic. Michel Platini said France wouldn't win the 2010 World Cup as they had a "Raymond problem", and Eric Cantona described Domenech as "the worst coach in French football since Louis XVI."
Domenech also had to deal with revolt, particularly after the last of the leaders from 1998 left the building when Lilian Thuram retired after Euro 2008. Thierry Henry reportedly stopped a training session before a qualifier against Romania in 2009 to criticise the coach's training methods. 
Henry's next mutiny was, of course, against the laws of the game. In the second leg of the World Cup play-off against Ireland in 2009, Domenech again found himself adjacent to another infamous moment and again didn't see it in real time, only discovering Henry's handball in the build-up to William Gallas' equaliser when he went to fulfill his press duties.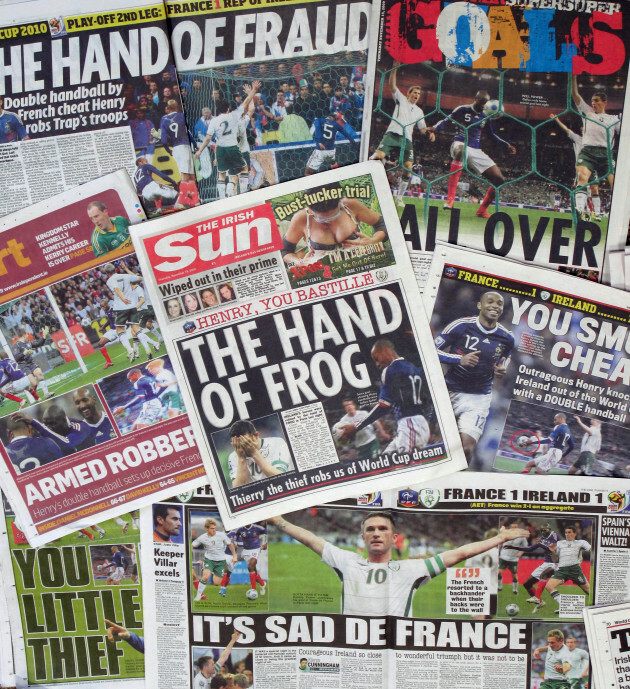 Paul Railton / INPHO Paul Railton / INPHO / INPHO
"I went to see the journalists, and they were all sad", remembers Domenech. "I asked what had happened, 'You're sad, but we have qualified?'. They said, 'Have you not seen what happened with Thierry Henry?'" 
"I can understand the Irish were angry, as it was a big mistake by the referee. But it was still 1-0, nobody was qualified and nobody was eliminated." 
Where the French public largely stood by Zidane for his sending off in Berlin, Henry was vilified by the French press, to the point that he called for the game to be replayed. 
"For Henry, even in France it was difficult", says Domenech. "He wanted us to play the game again but it was too late.  Because of all the games, I am not sure when we could have played it. But I would have preferred to have done it again. We were so bad in this game that it would have been impossible to have done that twice. I don't know how we qualified, Ireland were better than us in the game. Our best player was our goalkeeper." 
The FAI had to settle for the moral high ground and €5 million in compensation from Fifa as France went to the World Cup. Theirs was a dubious honour. 
"When we see what happened in South Africa, it would have been better had Ireland qualified", deadpans Domenech. 
What little authority Domenech had before the World Cup had been shattered by the time the tournament started. "I was no longer the coach when I arrived there", he sys. "Laurent Blanc signed to succeed me on the 24th of May, before we went to South Africa." 
The squad was becoming impossible to manage. Domenech later wrote in his autobiography that Florent Malouda spent a training session before the opening game against Uruguay flying into tackles on Abou Diaby and Mathieu Valbuena, who rivalled him for a place in the starting team. Domenech's book records his diary entry that night: I'm sick of it. My team-talk for tomorrow is ready. 'Go fuck yourselves!', is what I should say. 
He didn't say that and instead the flak flew in the opposite direction. Domenech fought a losing battle with Nicolas Anelka at the World Cup: the coach wanted him to run in behind defences, where Anelka preferred to drop off deeper, as he had done effectively when playing with Didier Drogba at Chelsea that season. (Domenech pointed out, not unreasonably, that France didn't have Drogba to play alongside him.) 
Tensions erupted at half-time during the second game against Mexico, with Anelka reportedly telling Domenech to, "Go fuck yourself, you dirty son of a whore." L'Equipe reported on the precise insults the following day, and the French Federation made the decision to send Anelka home. Domenech today says those weren't Anelka's words, and says he didn't agree with his banishing. 
But worse was to come, in what the French today still refer to as Knysna, just as we refer to Saipan. 
Domenech puffs out his cheeks. "It was difficult to understand. I was at the dinner just before the training, and I thought they were trying to do something. Joking, I said to one of my coaches, 'I hope they don't want to make a strike for training.' For me, that was impossible." 
But it wasn't impossible. 
"Yes", sighs Domenech. "They did it."
It was a risible episode. The French players met children from the small town of Knysna but rather than then go to training afterwards, they boarded their team bus and went on strike in misguided support of Anelka. It fell to Domenech to read out a players' statement. 
Alamy Stock Photo Domenech by the team bus after his players went on strike. Alamy Stock Photo
The players were castigated in the French press but so too was Domenech. He opens his 2012 autobiography with the scene of his return home from South Africa, with his three-year-old son running home to ask, "Daddy, are you going to prison?"
Domenech called that book Tout Seul - All Alone. 
"In that moment, I had no president and nobody able to drive the team or the situation, I had to do it myself", he says. "A coach is forever alone. When you choose a player, when you make the line up: you are alone. You speak with the others but it is you who decides it, it is you who is responsible. In this moment you are really alone. You are always alone."  
Domenech stepped away from coaching after the 2010 World Cup, taking a role as the head of the association of French coaches, along with doing some media work. But he could never shirk the shadow of Knysna. In 2017 Domenech tweeted about Nantes' 4-1 defeat to PSG, criticising then-Nantes manager Claudio Ranieri's tactics of "parking the bus." The official Nantes account shot back, "not sure you're in the best position to talk about buses." 
Three years later, that same account announced that the club's new manager was one Raymond Domenech. It was Domenech's first manager's job in 10 years, but it lasted just eight games. 
Laurent Blanc stepped down as French manager after Euro 2012, at which point Didier Deschamps took charge. His major-tournament record has been superb, leading France to the 2018 World Cup along with the finals of Euro 2016 and last year's World Cup in Qatar. Despite seemingly eternal speculation that Zidane would be appointed to the job, Deschamps remains in situ, and will lead France against Ireland in qualifying for Euro 2024. 
"When he has had difficulties with the team, he knew how to change, to manage, to reverse the result, to change the team, to do something to break the routine", says Domenech in praise of Deschamps. "He has no commitment to staying with a team, a player, a formation, a style, he is able to change. He has had problems with Benzema, with Pogba; he has had problems but each time he has succeeded in fixing the situation." 
Domenech did get in touch with one piece of advice ahead of the 2018 World Cup final: don't do as the French side did before the 2006 final and change hotels before the final. "We said goodbye to everyone at the hotel as if it was all finished", says Domenech. "It was a mistake for the concentration: the players must know that they will come back. That we have to go, we have to win, and then we have to come back after."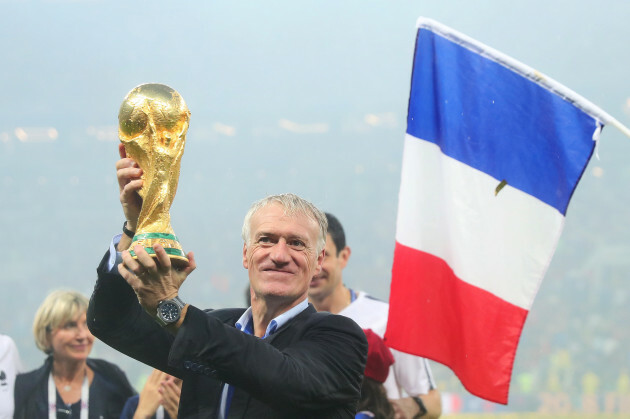 Alamy Stock Photo Deschamps after winning the World Cup in 2018. Alamy Stock Photo
Domenech dismisses those calling for Deschamps to be moved on. "Especially in France, you have someone who is doing well and you want to change because it has gone on for some time. We want new things, but he is winning!" 
And will Deschamps continue on winning when he brings France to Dublin for a Euro 2024 qualifier tomorrow week?
"Everytime in Dublin, we win 1-0″, smiles Domenech. "The first game: Henry, 1-0. The second game: Anelka, 1-0. And this time…Mbappe, 1-0."