THE THREE WISE men. Who would have thought it?
Anthony Cunningham wanders into the media room close to 15 minutes late, selectors Mattie Kenny and Tom Helebert  following in his footsteps.
"You might share the questions lads," says the manager. "We are a bit hoarse."
But if part of their voices have been lost to crafting the most unlikely of victories, and another part lost to celebrating the most shocking of victories, some too has been given over to insisting that this is but one victory. And it has to be that way if Galway hurling isn't to again hit top speed shortly before veering off course and crashing spectacularly.
So, a beginning rather than an end? Turns out that's why they took so long.
Indeed, no roars and whoops and hollers bounced down the hall from the dressing room in the quarter-of-an-hour before the management team's arrival. Instead there was a stern talk to the players about how this means little unless there is more to follow.
After all, Galway have suffered too many false dawn that were followed by darkness rather than light.
"It's no use winning today unless we get consistency," insists Cunningham. He adds:
We've reminded everyone we've always had great days here in semi-finals and whatever and then failed to turn up the next day.
"We do need consistency and that's the big challenge for us, for our players and our management and we'll be looking to put that record straight.
"It's a big message we'll have for the next four or five weeks. It hasn't been there over the years and we'll work on it. That'll be our new mantra for the next few weeks," adds Kenny.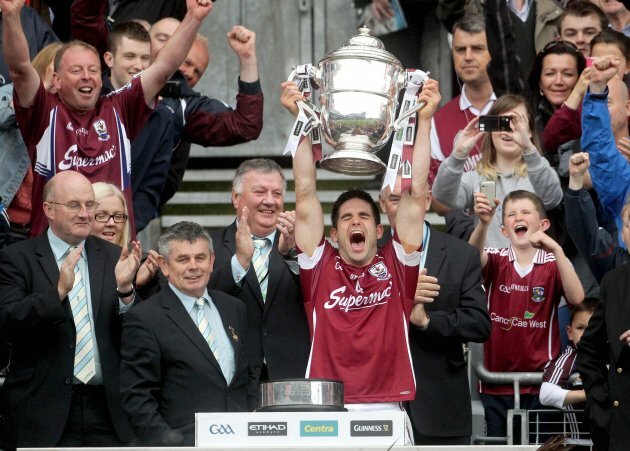 Galway's Fergal Moore lifts the Leinster trophy. (©INPHO/Ryan Byrne)
"We said coming up today we wanted to build a foundation and since February or March we have been building consistency," Kenny continues. "We are getting that consistency of performance. We've always been playing a good brand of hurling, a good attacking style, we need to take it to the next level and we'll work on that."
"We got a bit of stick for the goals against Westmeath and Offaly," Helebert says, drilling home the point about moving forward. "But with the exception of the first goal against Offaly which was a careless ball out of defence, the rest of the goals came at us at times when our concentration lapsed.
We had known structurally the defence had the right sense of shape and feel to it and key to that was David Collins coming back today and as a unit they manned up. What they brought today was a little bit of discipline and a good sense of direction in the way they confronted the Kilkenny running and striking game.
"We harried and harassed players all over the park but it's fair to say our defence was supported by our forwards who worked their socks off. We need to maintain that now."
Understated delight
They are as well drilled as their players. Questions come and answers go about how they'll celebrate this and what it means and how great they all were but not one of them veer from their gameplan.
Exclusive Six
Nations Analysis
Get Murray Kinsella's exclusive analysis of Ireland's Six Nations campaign this spring
Become a Member
In fact as they chatter away, you'd almost believe this was just another victory against just some other opposition on just another Sunday.
"We are delighted," continues Cunningham in his understated but genuine way. "We've been motoring in training and we've put a lot of work into it. We are delighted to be the first Galway team to have won. It's a Leinster campaign but after this evening we are going to be focused on the All Ireland campaign which kicks off for us here and now.
We've been very happy with the work rate and if you don't have that, and if you don't bring intensity to play, you are not going to stand any chance against Kilkenny.
"They are wounded and they'll be back but the game you saw there today from us was what we were playing against Offaly and Westmeath and we played that style in some of the matches in the league. We think we've got a good mix and we are working with all the coaches, trying to put a package together, working long hours. To beat Kilkenny you have to use your pace and skill. But the one thing Kilkenny can do is get goals and come back into matches."
So was he worried about a fight back even when the lead reached 16 points at one stage? "They were down a lot of points in that match alright and they've done it over the years. That was a fear.
"Through faults of our own – forwards and the middle third losing the balls – we conceded the goals but the big response was we got scores, Damian Hayes and Cyril Donnellan, immediate scores after conceding which steadied the ship and for a young team in Croke Park, that's essential really."
We waited around to see unbridled joy. When they finally arrived we got nothing but frosty sense.
That's exactly what it needed from Galway now. The perfect performance on and off the field.