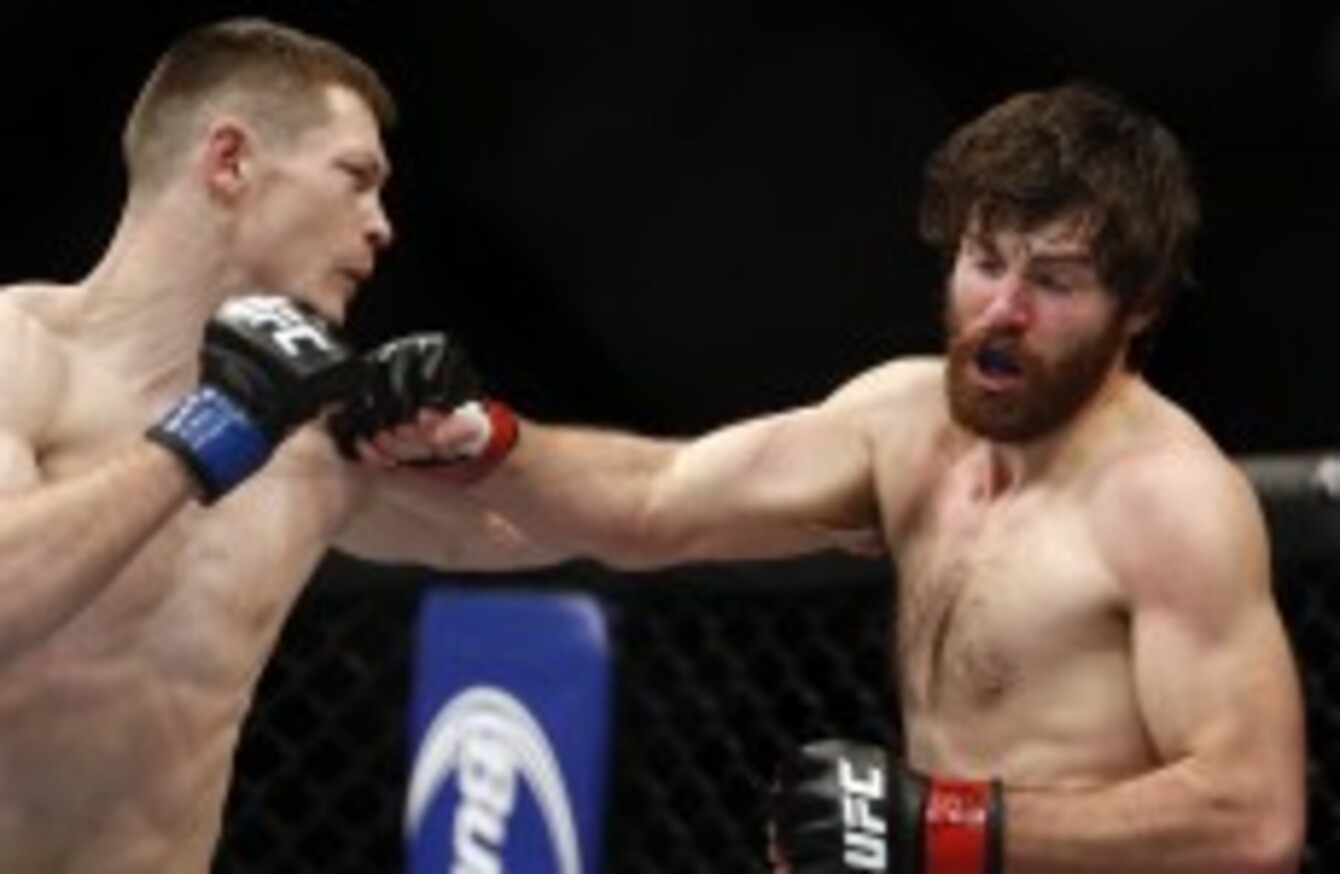 Joseph Duffy in action against Jake Lindsey.
Image: AP/Press Association Images
Joseph Duffy in action against Jake Lindsey.
Image: AP/Press Association Images
THERE WAS A lot of hype behind Joseph Duffy going into tonight's UFC debut in Dallas, but he backed up every bit of it in his lightweight bout against Jake Lindsey at UFC 185.
The 27-year-old, who hails from Burtonport in Donegal, took just 107 seconds to put away his American opponent courtesy of a TKO, which he set up with a spectacular head-kick.
UFC commentators Joe Rogan and Mike Goldberg were particularly enamoured by Duffy's performance, with Goldberg declaring: "We have ourselves another Irish star."
Rogan also mentioned that he spoke to Duffy's coach Firas Zahabi after the fight, who alluded to Duffy making a potential move to the featherweight (145lbs) division to chase a bout with Conor McGregor, who he defeated in 2010.
"I just spoke to Firas Zahabi," said Rogan. "And the first thing he said to me was: 'Next fight he's going down to 145. He's coming after Conor McGregor'. He's the last guy to beat him and he wants to come after him again apparently."
Rogan added: "I've been a fan of this guy for a while. He really is something special. He's a real, complete fighter."
Duffy didn't officially pick up a $50,000 bonus, but UFC president Dana White confirmed in the post-event press conference that Duffy would be receiving an additional cheque.
"How about his performance? We're not forgetting about you, brother. You'll get a cheque too," said White, who was clearly impressed by Ireland's newest UFC star.
"The kid is good. He's really good. We're excited to have him here, he looked great tonight and we'll see how this thing plays out."
White also said Duffy "has got some work to do" in order to put himself in a position to secure a rematch with Conor McGregor.