Liveblog
Heffernan, Wright and Boyce have started in the 50km walk
SIX IRISH ATHLETES are in action on Day 14 of the Rio Games — starting at midday with Rob Heffernan, Alex Wright and Brendan Boyce competing in the 50km walk.
Golfers Stephanie Meadow and Leona Maguire are out in Round 3, while modern pentathlete Natalya Coyle has got swimming, fencing and showjumping this evening.
Here's a rundown of today's schedule: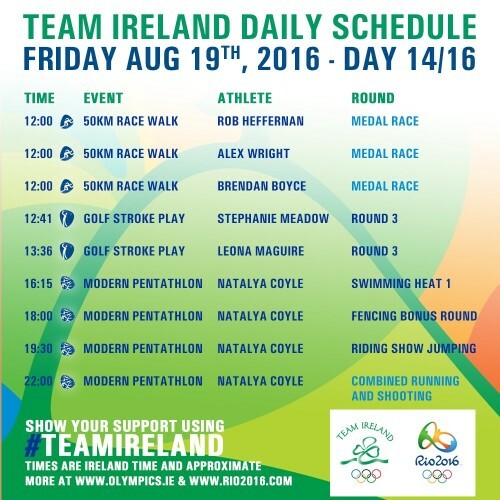 Source: Twitter/olympiccouncil
Leona Maguire and Stephanie Meadow tee off in Round 3
Irish pair have got started in the third round of the women's golf. Leona Maguire, playing with Lydia Ko (New Zealand) and Lexi Thompson (US), is on three under par after shooting 65 yesterday.
Stephanie Meadow, who is grouped with Ashleigh Simon (South Africa) and Gwladys Nocera Pucet, starts the day on one over having carded a 66 in Round 2.
Rob Heffernan going strong after 15km
Yohann Diniz for France is way out in front on his own, with a time of 1:05:58 after 15km, but Heffernan chases in a pack of nine some 55 seconds back.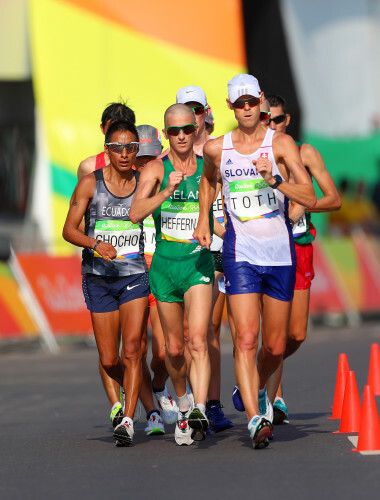 Source: James Crombie/INPHO

Heffernan 9th, Wright 11th and Boyce 37th after 20km
With 20km gone in the 50km walk, Rob Hefferan remains in the mix — 1:24 behind leader Diniz. Alex Wright is 11th, 3:34 back from the Frenchman, while Brendan Boyce is 4:46 off the front.
Decent start for Meadow
Stephanie Meadow birdies the fourth hole to leave her level par for the day and one over in total. Leona Maguire has just teed off on the first.

Here's the latest from the 50km walk
The fallen athlete was in fact Sandor Racz of Hungary, and not Ireland's Alex Wright as the TV graphics claimed. The good news is Wright is 30th.
Rob Heffernan is currently fourth, while Brendan Boyce is back in 34th.

50km walk leader Diniz is in real trouble
Frenchman Yohann Dinaz appears to be suffering from a dodgy stomach and he has been forced to stop for a few seconds to wipe himself down with a sponge, before setting off again. It's not the first time this has happened to him.
Heffernan sits in 6th at the 40km mark
The Corkman remains in contention, in sixth after 40km and 24 seconds back from the front. The top five walkers have pulled away in the leading group with Australian Jared Tallent in the gold medal position at present.
Incredibly, Diniz has stopped twice but remains in seventh.
Alex Wright has retired from the race, but Brendan Boyce is in 24th.
Just 5km to go in the 50km walk...
Tallent leads the way through 45km in a time of 3:18:47. Our boy Heffernan has 1:27 to make up in sixth place. It's been a super performance from him.
Rob Heffernan claims 6th in the 50km walk
Another super performance at an Olympic Games from the 38-year-old Irishman, whose time is 2:47 off gold medallist Matej Toth of Slovakia (3:18:47). Australia's Jared Tallent takes second and Hirooki Arai of Japan is third.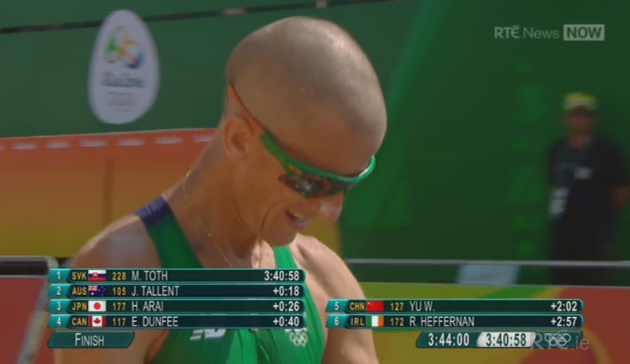 Source: RTE Player

19th place finish for Brendan Boyce
The Letterkenny man has just crossed the finish line in a time of 3:53:59. Fair play.

Natalya Coyle up next in modern pentathlon
Meath athlete Natalya Coyle is back in action from 4.15pm. She's in Heat 4 in the swim, before fencing, shooting, showjumping and combined running and shooting.

Coyle fourth in her swimming heat
With a time of 2:17.37, Coyle takes fourth in Heat 4. That earns her 288 swimming points, meaning she's seventh overall.
Next up is fencing.
Big news regarding Heffernan and Boyce's final positions
A disqualification to Hirooki Arai for bumping Canada's Evan Dunfee in the final two kilomtres of the 50km walk has seen Rob Heffernan climb to fifth, while Brendan Boyce is now up to 18th!
Meadow cards a 71 in the third round
She has finished level par for the day with a third round 71 after four consecutive birdies on the front nine. That leaves Meadow 32nd overall on one over par.
Meanwhile, Leona Maguire has bogeyed three holes in a row to fall back to two under.

Natalya Coyle competes in fencing
Defeating Australian Chloe Esposito in her first bout, Coyle loses out to 2012 gold medallist Laura Asadauskaite of Lithuania in her second but picks up a bonus point. After fencing, she remains in 12th with 503 points.
Showjumping is next from 7.30pm.
Leona Maguire 11 shots off the lead after her third round
A three over par 74 today leaves her level par overall. That's 11 shots behind leader Inbee Park of South Korea.

Clear round from Natalya Coyle in showjumping
Magnificent riding from Coyle. She goes around in 73.69 without any faults so claims 300 points to bring he total up to 803. Likely to climb the leaderboard from her current position of 12th.

Natalya Coyle to start final event in 6th and in with a medal chance
That flawless showjumping round has brought Coyle up to sixth and just 15 points/seconds outside a medal place.
She will be begin the running/shooting event 44 seconds behind leader Oktawia Nowacka of Poland and the Ashbourne athlete is in with a shot of a podium finish.
It begins at 10.15pm.
Source: Twitter/RTEsport
Robert Heffernan's original sixth-place finish now stands after the Japenese walker successfully wins his appeal
The Cork walker was originally upgraded to fifth position, but Japanese walker Hirooki Arai has now won his appeal for bumping, leaving Heffernan in sixth place.

Natalya Coyle is about to start her final event as she aims to claim Ireland's third medal of Rio 2016
Natalya Coyle is in fifth place and 15 secs/points outside the medals in the modern pentathlon.

7th place finish for Natalya Coyle in the modern pentathlon
Another superb display from the Meath athlete who improves on her ninth-place finish from London 2012.
Contribute to this story: