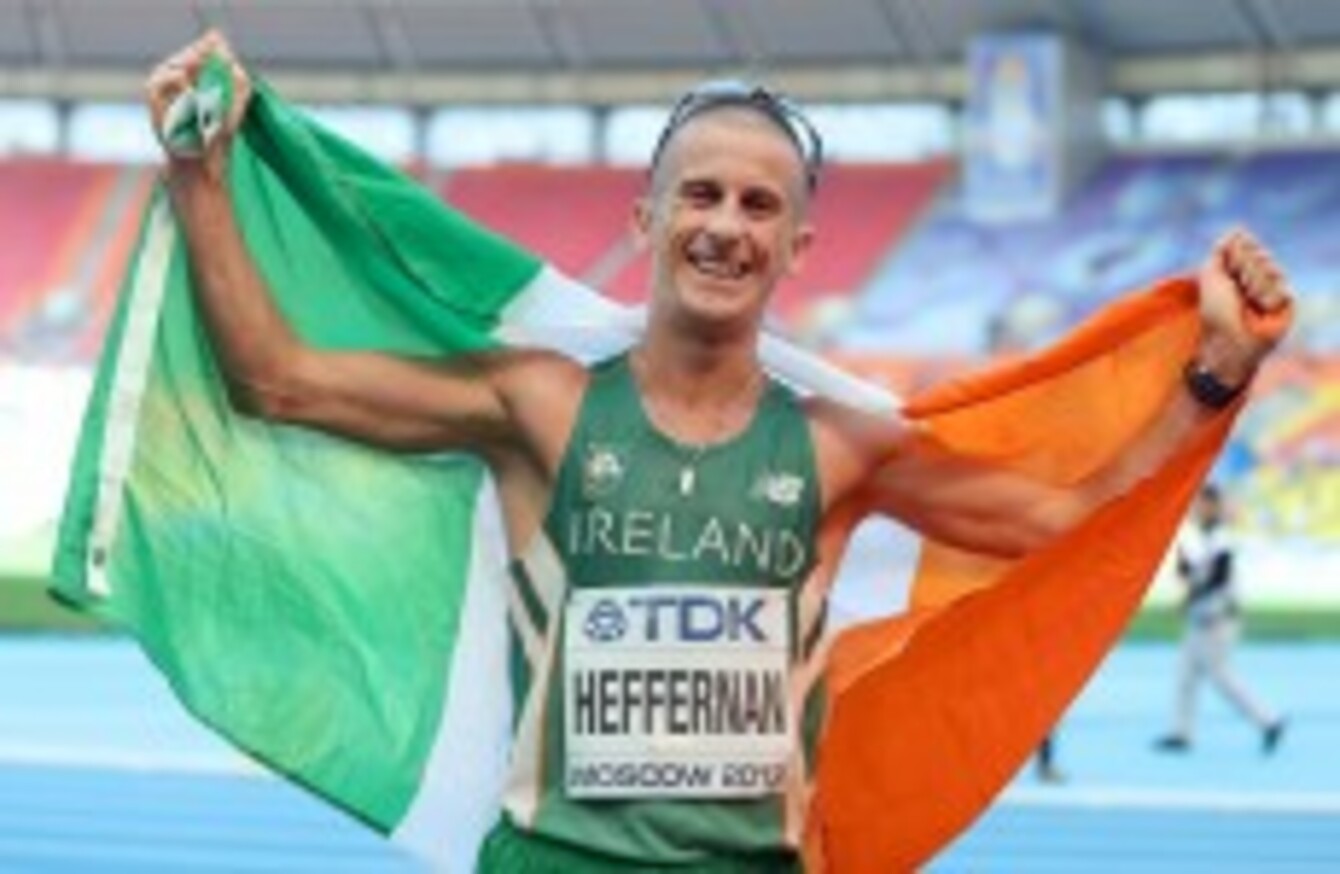 Rob Heffernan poses with the Irish tricolour.
Image: ©INPHO/Ian MacNicol
Rob Heffernan poses with the Irish tricolour.
Image: ©INPHO/Ian MacNicol
IRISH RACE WALKER Colin Griffin first competed alongside Rob Heffernan, Ireland's newest world champion, in 1996. He was 14 and Heffernan, who had just turned 18, fancied his chances at a top international youths event.
"He was a small, streetwise kid from Cork," Griffin told TheScore.ie, "and he didn't fear anybody.
"There were a couple of top-ranked Aussie runners and Rob went off with them from the start. His attitude was 'I'm as good as the rest of these guys'. He did not win and might not have been as good as those guys then. The important thing is, he kept working hard and improving year on year to eventually reach the top."
There is no arguing about Heffernan's status as the world's best now after his blistering performance in the 50km Race Walk in Moscow. The Corkman left his rivals trailing as he crossed the finish line at Luzhniki Stadium to claim Ireland's first World Championship Gold Medal in 18 years.
Griffin could have been on hand to celebrate with Heffernan — he had qualified to compete in Moscow but withdrew well in advance — but settled for following the race on Eurosport, from 5:30am, and on Twitter. He said:
I had a gut feeling but you don't want to tempt fate. With everything that happened to Rob down the years — near misses, great performances, disappointments, his mother's passing two years ago — I felt this could be his time. Physically, he's at his best ever and, mentally, he was relaxed and primed.
"I had a chat with him before the race and he was confident yet measured. There was that sense of anticipation there but he knew he could control it."
Flying home from Korea
Heffernan, and his wife Marian, withdrew from the 2011 World Championships in Daegu, South Korea following the sudden death of his mother.
Griffin commented, "It was very tough for him. I was there with him when he got the news. It was difficult for me to witness so I can only imagine what he was going through. He had to fly back immediately, from Korea to Cork, and only then could he go through the whole grieving process.
"His thoughts were with his mother when he got into the final 10km and I'm sure they were again when he crossed the line."
The Leitrim race walker felt Heffernan stood a great chance of winning gold when he was up with the main challengers after 35km. By 40km, he was just under 30 seconds clear, doubling that advantage going into the final five kilometres. "I feel he had another level he could go to if necessary," said Griffin. "He could have gone another minute or two faster but it was great for him that he could control his pace and soak up the victory."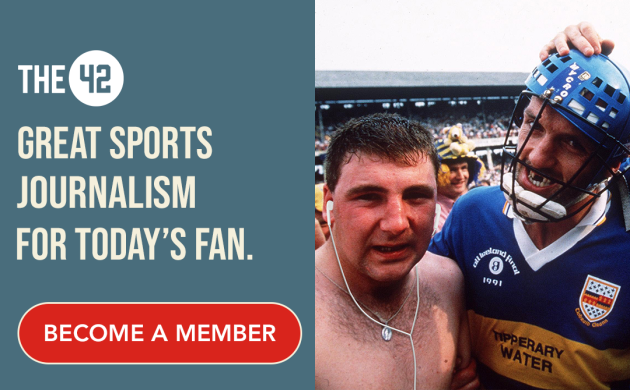 Grzegorz Sudol of Poland tries to match Heffernan's pace. (©INPHO/Ian MacNicol)
The win, he adds, will elevate Heffernan from a celebrity around Cork to an Irish star and a medal hope at upcoming European, World and Olympic events over the next three years. Griffin declared, "There is tireless work that goes on behind the scenes. Rob will put in over 100 miles a week and do three or four sessions in the gym."
Rio 2016 is a long-term goal but Heffernan, at 38, will be the best judge as to whether he has 'enough miles left on the clock' to push for Olympic Gold. For now, says Griffin, Irish athletics fans should bask in the Togher race walker's success.
He added, "As Rob himself has said, Irish athletes are capable of being the best in the world, with proper structures and investment in place, and he has proved that."