THIS TIME LAST year Rob Hennelly was a forgotten man — 12 months on and a lot has changed.
Having walked out out on Mayo's journey to the All-Ireland final in 2012, when last year's championship began he was left very much outside of James Horan's plans.
"Its funny, I suppose I take it for granted now that I've been back. I'm in a completely different position than I was in this time last year. Jesus, if I was carrying water for them this time of the year last year, I'd have been happy.
"Every so often I do check myself and even think when I'm heading off to training – it's great to be here."
Hennelly was brought back in to the Mayo panel before last year's Connacht final after injuries to both goalkeeper David Clarke and sub-goalie Kenneth O'Malley.
Little over 12 months after leaving the Mayo panel he was back, going on to earn an All-Star nomination after some standout performances in reaching the All-Ireland decider.
"After we bet Leitrim in the Connacht championship in 2012 I kind have quietly left and then Conor Mortimer got his hands on it and he left, and after that it wasn't as quiet," joked Hennelly.
"I knew when I was leaving, that what I was leaving behind me was two very good keepers. I thought it was the right thing to do at the time. I suppose if the GPA had something like this organized at the time, I would have spoken to them as I was under a lot of pressure.
"I probably should have spoken to them but I felt like the right decision was to leave the panel. I regretted it hugely and it did look like I was never going to get back in."
James Crombie Robert Hennelly celebrates Connacht success in 2011. James Crombie
Rob came in to the Mayo senior team in 2011 after excelling with the county minor team in 2008, reaching that year's All-Ireland final playing behind the likes of Aidan O'Shea. But Hennelly insists that the pressure to perform from a young age had nothing to do with him walking away two years ago.
"It wasn't the pressure of the football that was getting to me. I was working in Dublin with a company and they wouldn't give me time off. I was driving up and down a lot of the time, it's a long aul spin.
"You're not really happy with yourself and you're not content. I'm comfortable with pressure in the sporting kind, but it's the external pressures that really dictate how you're feeling and if you're enjoying things or not."
"It brave but I'll never forget I was sitting up in the Upper Hogan looking down on the Donegal match thinking 'when am I going to be back playing with Mayo'.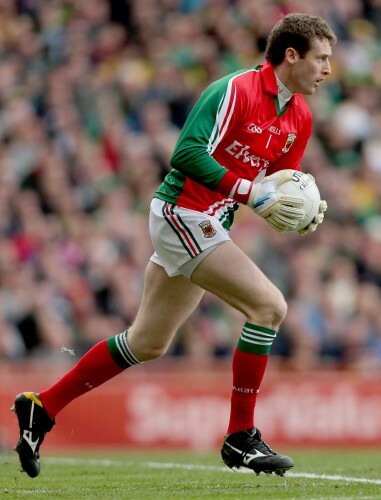 James Crombie / INPHO David Clarke was Mayo's number 1 in 2012. James Crombie / INPHO / INPHO
"I said then I was going to put in the effort and move home. The door didn't open because there's two very good keepers in there. But if you keep doing the right things, you can get your opportunity.
"In pre-season I would have contacted James saying, 'I'm back in the right frame of mind and I've moved home'.
"But they were already carrying two keepers which made sense. The way it happened was Clarkey got injured first and then Kenny got injured. It's an absolute freak."
Donall Farmer / INPHO Hennelly made a number of saves in last year's final. Donall Farmer / INPHO / INPHO
While the 24-year-old stopper is delighted to be back between the sticks for Mayo, he's hopeful his teammates will be back competing with him soon.
"It's ridiculous, they were freak injuries. David hasn't really recovered properly since then. He is back now nearly to 100% again but it's such a long time since he had the initial injured. Kenny's back right now, he's training fully but it was only recently he got right."
Mon Ros / YouTube