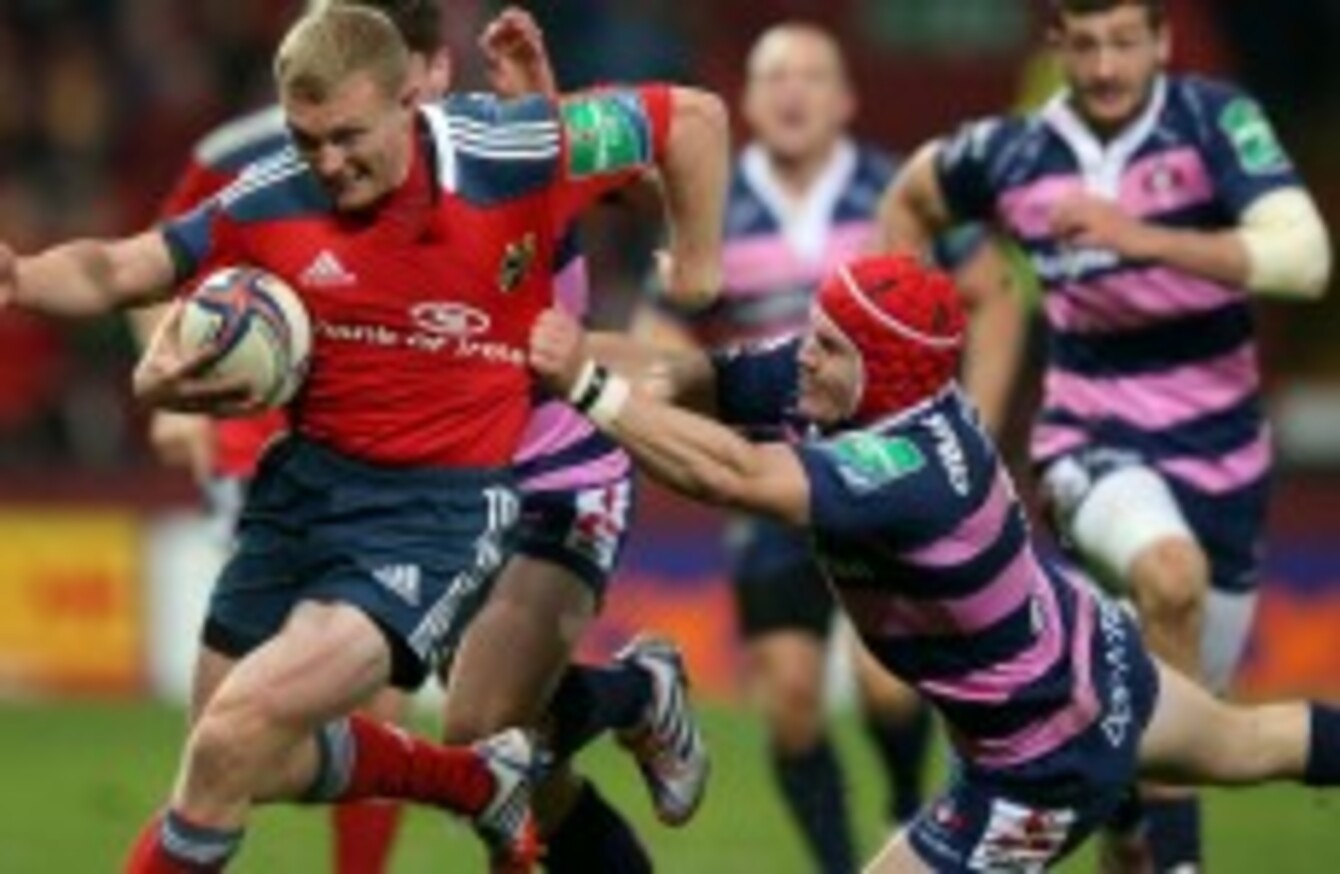 Keith Earls has another excellent game for Munster.
Image: ©INPHO/Dan Sheridan
Keith Earls has another excellent game for Munster.
Image: ©INPHO/Dan Sheridan
DEALING WITH GREAT expectations is part and parcel of being a Munster player so Head Coach Rob Penney was content that a 'reasonable performance' proved sufficient to garner a critical Thomond Park win over Gloucester.
Though Gloucester made 12 changes from the team that had outfoxed Perpignan in their Heineken Cup opener Penney insisted Munster expected a tough test. "Firstly we didn't underestimate the team Gloucester had out there. They had a lot of good young players, who are good prospects for the future. Although they made a number of changes they were still a well rounded group," Penney said.
"We weren't as good as we would have liked to have been, but it was important that we got back on the horse and got a result. That is something that is going to be important for us in this competition – to accumulate points, especially after what happened last weekend. It was important to get the result.
The expectation is extremely high and that is why the players feel so badly when they don't perform. They had a hard week and they searched and managed to pull out a reasonable performance. We are hopeful that we can use this as a springboard."
Penney is adamant that the future remains promising as his blend of youthful and experienced performers seek to maintain Munster's high standards. "It is a process, it is not something that you can draw a line through and say that is the end of the growth and development. We have got some great talent and experience, but there is a great cross section of some young athletes that are trying to prove some points.
"When you are at a place like this expectation drives you on. If you lower those for any period of time you are going to end up with lower outcomes. We were all determined to see the legendary status that the team had be retained and built on."