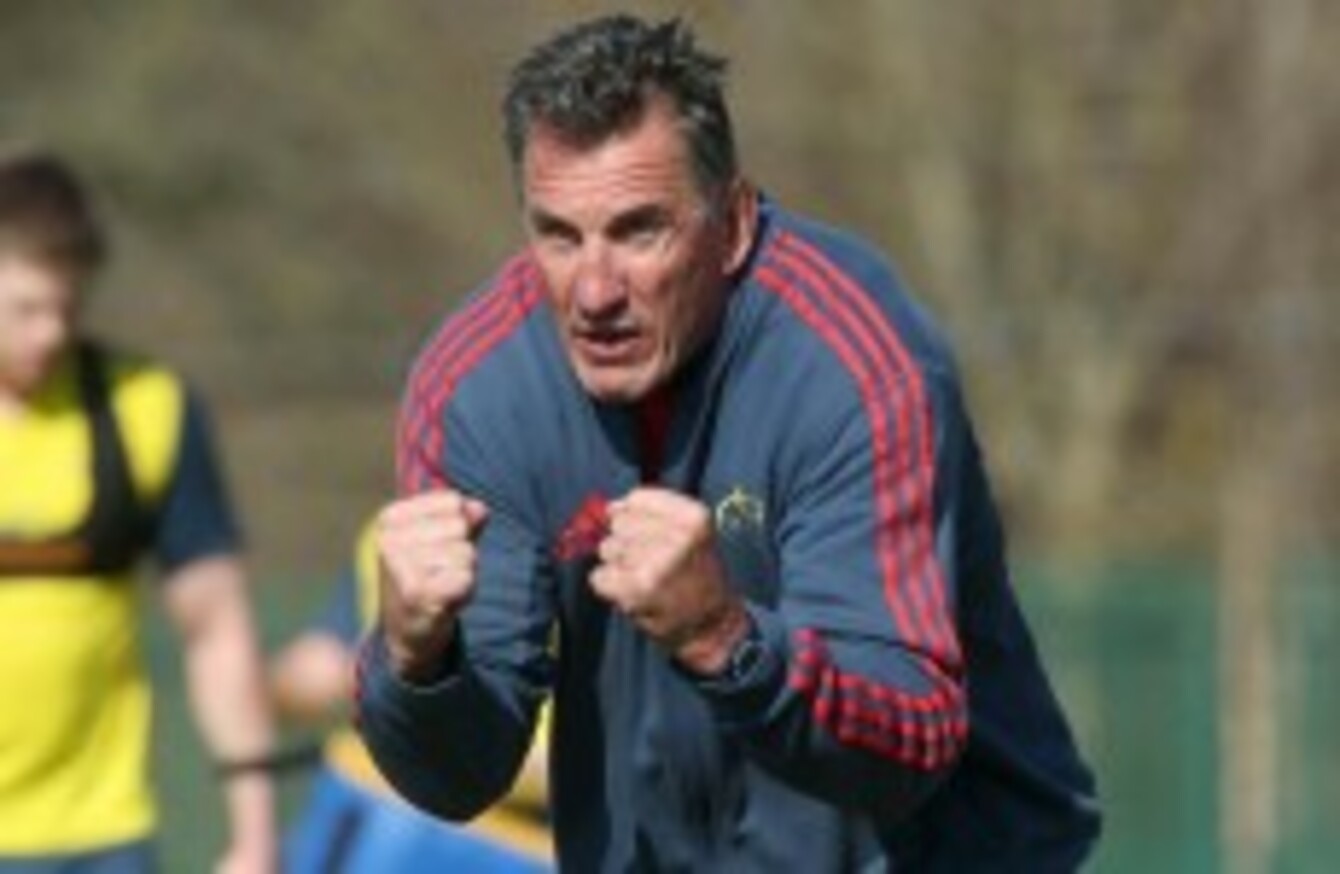 Penney is excited about his latest inter-provincial battle.
Image: Donall Farmer/INPHO
Penney is excited about his latest inter-provincial battle.
Image: Donall Farmer/INPHO
A DEFINING 10-WEEK period awaits for Rob Penney at Munster, after which he will move on to Japan for his next coaching adventure.
There have been clear signs of progress in his team over the course of the last two seasons, although the Kiwi admits that the project realistically needs another year to be finished.
Penney won't be around to ensure that happens next season, but he can at least sign off by guiding Munster to silverware in the coming months. The former Canterbury coach says he will stick to his principles as he aims to do so.
"It's still the same philosophy, still trying to do the right thing by the players and push them into a position where they can perform their best. I thought it was a three-year project, not a two-year, so I still think there's a lot of work to be done.
But I've just got so much pride in the group, the light's come on and there's been a real growth spurt in them. They're a tough side to play against when they get it right. The work's not done yet, but they've headed in a really great direction."
It was around this time last season that Munster showed definitive signs of development in high-level surroundings, by beating Harlequins away in a Heineken Cup quarter-final and then running Clermont close in the next round.
The impression was of something finally clicking within the squad, a realisation of what exactly it was that Penney wanted. However, the New Zealander refutes that notion, instead pointing to an accumulation of coaching and analysis.
"There wasn't an epiphany of any sort. It was just like there was an ongoing growth; it wasn't sudden. There were things happening and we would review them in a lot of detail. There would be images shown of the opportunities that we weren't capitalising on and defensive frailties that we could shut down with a bit more nous.
"That takes time. You just keep putting situations in front of people and gradually that maturity comes. It did culminate at the right time for us last year. There's some quality there too, to be fair. There are some quality individuals who drive things on."
Several of those individuals look set to return this weekend against Leinster in the shape of Ireland internationals Conor Murray, Paul O'Connell and Peter O'Mahony. Penney is excited by a fixture that "benchmarks us against the best side in Europe, probably."
Be part
of the team
Access exclusive podcasts, interviews and analysis with a monthly or annual membership.
Become a Member
The ex-back row player underlines that there was no slight intended in his remarks that Munster are playing the "Six Nations champions" on Saturday, rather a recognition of their international quality.
"It's a comment made with utmost respect for Leinster. Hopefully that's the way it's taken; people can take it any way they want. Leinster are a great side, they're full of internationals and that's the reality of it. If people don't like that, then I'm not sure what they're thinking about."
The fact that so many of the Leinster squad were involved in the Six Nations campaign means their players are coming into this game from a relatively stronger form base, something Penney sees as a major disadvantage.
That's certainly a threat for us. A lot of their guys are coming out of the Test framework and our boys having had the couple of weeks off. No disrespect to Treviso, but stepping up to Leinster is a step up.
"Getting them at home, battle-hardened warriors from the Test environment, that is a threat."
That Penney would insist Leinster are in a favourable situation is no surprise, but he also underlines his belief that Munster have reeled in the province that has achieved more European success than any other.
His plan is that Saturday night will see another lengthy step made.
"I'd like to think that Munster have clawed their way back a little bit. We've a long way to go and we still want to be as respected as Leinster are, we want to be as good as they are. To do that we have to give the performances on the field."
Audio courtesy of Aoife Danagher.