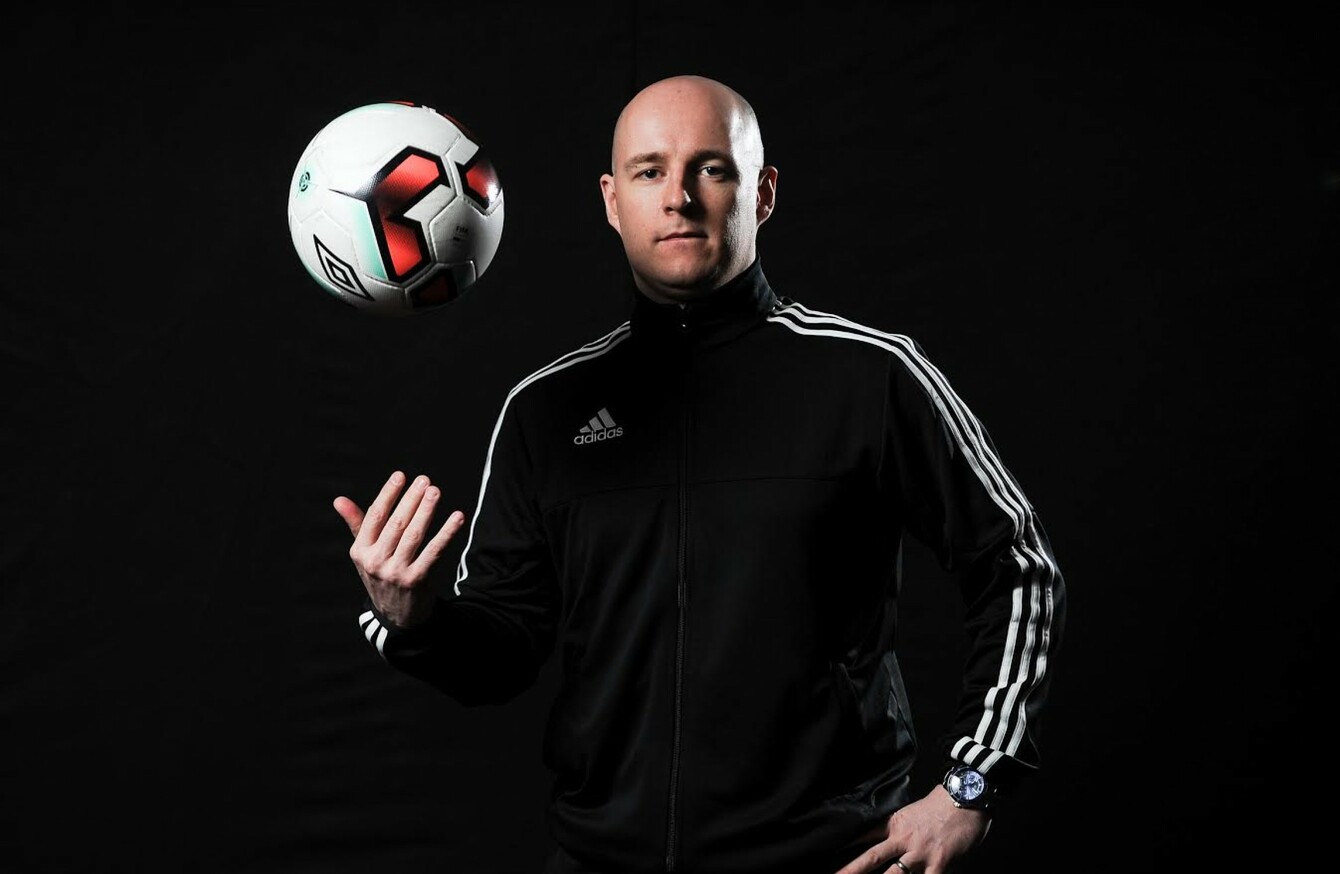 Rob Rogers has been refereeing in the League of Ireland's Premier Division since 2010.
Image: Sam Barnes/SPORTSFILE
Rob Rogers has been refereeing in the League of Ireland's Premier Division since 2010.
Image: Sam Barnes/SPORTSFILE
BEING A REFEREE is many people's idea of a thankless task.
At the top level, any mistake that gets made prompts a barrage of criticism from various quarters, while the bigger the game, the more officials' errors are magnified.
Even correct decisions tend to result in abuse from managers and players who do not benefit from the call.
And at grassroots level, the problems and pressures of officiating matches are seemingly worse.
In England, the situation is particularly dire. A survey by The Telegraph last year revealed that 94% of referees questioned experienced verbal abuse, while one in five had been the victims of a physical attack.
I've been totally overwhelmed by the reaction; not just in this country but from Europe and as far afield as Australia and New Zealand," referee Matt Hampson, who spoke out about issues such as physical abuse,

told The Telegraph last month

. "So many other people have had similar experiences. I am hoping to change things but, if there is no change, referees will walk away and I'll be one of them. We are not a punch bag. We are not a swear box and people need to start understanding that. To us, this is a crisis."
It is estimated that approximately 7,000 referees quit every year, while the recent threat of strike action prompted the FA to relaunch its respect campaign.
Rob Rogers, a League of Ireland official who has been on the prestigious Fifa International Referees List, says such problems are not widespead at elite level. Himself and his colleagues enjoy "a fantastic relationship" with the players and coaches in the League of Ireland, though he acknowledges such issues can be more prominent lower down the footballing chain.
In the wider scheme of abuse in football, we all started at grassroots level and had to endure unsavoury elements or difficult periods. It's a constant fear and problem. Football does at times spill over," he tells The42.
"You're not working on your own (at elite level), you're in a team of three or four, or six or seven. When you're in the middle of a public park or a housing estate, at times, it can extremely intimidating and the level of professionalism is not quite as high."
The 33-year-old, who also works full-time as a Civil Servant with the Courts Service, can empathise with the one in five referees who have been on the receiving end of physical abuse according to the aforementioned survey, having suffered one such experience himself a few years back during a Leinster Senior League game.
I was assaulted once in my career… Unfortunately, there was an instance of violent conduct in the game," he recalls. "I sent off the player, so the player was already at a level of passion or emotion that's quite high and he struck me in the aftermath of the sending off.
"Thankfully, what happens in these situations, because it's so unusual for it to happen, other members of the team tend to be first in to defend and isolate players and help the officials on the ground. That's what happened in this case.
The match was abandoned and the player was reported to the Garda and I think he received a lengthy ban. So it was extremely unsavoury, but thankfully when it does happen, we have the support structures in place so that we can deal with it.
"I can only speak about Ireland and the best way to combat anything like that is for all members of the football family to combat it together. Soccer can be quite emotive and people have various interests and attitudes on the game. What people need to remember is that while we all love it and we're passionate about it, it is a game. And while isolated incidents do happen, I don't think it's a huge problem."
Such stories make some people wonder why anyone would want to be a referee, but Rogers retains a passion for the job, which he started seriously undertaking at the age of 17. A keen rugby player, his uncle recommended refereeing to him as a way to stay involved in sport and he has barely looked back since.
After being selected for the FAI School of Excellence in 2002, he refereed his first League of Ireland Premier Division match in 2010 and was put onto the Fifa Panel two years later — an honour reserved only for a country's top officials.
The job is rarely easy and requires "a certain type of person". The man in the middle generally needs to be incredibly thick skinned, given the player and media criticism he will inevitably face, while also having the ability to command the respect of the footballers in question, not to mention being able to withstand the pressure of thousands and sometimes millions of fans scrutinising every call they make.
Moreover, not many people are aware of the level of sacrifice and preparation required at elite level. Despite the role being 'part-time' in Ireland, referees invariably have four training sessions a week and two recovery days. They must wear heart-rate monitors and undergo regular fitness tests.
What might surprise people is that the activity profile of a referee during a match is phenomenally high," Rogers adds. "It's higher than many of the players.
"In terms of distance, a referee would cover between 12-15km per game. We realise the best way to make the best decisions is to be as close as possible (to the play). The closer we are, the better the angle we have and the more accurate the decision-making is."
Video analysis is also crucial, both in terms of studying their own performance and the teams they are due to be refereeing. Rogers cites last year's FAI Cup final between Cork and Dundalk, which he took charge of, as an example.
While we would never pre-judge a game, there is a significant amount of prep work that goes into it. So for the cup final last year, we'd be looking at the expected styles of play first of all. We all know how Dundalk play, they get the ball down, they play down the wings and that sort of stuff. So how are Dundalk going to play? How are Cork going to combat them?
"So you kind of build a profile of what you expect Cork to do and what you expect Dundalk to do. Now sometimes, that doesn't work out, but you try to plan as best you can. You look at what are going to be the critical areas of the game, so in terms of that game, is it going to be set pieces? If so, do they have any trends or styles? Do they have the centre-backs going to the back post or front post (for set pieces)? Who holds or doesn't hold?
Obviously, what happens live in the game is more important, but it would be naive of you to go into a game without having some sort of expectation of what's going to happen."
Dealing with disgruntled players is also a crucial part of the job. Rogers feels treating footballers as "human beings" and addressing their complaints is key. Keeping emotions in check and being friendly while retaining a strong level of professionalism is also an integral part of the role.
"You have to be very careful in terms of an outward displays of emotion or enjoyment, but we're all football fans, so you absolutely enjoy a fantastic piece of skill.
Say for instance last year, when Daryl Horgan knocks a free kick into the top corner, we get the best seat in the house. But there's nothing wrong with saying to Daryl 'great shot' or 'great free kick' or 'that was fantastic' and having a laugh and a joke with them. We tend to do that on a regular basis."
And despite the various pressures it encompasses, Rogers ultimately enjoys the challenges that the job encompasses. He is "looking forward" to the new season and recently attended the annual Airtricity League Referee Seminar, in which 93 law changes brought in by Fifa last July were discussed, including the removal of the triple punishment rule, meaning that denial of a clear goalscoring opportunity in the penalty area now results in a booking rather than a sending off.
The close-knit ties fostered at such get-togethers and the camaraderie among fellow referees is one of the reasons why Rogers believes officiating is ultimately worth the hassle, despite the immense pressure and responsibility it entails.
"At a base level, when you ask anyone why they play any team sport, the most enjoyable aspect is usually the team. It's the same for us as referees. There's 64 of us on the panel and teams of four and six. At times, it can be extremely rewarding. There's a siege mentality that develops with that group of guys — with what you've been through together, you become extremely close.
All of us as referees never had the talent to make it as professional soccer players, so there's definitely a huge sense of appreciation that we get to see the action up close.
"Last season, you look at Dundalk and Cork. Dundalk are possibly the best League of Ireland team to ever play in the country and Cork were not far behind them.
You get to enjoy the atmosphere and occasion with them up close. I refereed the FAI Cup final in November, Cork and Dundalk in the Aviva Stadium, these are experiences which you can't just buy. Experiences that you can only achieve through hard work. And it's a phenomenal aspect of football. You really get an insight into how people behave and how people experience things and how people enjoy themselves — it's just a fantastic occasion."
The42 is on Instagram! Tap the button below on your phone to follow us!