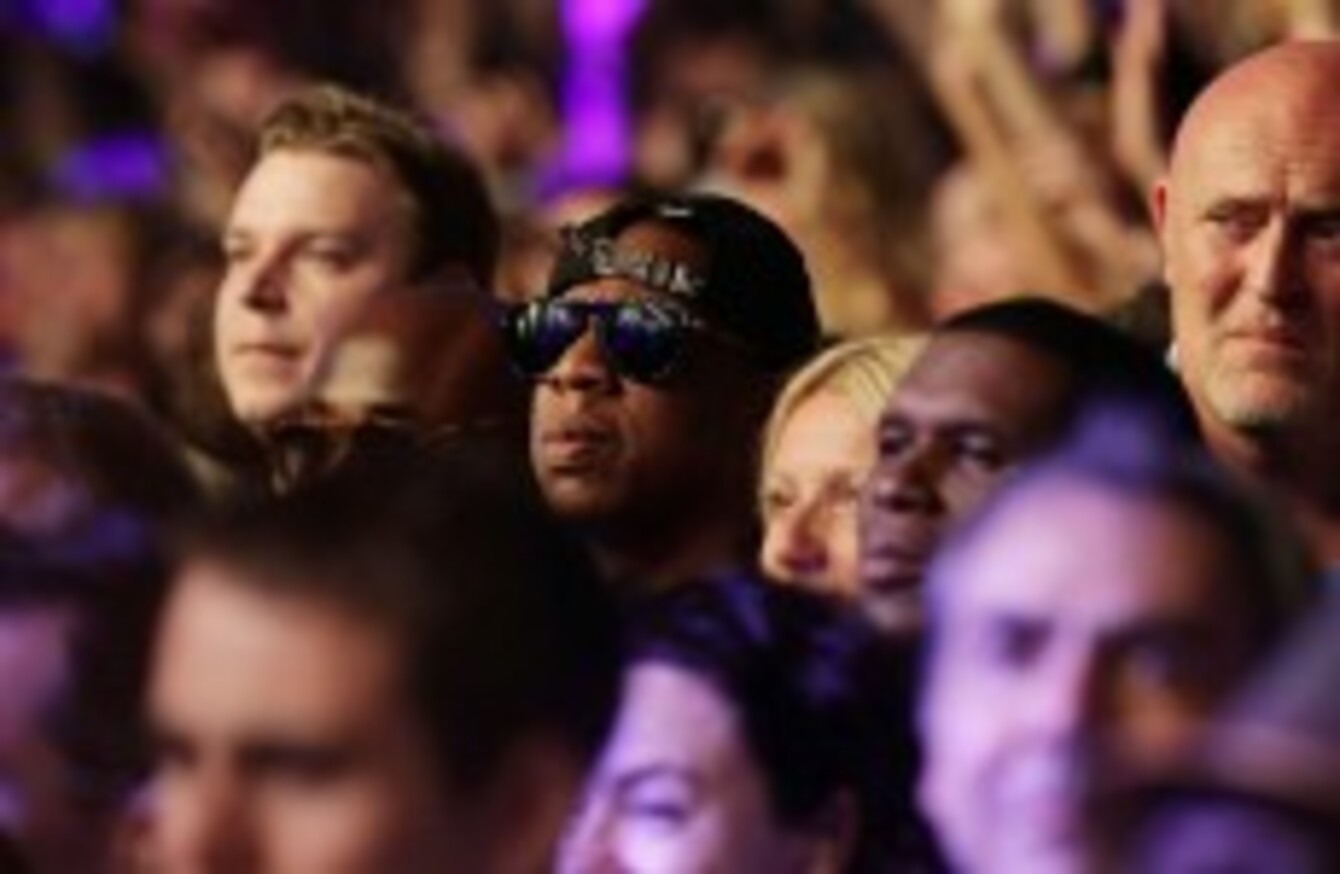 Jay-Za watches Beyonce at Glasto last night. The couple will be on centre court today.
Image: PA
Jay-Za watches Beyonce at Glasto last night. The couple will be on centre court today.
Image: PA
IT'S ONE OF the hottest days in Britain for years. The BBC are calling a day that features all the top players 'Manic Monday'. And pop's first couple will be courtside this afternoon.
Fresh from her closing Glastonbury set last night, Beyonce – with husband Jay-Z – will attend the action at SW19 today. They've picked a good one.
Andy Murray did not watch the BBC coverage of the former Destinay Child star's performance. The Scot instead spent last night watching Top Gear and knows anything less than a high octane performance in the second week of Wimbledon will see his title mission hit the skids.
The fourth seed has been able to keep his mind off tennis outside his matches and practice sessions, returning to his Surrey mansion and watching a succession of movies, starting with tongue-in-cheek horror film Scream.
But with just hours to go before his Centre Court clash against Richard Gasquet, which starts at 1pm, the car enthusiast wrote on Twitter that he was watching the first episode of BBC motoring show Top Gear.
Murray hopes to find overdrive this week as he steps up his quest for glory on Sunday, but Frenchman Gasquet is a fourth-round threat and has proven previously that he can give Britain's number one some anxious moments on grass.
In 2008 they met in Wimbledon's fourth round and Murray came from two sets and a break down to win.
Murray said: "I have a very tough match against Gasquet, a guy who I have had a couple of close matches against in the past so I expect a really tough one.
"Obviously I want it to go in my favour, that's what I plan on doing, but you need to go out and have a gameplan and execute it well to beat guys like Gasquet.
"The two times I have played him in grand slams I have found myself two sets and a break down both times so I expect a very tough game."
Murray told BBC Five Live's Sportsweek programme: "It gets harder with every single round."
Rafael Nadal will face an early test of his title-defending credentials when he meets Juan Martin del Potro in the fourth round.
Nadal, who has yet to drop a set in this year's tournament, will put that statistic on the line against the former US Open winner who is back on the tour and back on song following a lengthy absence with a wrist injury.
Plenty has happened it tennis since he lifted the title at Flushing Meadows, but it was only in September 2009 when he toppled Roger Federer, and his current ranking of 21st in the world is nothing like a fair reflection of his ability.
Nadal is well aware of that as well, and knows how well he will need to play to progress when they meet in the day's final match on Centre Court.
"I'm not lucky to play against Del Potro in the round of 16," Nadal said.
"But that's what it is and I have to be playing my best tennis to try to win. His game has everything. I think he has a good serve, very good shots from the baseline.
"He's complete. I think he's a complete player."
-additional reporting AP