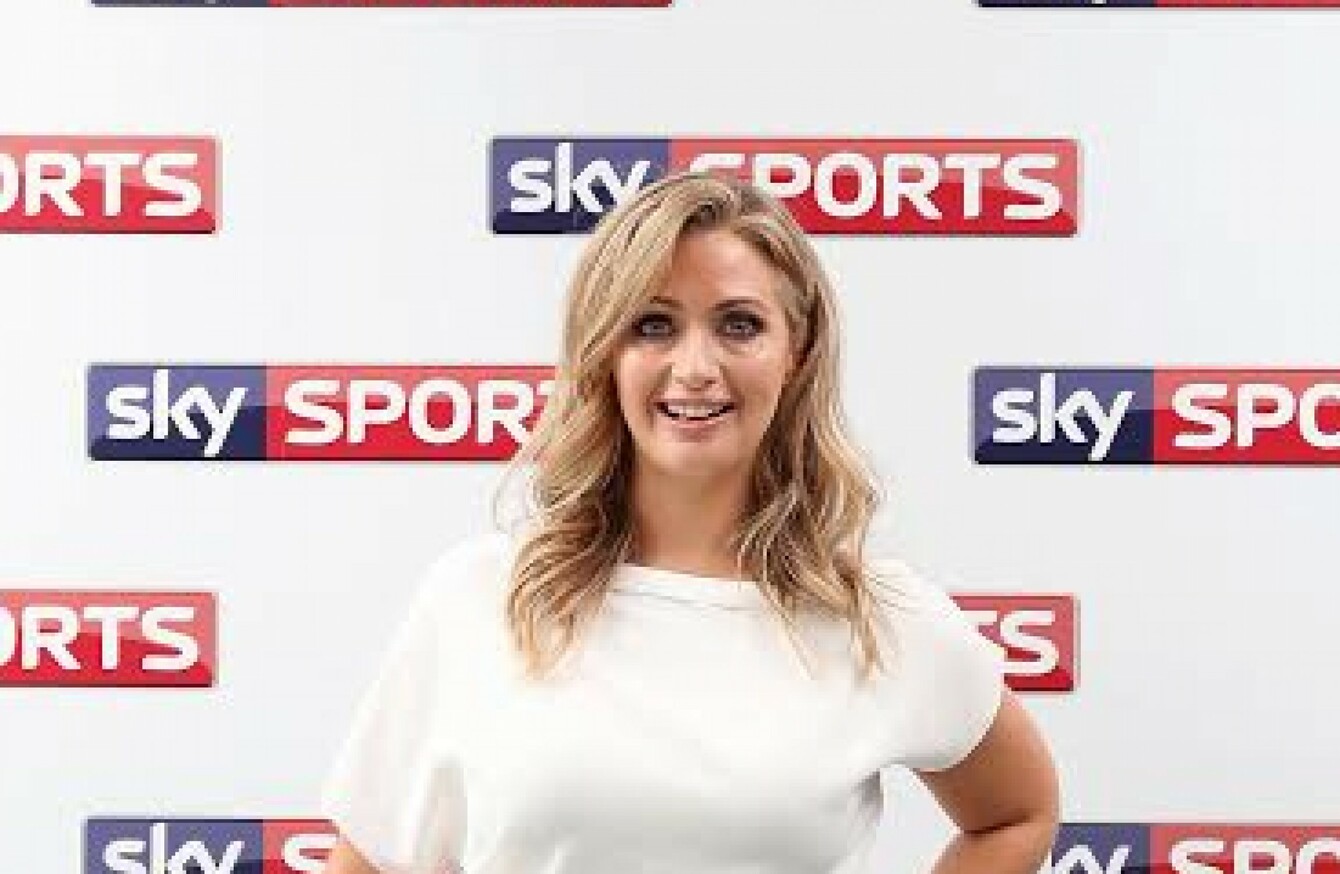 Hayley McQueen will present Sky Sports' Saturday Premier League 3pm football coverage in the coming months.
Image: Dan Sheridan/INPHO
Hayley McQueen will present Sky Sports' Saturday Premier League 3pm football coverage in the coming months.
Image: Dan Sheridan/INPHO
Updated at 20.44
A POPULAR INDIVIDUAL and accomplished presenter, few people would have argued with the choice of Hayley McQueen to front Sky Sports' Saturday Premier League 3pm football coverage.
The content is exclusive to Irish customers, and sees the experienced Sky Sports News presenter team up with former-Irish-international-turned-pundit Niall Quinn in the coming season.
Yet McQueen wasn't always a natural fit in front of TV cameras. She hated presenting initially, admitting she "wasn't comfortable with it".
After graduating from university, McQueen spent three years at Boro TV, doing everything from "taking the teamsheets up the ladders to the commentators" to writing news bulletins and presenting.
In 2006, she joined Sky Sports News, but the transition wasn't entirely seamless.
I'd studied journalism and gone from interviewing people, writing and having real input into a programme to just sitting there and reading the autocue from 10 until midnight and through the night at the weekend," she recalls.
Her first week on air was, she admits, somewhat of a baptism of fire.
I was given Kelly Cates' blazer and a top and literally sent on air. My boss at the time said 'don't worry, nobody is going to die'. Someone actually died on my first week of being on air. It was Jimmy Johnstone, former Celtic player.
"I was on air with (renowned Sky Sports News presenter) Jim White. Luckily, being Scottish, both of us knew exactly who he was. I didn't enjoy that side of it. I got into football because it was supposed to be sport and fun but sports news now is a totally different beast. We're covering Fifa and the mess they're in, and Oscar Pistorius and the murder of his girlfriend."
McQueen's new role at Sky, in addition to fronting the station's Premier League coverage for Irish viewers, will see her work three days a week on the Sky Sports News desk as well as fronting a Saturday highlights programme in the evening – Match Choice.
At least now I'll be able to go and watch a few more games now that I'm not working Sundays," she says.
Like Simon Thomas, David Jones and Ed Chamberlain, McQueen explains that she has worked her way up at Sky, though she acknowledges that the station at one point hired presenters for "the wrong reasons".
That has happened in the past, not any more. They have brought people in who maybe they've brought in for the wrong reasons and thought 'we can mould them into something'.
"They might have a bit of a love of sport but not come from a journalism background, but certainly, when a group of younger girls come in, (they are) up for a lot more scrutiny than the guys."
And on a related note, does she find it difficult working in sports journalism, which is often perceived as quite a macho environment?
Football is men mainly watching, with men interviewing men about men. It's nice to have a female and a softer voice. I think sometimes I'll be asking the same question as a man but (will) maybe ask it a slightly different way and maybe get away with a little more.
"At first, no one took you seriously. At Man United, I think Sir Alex Ferguson was like "oh god, here's this girl". He used to call me 'the girl'."
McQueen impersonates Ferguson's Scottish accent: "'Is the girrrllll interviewing me?' (He didn't mean it) in a derogatory way. Then you build up your trust. People need to trust you and I think at the start, I used to over-complicate things.
When you're a journalist, you have to ask the questions — what, where, when, why, how. I used to make a statement: 'Well this happened and that happened and this happened,' rather than just asking the questions.
"And from studying journalism, I knew that wasn't how you're supposed to go about it. I just felt that I had to throw out all these stats and information so people would know that I knew what I was talking about — really, what they care about is not what the presenter is saying, but the answer of the guests."
Despite Ferguson seemingly treating the new MUTV presenter with a degree of suspicion initially and referring to her as 'the girl' for "probably a good season," the pair forged a healthy working relationship ultimately.
"He was great and always really good with me, always respectful. I remember one Christmas Eve, I was down at the training ground and I was going to be back working on Boxing Day.
I was desperate to drive back across to the north-east to spend Christmas with my family. We used to conduct interviews with the players and manager pre-arranged before training. Sometimes the players would make you wait until after training.
"You'd be sitting there with the cameraman and you couldn't say anything. You couldn't say to Paul Scholes 'come on, do it before training, get your act together'. I'm in no place to do that.
"Sometimes the press officer wouldn't ask and Sir Alex would ask: 'Who are you supposed to be interviewing?' And it was Paul Scholes, he said he was going to go to training first. Five minutes later, Paul Scholes arrived through, does the interview and then they all went out for training. Sir Alex was like: 'Get yourself home for Christmas.' He does see the person in there rather than (me) just being a journalist or a girl or whatever.
The first-ever interview I did with him in the tunnel, that was a good interview, United had just lost and he patted me on the back and said 'well done'. I was like: 'Oh my god, Sir Alex Ferguson said well done.'
"I remember seeing Geoff Shreeves on Sky Sports in the tunnel a few weeks later and I saw Sir Alex pat him on the back and say 'well done'. I was like: 'He does this with everyone!' After that, I always expected him to say 'well done' and when he didn't, aw, the mind games!
"You'd be like 'oh well, I'm definitely here before Sir Alex, and his car would be there, and you'd be like: 'Has he been here all night?' The commitments he had with the big brands — now it's like Chevrolet, DHL…
The stuff he used to do was unbelievable. I'm kind of not surprised that David Moyes almost couldn't cope. I just do not think anybody realises how much you have to do on top of just coaching and managing that club."
And did she have a favourite interviewee during her time at the club?
The ones that were a similar age were always good because you were kind of equal. I'd pull up in my four-year-old mini and they'd pull up in a Lamborghini, so we weren't equal in that sense, but you'd be the same age and you could kind of relax with them.
"John O'Shea was always great. He was just a normal guy. He wouldn't rock up with a designer Louis Vuitton bag, he'd have pictures of his kids or something. He was quite normal, and we wouldn't chat much about football while we were miking him up. (It would be) 'Where are you going on Saturday, what you doing, what are you up to? What bars do you go to? Are you out with the girls?'
Ronaldo was a dream. I know he gets stick, because he loves himself, he loves being out there. Every interview that was ever requested of him he did and more. He would come in in the morning and make Kath a cup of tea. That is a fact. She loved him. He was brilliant. He's fun and he's dry and he's got a good sense of humour.
"I was there for four years. (It was interesting) how it developed. His physique was different and his personality was different, just how he was was different, but he was still the same person at heart. But he was a dream to work with and just lovely.
I remember one time, it was my birthday, and it was just a couple of weeks before Christmas. He never went out — a lot of the other players would go out on big nights out. He didn't really drink. I don't think he drinks — he has the odd beer or glass of wine. He was so professional.
"He was at one of those that had gatherings at his house. His mum obviously lived with him. He had his cousins and family who were all there. He was very family-oriented.
You might see Wes Brown out with Rio Ferdinand and (Michael) Carrick on a night out, quite often with their partners. You'd never see Ronaldo (out). He was like: 'Where are you going for your birthday' and (I'd say) 'I'm going here for a meal'. He'd be like: 'What's it like? What you wearing? Who you going with?'
"He wasn't ever trying to chat me up. He was asking me about a world that he didn't have. I looked at them and saw these millions of pounds, these big houses, these big cars. But what they didn't have was privacy, Friday and Saturday nights out, fun.
"My birthday is two weeks before Christmas. (Ronaldo would) say: 'Happy Christmas… oh, how was your birthday, how did it go?' He remembered. He didn't have to remember."
If Ronaldo did try to chat her up, however, he wouldn't have gotten very far.
I didn't have a boyfriend for years because my dad (Gordon McQueen) is a big six-foot-four former Scottish defender," she smiles. "He put a lot of people off, so they wouldn't dare ask anyway."
McQueen lists Graeme Souness as her favourite Sky pundit, while Paul Scholes is named as the non-Sky Sports analyst she would most like to work with.
"I never in a million years thought that he would make a good pundit," she admits. "He hated being interviewed. He would do everything he could to get out of it.
"When he was being interviewed, after every question, you'd see him nudging forward in his chair, like: 'Are we done? Are we finished?' He didn't enjoy it, but that's because all he cared about as a player was playing, now he obviously sees it from the other side of things."
And what about Roy Keane?
Oh my god, I'd love to work with him! I want him to come in and do a three o'clock kick-off with us. That's the challenge for this season, getting Roy to come in the studio to do a game. If I had his number, I would (give him a call)."
A long-time Man United fan, McQueen is excited about the coming season and the host of new players at the club, as well as the likely arrival of Paul Pogba — the player who originally left the Red Devils as a youngster on a free transfer — for a big-money fee.
"I did (Pogba's) media training," she recalls. "He was playing at United when I was working there when he was just a kid in the academy. He was just a shy, lovely young lad.
It was funny, because they're just nervous little kids. I see Danny Drinkwater now and it's like: 'Oh my God, I remember when I used to interview you.' You know when boys sometimes like to put their hands down their (pockets) and stuff? I said: 'Even though the cameras might not see it, that is a bad habit.'
"Or they don't look at you, or they look down, or they don't know what to say. But (the coaches) Brian McClair and Paul McGuinness were very protective of their academy youngsters.
They would just bring the cameras into the room and we would just sit with them. It never got published or went out on air or anything, but we'd sit with them, just so they got used to seeing themselves on camera.
"We just asked them really basic questions, so that they would get used to it. We'd make them watch it back, so if they had any little things that they did, you kind of iron it out.
"We'd never tell them what to say. When you hear: 'Oh, they're media trained now,' we never did that. If somebody asks you a question, you can use their question to help you into an answer."
McQueen also has fond memories of interviewing Jose Mourinho, whose appointment as Man United boss was confirmed last May, during his days as coach of Inter.
I interviewed Mourinho, I've still got the tape. I was delighted that a journo put it in his column. It was heading into Inter versus AC Milan. He'd come over to England for an event.
"He was managing in Italy at the time and I was like: 'When are you going to come and be the Man United manager?' I wouldn't stop. He was like: 'Oh, well I have to wait for Sir Alex Ferguson to retire.'
And I was like: 'But when he does retire?' He was like: 'That's going to be a very long time.' I was like: 'But you're going to wait a long time, aren't you?' And he said: 'Yes, I will wait.' I was like: 'Bingo, got it, good.'"
Sky Sports will show a record 159 Premier League games this season – nearly 4 times more than any broadcaster – including exclusive 3pm kick-offs for the first time. Upgrade to Sky Sports today by calling 0818 904 082 and get Free HD with Sky Box Sets for 12 months
The42 is on Snapchat! Tap the button below on your phone to add!