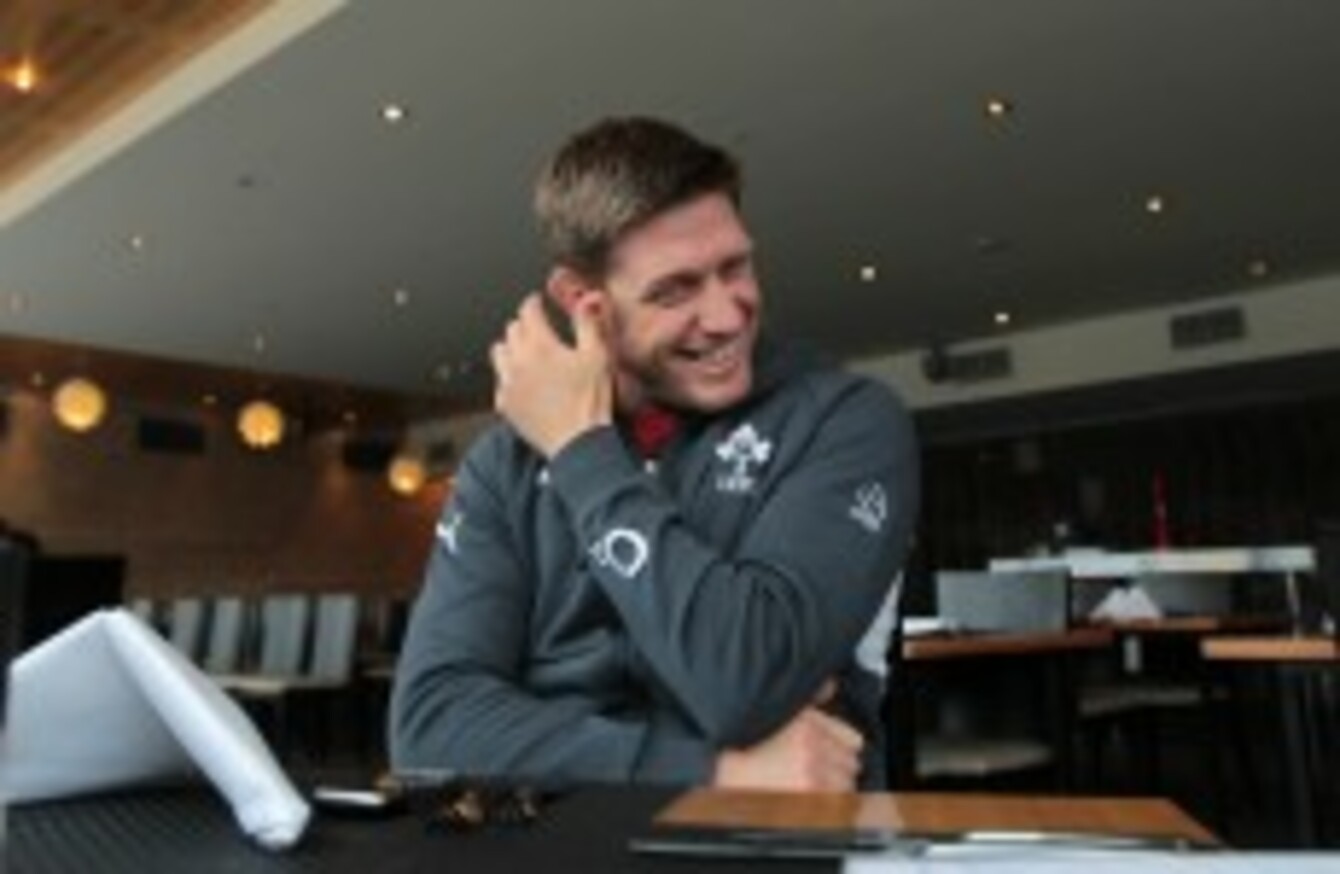 Ronan O'Gara chats to the press in Queenstown.
Image: INPHO/Billy Stickland
Ronan O'Gara chats to the press in Queenstown.
Image: INPHO/Billy Stickland
WE WILL MISS Ronan O'Gara when he is gone.
By 'gone' we mean retired and by 'miss' we mean a wistful look back to the days when the Corkman landed late penalties and drop goals to edge Ireland past the winning post.
A Grand Slam winner in 2009, two Heineken Cups and, at present, the fourth highest international points scorer.
There have been low moments as well – most notably his concession of a late penalty to cost the British & Irish Lions the series against South Africa.
However, through peaks and troughs, O'Gara has never failed to step forward and give frank assessments of his form and that of his team.
On his final rugby tour to New Zealand, as a player, the Munster out-half sat down to chat to TheScore.ie.
Here is what he had to say:
Q. It must be tough for the lads to step it up again at the weekend?
A. I don't think it is. We were disappointing and poor, very poor, in Eden Park.
I don't think that was a reflection of where we are as a team. I think last weekend was much more like it. We put ourselves into a competitive position and gave ourselves a chance to win it but we didn't get over the finishing line. That was particularly disappointing.
It great that there is another game and the fellas are really excited about it.
Q. How often have you seen the All Blacks needing a drop goal to win a game and Dan Carter having attempts with 20 minutes left on the clock?
A. It probably shows their mindset when they are attempting drop goals that early in the game. Our defence was very good all night. We took momentum away from them very early in the game; it is difficult to get that momentum back. We were competitive and gave ourselves a chance of winning but we relieved the pressure (on them) when there was a penalty given against us at the scrum. Some decisions go for you and others go against.
They got into our half a little too easily and managed to scrape out a winning position.
Q. Do you notice the difference from the 2009 Grand Slam, when Ireland won while not playing at their best, and the current situation the team finds itself in?
A. It is hard to compare them in that but that's what winning teams do and that is exactly what we were like during the year of the Grand Slam.
You know where the finishing line is and you do whatever it takes to get over it. That is a massive skill in itself and there was massive trust between the players. I think that, since then, there has been a fair bit of change in the team, we are trying to develop.
We probably hit that level once before (against Australia) during the World Cup when everything was going really well for us before we came unstuck against Wales in a game that was a massive downer for us.
Ronan O'Gara and Brian O'Driscoll celebrate the Rugby World Cup win over Australia. (David Davies/PA Archive)
They were the two times, the Grand Slam year and at the World Cup, when we had this unbelievable belief that, whatever we had, it would be good enough.
We need to get back to that and it is obviously difficult as we're in New Zealand, in their home, the world champions. But they are the levels you need to be tested at.
What are they
really like?
Rare insights on sport's biggest names from the writers who know them best. Listen to Behind the Lines podcast.
Become a Member
Q. Was there ever a chance that you would have volunteered to take that final kick at goal?
A. We didn't have any words on this occasion but, if he didn't fancy it, I would have had a go.
It was an opportunity and if he struck it well he would have had the distance he just, probably, got under it. That happens to all of us.
As you say, we did have the opportunity of going ahead. I'm not saying it was the winning of (the match) but these are the small margins that you talk about. I would have been only too happy to have a crack off it but he was the man in possession and he was kicking well all game.
Q. With Gordon D'Arcy being injured, you may come in at out-half and Jonny may drop back to inside centre. Would you be happy with that combination?
A. I don't know how it will go but it will be interesting to see what happens. The most important thing, from a senior players' point of view, is, inexperience or experience and whether you start or are in the 22, you have to make a positive impact when you come onto the pitch, whether it is one minute or 80 minutes.
The sooner the 22 start believing and operating like that, I think, Ireland will be in a better place.
I think that the bench had a good impact at the weekend. From 16 down to 22, we gave ourselves a good chance of winning the game. You have to add more than the fella that was there when you do come on. If you think like that it will have a positive impact on the team.
Q. Brian O'Driscoll was saying that there was some pride back in the green jersey after the weekend. Would you agree with that?
A. It is but that is the standard and that was what was so disheartening about the performance at Eden Park. I think everybody was a small bit rattled by that. It shouldn't take something that that to give us a boot up the backside.
We have our standards, have our values, for, a lot of us, the last 10 or 12 years. Those standards were poor in Auckland but I hope that normal service has resumed.
The other side of it is that there is plenty to improve on so we'd like to think we can improve on last week's performance.
*You can follow all the latest news, comments and goings on from the Irish camp by following @patmccarry on Twitter and by regularly checking in with TheScore.ie.