IT'S A HOME final for Leinster, a chance for revenge against the team who beat them in last year's decider. 14 Grand Slam winners in the starting XV, with plenty of other notable stories in their matchday 23.
And yet, when he strolled into the media room at the Aviva Stadium today in his red hoodie, Ronan O'Gara was instantly the star attraction.
The La Rochelle head coach was in relaxed, jovial form. He joked that his turquoise hoodie was in the wash and that he's saving his green one for tomorrow. O'Gara let us know that he had a lovely run around UCD this morning, but wasn't unsurprisingly wasn't invited into Leinster's training centre.
He also gave a shout-out to Majella Smyth, the head groundsman at the Aviva Stadium, after fielding a question about the size of the pitch.
O'Gara's players are relaxed too. There was no sense of nervousness from them as they went through their captain's run. O'Gara said he looked at a group of La Rochelle forwards this morning, all of them messing and laughing, and said you couldn't have guessed they have a big final ahead of them.
But make no mistake, the reigning champions will be in business mode when the whistle blows at 4.45pm tomorrow. It will be a special encounter in this third game against Leinster in three consecutive seasons. All the more so for O'Gara back on Irish soil.
"It's a home game for me too, you forget," said O'Gara.
"I have such great memories in this stadium. The minute I walked through, I was like I can't believe I'm here.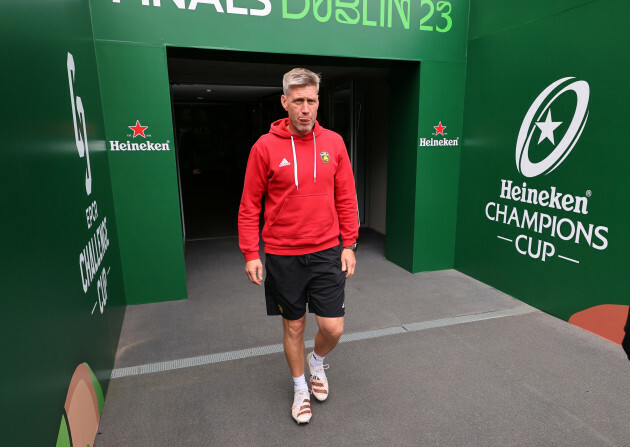 Billy Stickland / INPHO O'Gara at La Rochelle's captain's run. Billy Stickland / INPHO / INPHO
"You're in a bit of a time warp because you're focused, but when you stand back from it, it will be a fantastic occasion and there's a lot to be proud of but now is not the moment to be reflective. It's time to drive on, get the best out of our players."
The theme of 'driving on' came up repeatedly during O'Gara's 25 minutes with the media. La Rochelle reached the peak of the Champions Cup last season and have no intention of coming down. They want their second title before going on to chase their first-ever Top 14 crown in the weeks to come.
Domestic matters have been parked for now and O'Gara can't wait to see how his players handle the challenge of being away for this final.
"We'll either grow or shrink," said O'Gara.
"What I've seen from my boys is they love it, they care for each other, they've prepared all season for this game and it's to be attacked rather than be feared. As a player, I would have been damn nervous, as a coach I'm extremely excited about it.
"Where else do you want to be? It's a Heineken Cup final in Dublin and we're ready to go.
"Leinster are going to have purple patches, for sure. It's how we manage those pressure moments that will decide how the game goes.
"Over the 80 minutes, there should be enough of an opportunity for us to play rugby, to impose our game, that's what we're banking on as opposed to taking the home crowd on full-on, you know."
O'Gara highlighted the excellent work of his counterpart, Leo Cullen, who was his team-mate in Ireland squads over the years.
While La Rochelle have focused on themselves ahead of this final, O'Gara knows Leinster will be well prepared.
Dan Sheridan / INPHO O'Gara said he has great respect for Leo Cullen. Dan Sheridan / INPHO / INPHO
"I have huge time for Leo," said O'Gara. "I like his family, he has huge humility, he always passes the credit to someone else but he has a huge role in it, a massive role.
"As a player, he was very intelligent and the ruthless side of our game is that one of us is going to be happy tomorrow night, the two of us can't be.
"One of us is going to be down for a period of time, then you pick yourself up and go again. He has seen how that works. He has got a good family, he's a really good guy, he's got a really good coaching team, a lot of smart guys. 
"What's different from the final last year? That would be Andrew Goodman who I coached in the Crusaders. He's very, very smart. I know he has something up his sleeve or two, he always does. He's got a good mentality that he'll laugh about it before and after the event. He either rubs salt in my wound or we have the solution for his play, that's the enjoyment of it.
"This is where you want to be."
Get instant updates on your province on The 42 app. With Laya Healthcare, official health and wellbeing partner to Leinster, Munster and Connacht Rugby.