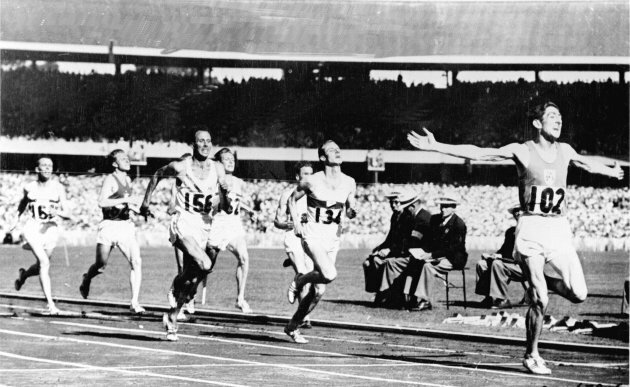 Delany crosses the line. Credit: INPHO/Allsport
RONNIE DELANY'S GOLD medal win in 1956 Olympics is the stuff of legend.
The Wicklow runner nearly wasn't picked for the 12-strong team sent to compete in Melbourne but returned home a national hero after clinching gold in the 1500m final – one of an incredible five medals Ireland took that at those Games.
On December 1, the 21-year-old lined up alongside pre-race favourite John Landy and ten other runners at the Melbourne Cricket Ground.
This is his personal account, and the thoughts of Ireland's best-loved commentator Jimmy Magee…
Delany: It has seemed as if the whole Irish diaspora in Australia had met to greet us on the runway. When you think of airport security today it was extraordinary. We were met by an Irish piper, the scene was simply overwhelming and something I'll never forget.
Magee: At the time, I was working on an RTE programme called Junior Sports Magazine – the one with which I began this crazy kind of career.
Delany: I think the Irish press rated my chances at 100/1 but I knew in my own mind I would win. Although the reality was I needed a lot of things to go right on the day and I needed to be tactically astute.
Magee: Don't forget it was 1956 and there wouldn't have been a huge awareness that it was on in Ireland. There's no mod cons as regards telecommunications, there's no Sky television. In fact very few people had a TV. You were lucky to have a radio that worked.
Because I had this keen interest, I knew everybody in the final. I remember the BBC had a man called Rex Alston, who did the commentary that day. He said a phrase that I'll always remember: "And Delany of Eire is making a move".
Delany: I progressively moved up down the back straight…
Magee: He came from what looked like last place, he may have been ninth or tenth out of the 12. The fanstastic thing was that they forgot to ring the bell but with a lap to go he began to move up.
And with 300m to go, he moved again.
Delany: I passed Landy with 180m to go and I think I had Brian Hewson, Klaus Richtzenhain and another athlete ahead. I hit the front with 90m to go and I was just flying. I could tell from my posture and strength, I don't think I have ever felt as good.
Magee: He picked them off one after another. When I saw the film back, it was scintillating to watch.
Delany: As I crossed the line I threw my arms up in joy and the first thing I remember thinking is I just can't believe it. My second instinct was to kneel down and give a prayer of thanksgiving.
Magee: Even though I knew he had won it, when you actually see it back on tape you don't believe he will. But he did. That was wonderful and fuelled the desire I had to work in sport. Little did I know I'd be one day in the very stadium where he won gold.
YouTube credit:jimbojimjimbo
(Ronnie Delany quotes from IAAF.org, Jimmy Magee in interview with TheScore)