Updated 11.15
CONCUSSED DUBLIN DEFENDER Rory O'Carroll should not have been allowed to finish Sunday's All-Ireland final, a brain injury awareness group said.
O'Carroll needed treatment from the Dublin medical team after a thunderous collision with Mayo's Enda Varley in the game's closing stages.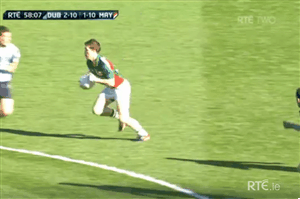 Credit: RTE.ie
Though he was visibly dazed by the impact, O'Carroll was left to play on for the final 16 minutes as Dublin had already used their five permitted substitutes. An earlier incident saw Dublin corner-back Jonny Cooper replaced following a clash of heads with Andy Moran.
O'Carroll is an ambassador for Acquired Brain Injury Ireland and CEO Barbara O'Connell said that by playing on, he ran the risk of suffering a dangerous repeat concussion.
"Rory has been a great ambassador and advocate of concussion awareness and so in hindsight I know he will agree that he should have come off the pitch after he got concussed in [the] All-Ireland final.
"However, we must also note that as a concussed player Rory's decision making was impaired at the time, and so the decision to come off the pitch should have been taken out of his hands."
Dublin boss Jim Gavin said yesterday that if they had been aware of the severity of O'Carroll's injury, he would have been taken off immediately.
Jonny came straight off because he was diagnosed with concussion and he even vomited up there in the dugout afterwards.

But if we had known the extent of Rory's injury, he would have been off.
"For a guy who they said had concussion afterwards, I think he played quite well. But that is something that we need to look at in Gaelic games anyway. Players could be seen to be feigning injury but he certainly wasn't. When he went down he had got a blow to the head.
"He said he was fine and the doctor had a look at him, and they had a look at Jonny and Jonny said he was good to go and they said no, so you rely on the medical guys to make that call.
"We have two experienced guys there so they made the right call with Jonny to get him off.
– Originally published 11.05