IT GOES WITHOUT saying that Jose Aldo (25-1) will provide Conor McGregor (18-2) with his toughest test yet, and according to UFC lightweight Ross Pearson, it's too difficult to predict if the Irish star is capable of passing it.
Since making his UFC debut in April 2013, McGregor has bulldozed his way through the featherweight division, picking up six comprehensive victories on the trot — a run which has included defeats of top contenders such as Chad Mendes, Max Holloway and Dustin Poirier.
A seventh will see the 27-year-old Dubliner become the undisputed UFC featherweight champion this Saturday night at UFC 194 at the MGM Grand Garden Arena in Las Vegas.
However, the challenge facing McGregor is to overcome the only undisputed 145lbs champion in UFC history — Jose Aldo, who hasn't tasted defeat in over 10 years, having won his last 18 bouts in a row.
"I think Conor is just on a steamroller of confidence right now," Pearson told The42. "He's got incredible belief in his own ability, he believes in his power and he believes that he can finish anyone.
"He's been really impressive but this is going to be a completely different test to anything he's come up against before. Jose is a different animal entirely. I think Jose will be there until the very bitter end. There's no stopping that guy. I'm expecting it to be a war."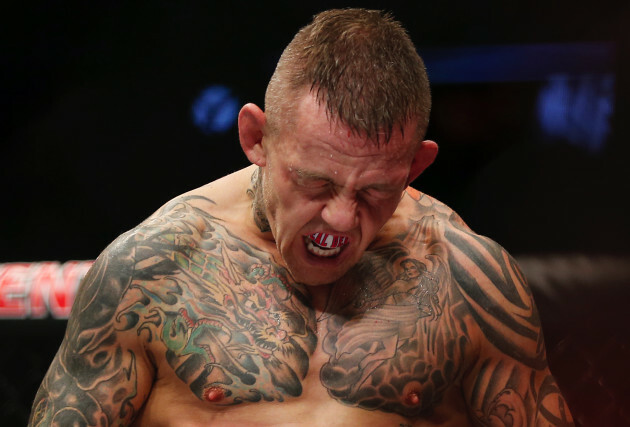 Ross Pearson
However, Pearson is unable to pick a winner for the eagerly-anticipated bout: "I think it will come down to how much Conor has got to give and how much Jose can take. Then we'll see who's left standing at the end but it's far too difficult to say who that will be."
McGregor and Aldo were originally scheduled to square off at UFC 189 back in July, but Aldo was forced to withdraw due to a rib injury so McGregor defeated Chad Mendes instead to win the UFC interim featherweight belt.
Pearson added: "It's a fight that should have happened by now so I think everyone's just looking forward to finally watching what happens at this stage. It's a huge fight, one of the biggest in the UFC for a long, long time."