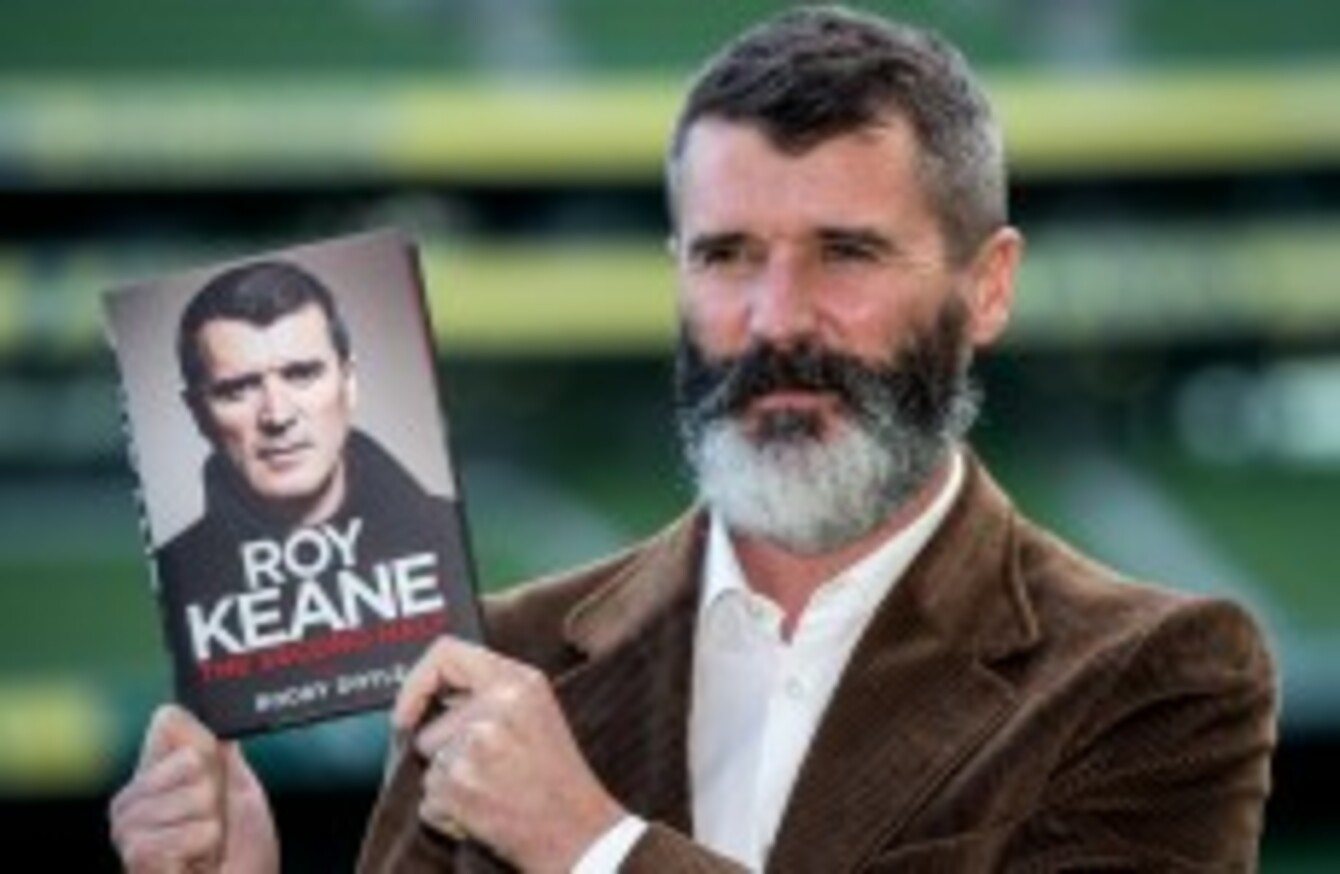 Keane at the Aviva Stadium today.
Image: James Crombie/INPHO
Keane at the Aviva Stadium today.
Image: James Crombie/INPHO
12 YEARS ON from this first autobiography, Roy Keane this afternoon posed for the cameras at the Aviva Stadium with book number two in hand.
The Ireland assistant manager officially launched The Second Half at a press conference in Dublin and fielded questions ranging from his international career, to his beard and the possibility of a reconciliation with Alex Ferguson.
Keane admits that he enjoyed working alongside ghost writer Roddy Doyle and explained that one of the main motives behind it was to set the record straight on several "lies" that have been told over the years.
"One of the reasons I worked with Roddy is that I know how good a writer he is," Keane said. "I had no real plans to write a book. I had plenty of offers over the last few years, particularly when people were telling a pack of lies about me.
"But when I met Roddy I said 'yeah, we'll got for it." I think when I met Roddy at the start he found it quite difficult after he recorded lots of stuff to understand what I was saying with my accent but he got there eventually. It was really enjoyable and I'm pleased with it.
"The stuff that has been said about me over the years, even from ex-team-mates, is a pack of lies. Lies and lies and lies. I've got to get out and say something myself and defend myself. Hopefully the book will reflect that.
"Your job is to find out bits of snippets and you will have your own contacts. I know there are people in this room who have got mates who have quite happy to tell lies about me and it's okay for people to print it. So every now and again, you have to defend yourself.
Lots of stuff I let go, but eventually you go 'no, no'. Enough is enough."
The book was mistakenly released early in some parts of the UK on Monday meaning the media has been awash with stories about various bust-ups and fallings out involving the former Manchester United and Ireland captain all week.
However, when you look beyond the headline-grabbing quotes, Keane believes it is a fair reflection of his experiences over the past decade and a bit.
"With the leak last Monday people have got snippets of the book," he says. "It has grabbed one or two headlines as you would expect but I think it's a fair reflection on the situations I have had over the years — whether it be with players or managers. And I've been pretty harsh with myself in a lot of the situations with the mistakes I've made.
"When I did the book, it wasn't about people to like the book. It was just giving myself the chance to reflect on certain things. If people like it they do, if they don't then so be it.
"I think it's quite upbeat as well. Some good stories and some great days. People will focus on the negative stuff, even the World Cup and obviously at United but there were some great days and I worked with some great lads. It's not all about falling out with people."