FOR AN ORGANISATION that started with a small meeting between a group of interested parties in Dublin Airport back in 1988, Rugby League Ireland have progressed considerably.
Next month, Tallaght Stadium will play host to not one, but two, European Championship ties as Ireland take on both Scotland and France as they bid to win their first title at this level.
"We have come a long way," Conor Kelly, media officer with RLI, told TheScore.ie this week.
"26 years ago the Irish team was a student one, based mainly out of the UK and composed of heritage players. A year later, Brian Corrigan founded the Dublin Blues, the first Irish club, and it has grown from there.
"We now have 10 clubs but there were as many as 21 here at peak. Even though it's a smaller number than we've had before, it's a much stronger structure.
"For a start, we can now guarantee games will take place and the season can be completed because the existing teams have a higher number of players who have joined from the teams that have fallen away.
"Secondly, most of our teams are regional now – rather than based in small towns – so, in general, the league has a wider base to pull players from."
The domestic rugby league season runs from May until the end of July/start of August but, with international and representative fixtures, there are games played from February right up to November.
Though there are 250-300 registered players, teams are always looking for more, however Kelly is well aware they're operating in a crowded marketplace.
"We haven't got a foothold in Ireland as yet. We don't have the profile or history of other sports but that's not unique to us. Australia has issues with spreading the sport outside certain hotspots. In England it's mostly a northern sport so for both it's popular in some places, not in others.
"Our biggest challenge – when we're compared to other nations – is that they only have soccer, union and athletics to compete it, we have a myriad of sports to contend with.
"We have quite a few players who play both league and union and, though they're very different games, there are a lot of the skills that cross over.
"It continues to grow though and we now have four representative teams; U19, a student team, an Irish amateur team (which means no Super League players) and the Senior team which contains a mix of players from the domestic league and some super League players."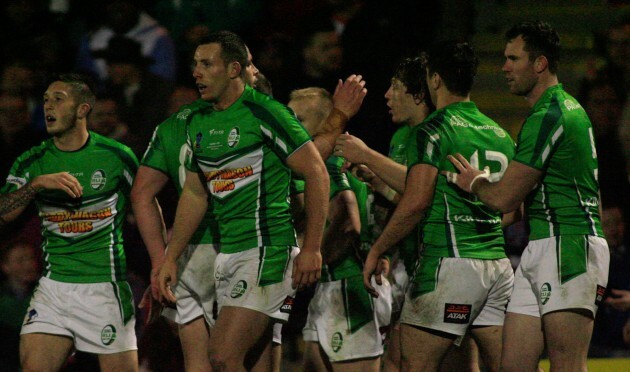 INPHO / Focus Images/Richard Gould The Irish team celebrate a try during last year's Rugby League World Cup. INPHO / Focus Images/Richard Gould / Focus Images/Richard Gould
With four representative teams in place, Kelly admits that RLI already have their hands full but could another team, modelled on the Catalan Dragons, help grow the sport even further by taking part in the Super League?
"It could, but I suppose a lot of people don't realise the popularity of the sport in the South of France. If we're to do something similar it would have to be at a lower level, so not Super League.
"Of course, we'd love in the future to have a pro-team based out of Ireland but that's down the line and purely aspirational. At the moment our focus is on growing the sport here."
One way Kelly hopes to grow the sport is by attracting a decent crowd to the the upcoming European Championship games against France and Scotland.
"Scotland are very similar to us and have the same issues with size, development paths and competing with other sports. France are a strong side, a lot come from the Dragons Super League side and the rest semi-professional so they're always extremely competitive.
"Any time we've played France or Scotland they've always been hard fought, good quality games. I have yet to see one that isn't enjoyable. Tickets are only €5 for adults or €8 for both games."