THIS TIME TOMORROW Ireland's 2019 Rugby World Cup plans and expectations will be a lot clearer as Kyoto hosts the pool draw for the tournament.
You may remember from all the way back in March that Ireland, despite a disappointing Six Nations Championship, managed to take their place in the world's top four and, with that, top-band seeding for Japan 2019.
With them in that bracket are reigning world champions New Zealand, back-to-back Six Nations champs England and Australia.
So we'll avoid facing those particular big guns. But with South Africa and France in the second bracket and Argentina and hosts Japan in the third tier, a favourable draw is by no means guaranteed.
Here's a reminder of who's coming out of which pot when the draw commences at 9am tomorrow (Wednesday) morning. There will be five pools of four teams:
Band one: New Zealand, England, Australia, Ireland
Band two: Scotland, Wales, South Africa, France
Band three: Argentina, Japan, Georgia, Italy
Band four: Oceania 1, Americas 1, Europe 1, Africa 1
Band five: Oceania 2, Americas 2, play-off and Repechage winner
As you can see, the exact makeup of the fourth and fifth tier of teams in each pool won't be fully finalised until November next year.
For example though, Qualifiers Oceania 1 and 2 will come from a round robin tournament between Fiji, Samoa and Tonga. That tournament began last summer and Fiji currently lead the way having beaten both rivals at home, but they must travel to Tonga and Samoa before the series wraps up in July.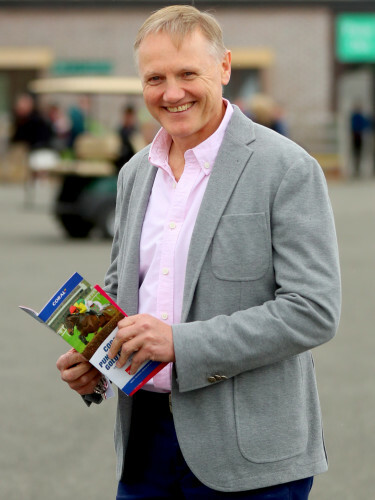 James Crombie / INPHO Lucky lad: Schmidt at the Punchestown festival last month. James Crombie / INPHO / INPHO
Europe 1 will emerge from the European Nations Cup, but will exclude Georgia who qualified automatically thanks to their pool performance at England 2015. We could go on and on about the permutations for the bottom two brackets, but we'll save that treat for later (get a run-down here if you can't wait).
So without knowing exactly who the eight teams in the pot will be, here's a sample of what a best-case scenario might look like for Ireland.
Ideally, Ireland would obviously skip another clash with Argentina – it's not that we're scared of them, you understand, they would just… eh, complicate matters – but also the host nation Japan. Throw Scotland or Wales into a pool excluding those Super Rugby-represented nations and there are no excuses for not finishing top of the pool.
Best case draw for Joe Schmidt's Ireland
Ireland

Scotland

Georgia

Africa 1

Repechage winner
Even that pool would not be without its challenges of course — we all remember the worry Georgia and Namibia caused Ireland in 2007 — but it could be worse. So much worse.
Worst case for Joe Schmidt's Ireland
Ireland

South Africa

Argentina

Oceania 1

Oceania 2
The World Cup history will go back 32 long years by the time 2019 rolls around and Ireland will still be chasing their first semi-final of the tournament. So rub some lucky rabbit's feet, find a horseshoe or touch a great big tree that the draw for the pool and quarter-final opponent is kind.
The42 is on Instagram! Tap the button below on your phone to follow us!