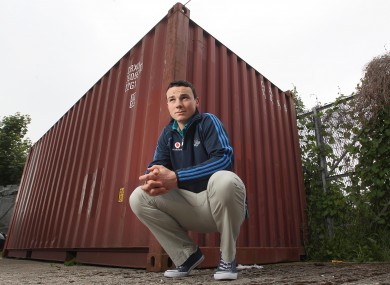 Liam Rushe will be a key presence for Dublin in tomorrow's Leinster SHC semi-final.
Image: INPHO/Lorraine O'Sullivan
THEY MAY BE flying the capital GAA flag this weekend but the presence of Westlife in town means the Dublin hurlers have had to shift base from their natural home in Croke Park. Instead they will be domiciled in Portlaoise tomorrow evening yet attacker Liam Rushe is hoping that the supporters will still follow them down the M7 for a Leinster championship bout with Kilkenny.
"We always like Croker because we have less pressure from travelling. Unfortunately Westlife can't be moved and personally I think they should be shifted! The GAA has become too money oriented! I would encourage people to come down, there are no excuses for them anymore. It's nearly only 45 minutes down to Portlaoise now, you'd be longer getting from Dalkey to Coolock.
"Everyone loves playing in front of a full house. There was some crowd for the Tipperary match last year and the Limerick match in Thurles. The atmosphere was fantastic. If we fill out Portlaoise there will be some atmosphere because it's a wall of sound when you get a big crowd in a smaller ground when the people are closer to the pitch."
Their football counterparts have grown accustomed to drawing bumper crowds for their championship games and observing their progress to All-Ireland glory last year has fuelled Rushe's drive for success.
"It's a pity we can't pack out Croker like the footballers, but we'll get there some day. You'd need success and you'd need it fairly constant to get a following like that. I went to the All-Ireland final with a few club mates last year and I would say 85-90 per cent of the (Dublin hurling) panel was there. It gives you a taste of what it could be and people are telling you it could be us next year. Of course they had few drinks on them, but it was good craic and we'd love to get ourselves in that position."
The challenges do not come any sterner than tomorrow's against Kilkenny.
"It's daunting when you look at it," admits Rushe. "The last game they lost in Leinster was gainst Wexford back in 2004. It's not for nothing they have it, they're a tight team defensively and they have fantastic players. That's the problem though – when you start saying thins like that you can get intimidated. We're all mature enough now. We should be coming into our own and it's probably about time we produced something.
Gavin Cooney
Reports From Qatar
Get Gavin's exclusive writing and analysis from the 2022 Fifa World Cup
Become a Member
"We haven't really been bullied the last few years. I suppose with disappointing performances we were over-emphasising the physical element. We were looking to get stuck in a bit much and forgot about playing the last few times. What did we get? A 19 point loss two years ago and last year we only started playing when we were out of the game."
The physical battle will still be integral to tomorrow's match and Rushe's own appearance came under the microscope recently when RTÉ Sunday Game analyst Tomas Mulcahy referenced the thighs of the St Pat's Palmerstown club man.
"I'll wear Under Armor shorts the next time!" laughs Rushe. "Maybe there was just a bit of growth there and maybe Mr Mulcahy had some extra air-time to fill and he felt like making the comment. He's giving me a complex. I'll have to slim down. Good thing I'm not a teenage girl!"