It's the big one. Send us your thoughts and comments on this morning's action. E-mail  adrian@thescore.ie, tweet us@thescore_ie, find us on Facebook, or leave a comment below.
Full time: New Zealand 8 France 7
Let's do this. We've been here for the past six weeks tasting the highs and lows of the tournament together. Now it's time to learn who's going to go home happy.
New Zealand yearn to end over two decades of World Cup frustration while France are on the brink of the most unlikely of victories in Eden Park.
I've a tenner on Les Bleus at 8-1. Who do you fancy?
So before the anthems and the final haka of the 2011 World Cup, here are your teams, ladies and gentlemen…
France: Medard, Clerc, Rougerie, Mermoz, Palisson, Parra, Yachvili, Poux, Servat, Mas, Pape, Nallet, Dusautoir, Bonnaire, Harinordoquy.
Replacements: Szarzewski, Barcella, Pierre, Ouedraogo, Doussain, Trinh-Duc, Traille.
New Zealand: Dagg, Jane, Smith, Nonu, Kahui, Cruden, Weepu, Woodcock, Mealamu, O. Franks, Whitelock, Thorn, Kaino, McCaw, Read.
Replacements: Hore, B. Franks, A. Williams, Thomson, Ellis, Donald, S. Williams.
Craig joubert is – of course – the man in the middle. Our own Alain Rolland is present too.
Francois Pienaar reckons we're going to have the greatest haka ever performed in a moment. We'll be the judge of that Francois, son.
The teams will be out on the pitch momentarily. I'm just going to run through the last of my stretches.
Prediction: My gambling aside, New Zealand by 12.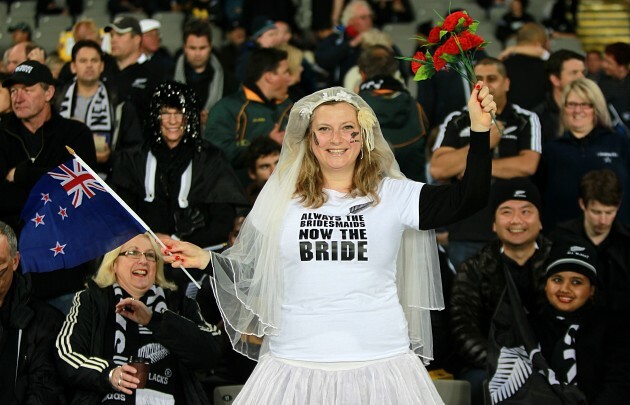 A bride in the Eden Park stands moments ago. Is she right? (David Davies/PA Wire/Press Association Images)
We've had the anthems – stirring stuff – now for the haka. Strap yourselves in.
France are fronting up to the haka. They're up for this.
Understandably, there's some early nerves evident in the opening exchanges. New Zealand mess up a line out and moments later Yachvili and Medard make uncharacteristic handling errors.
Weepu gets his first kick on goal… but misses it. He dragged it badly to the left. Goal kicking, to state the obvious, is going to go a long way to winning this tournament.
We're 10 minutes in and France will be happy with their start. But as I type, Morgan Parra, leaves the fray.
He looks to be another planet to the rest of us as he shuffles off having shipped a heavy tackle and possibly a knee to the head from the arriving McCaw, as he was on the ground.
Trinh-Duc trots on.
TRY! Thierry Dusautoir concedes a penalty for not releasing the ball in the ruck, Weepu kicks for touch to earn field position and Tony Woodcock gets over as the All Blacks open up the French line out. Weepu misses the conversion attempt.
Let's see if France fancy it now.
I should doff my cap to Jerome Kaino, who was magic in that line out. He tapped down to the onrushing Woodcock from the line out.
We're about to have our first try of the match, 17 minutes in.
Parra's back on. I hope he's okay – but that seems a dodgy decision to me.
Deary me. Trinh-Duc is back on again and Parra is led off in tears. He should never have been there.
Vincent Clerc concedes a penalty for hands in the ruck. Are the All Blacks getting away with a lot though?
Weepu absolutely shanks his third attempt on goal, well wide. That's eight points he's left on the table in the first 25 minutes.
Cruden is down injured with a knee injury that looks like a skateboarding graze, if you ask me, as I sit here in the office with a mug of tea.
Trinh-Duc absolutely nailed him and, ultimately, Cruden leaves the pitch injured. Stephen Donald is on.
France have their first real sight on goal as Trinh-Duc attempts a drop kick, but it peels wide.
Oooh! France are going for it now.
Trinh-Duc spotted a chink of light and almost punctured the All Blacks armour. His ankles were clipped by Weepu however as he seemed to find space. it comes to little and the hosts have the put in at the scrum.
HALF-TIME Time to get the kettle on. The final 40 minutes of this tournament are going to be intriguing.
We're underway again. One of these sides are one half of rugby away from history. And me from a breakfast roll.
But this one is in the mix, thanks to some poor kicking.
The French start brilliantly and Richie McCaw is pinged for hands in the ruck, I think. The AB skipper looks stunned to be pulled up at last by Joubert.
Yachvili misses the penalty narrowly however. That's a big one.
PENALTY From the shadows will come heroes as Sam Torrance. The All Blacks' fourth-choice out half Donald nails a massive kick.
TRY! France are back. Dusautoir gets over!
Trinh-Duc taps over the conversion from in front of the posts. Game on, Ger as they say in another code.
The All Blacks have made changes. Weepu's tournament is over as Andy Ellis comes on.
We've hit the 50-minute mark and, amazingly, there's a point in it. So how did we get here to paraphrase, David Byrne?
Well that France try came through some slack NZ defending. Trinh-Duc bursts through the middle initially, gave it to Yachvili lost his footing as he looked to be through.
After a bit of messing around it eventually came back into the middle where the skipper was arriving and he forced his way under the posts. Don't touch that dial.
PENALTY to the French. Great scrum by Les Bleus. This one is kickable – almost 50m.
Trinh-Duc arrows it well wide however, to the delight of the jeering home crowd. 15 minutes left now and just that single point in it.
Squeeky bum time for Peter Jackson, Bic Runga, the Flight of the Concords and any other New Zealanders you might know off hand.
This is your 10-minute warning. France are dominating – but can they get a few points up? I just don't know, reader.
France still have it as they go through phases after phase. This is a real test of the All Blacks' defence. They're not giving an inch at the moment.
And still they go on. This is attritional stuff as we hit 15 phases.
Ladies and gentlemen, my friend and yours, Sonny Bill Williams, is on the pitch. Nonu trots off.
There's five minutes left.
Jean Marc Doussain is on for his Test debut for Yachvili! My god.
That is so Lievremont.
One and half minutes left. One point in it. I'm almost glad Ireland didn't get this far. The tension is unbearable.
The All Blacks are just trying to run the clock down… And they get the penalty!
The All Blacks have a line out in front of an Irish tri-colour. We're still there, baby.
New Zealand secure the throw and try to drive on.
80 minutes are up. They need to get that ball out.
France are pinged for being offside. The ball is hammered out and the All Blacks win the World Cup.
THE ALL BLACKS ARE WORLD CHAMPIONS
France skipper Theirry Dusautoir:
"It's a real pity, I'm very proud of my boys. We lost two games in the pool but we came to the final. I'm really disappointed."
All Blacks captain Richie McCaw: I'm absolutely shagged. I'm just so proud of every single one of the guys. We couldn't have been under more pressure. But stuck together and got there in the end."
Graham Henry looks like the happiest middle manager in the world.
"Marvellous," he says as the roof lifts on Eden Park, "You cant hear yourself think here. The people have been wonderful and I'm so prud to be a New Zealander standing here.
"There was a bit of turmoil up there [in the manager's room]. It's been quite outstanding over the past 8 weeks and Richie and the boys hanging in there over 80 minutes is superb. We can rest in peace."
Theirry Dusautoir wins the man-of-the-match award and deservedly so. But he looks embarrassed to be there.
He was so, so good this morning though.
That crazy fool Lievremont looks ab-so-lutely gutted. He can mop his salty tears with that impressive mustache of his.
The world of sport will be a little greyer when he's handed his cards later.
Our patentedclap-o-meter indicated a suited-and-booted Dan Carter got the biggest cheer of the night just now as he collected his medal with a wide smile.
The Webb Ellis is waiting.
And Richie McCaw at last gets his big hands on the trophy. The wait is over for New Zealand.
So, with the Black Eyed Peas pumping from Eden Park, there we'll leave our Rugby World Cup liveblogs.
Thanks for your company/comments/abuse throughout the darkest nights and mornings over the past six weeks or so. Let's meet back here in four years.