THE NICE ATTACK took place just days after Irishman Ryan Foley had finalised a contract with rugby club Stade Niçois, whose stadium is a 10-minute drive from Promenade des Anglais.
The 21-year-old was understandably concerned as he watched the horrific images on television, but having arrived in the southeastern French city last Saturday to start his new life, Foley has been heartened by the strength of the local people.
"The French have an unbelievable way of getting on with things," says the former Munster academy scrum-half. "They say, 'This happened but we have to move on, we can't let it be a burden on us for too long.'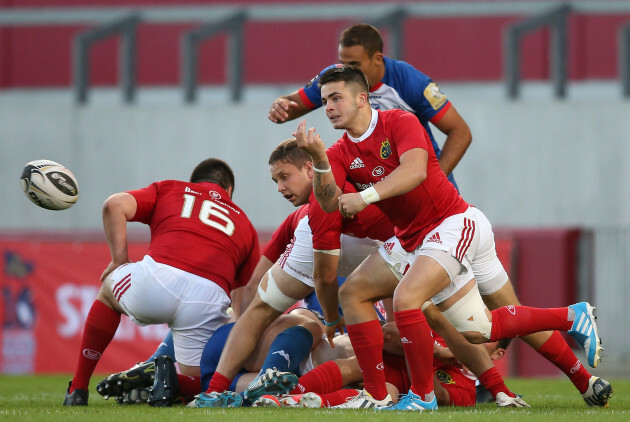 Foley whips away a pass for Munster in a pre-season friendly against Grenoble last season.
"I had a walk along the promenade the other day and the whole place was filled with flowers but everyone was carrying on as normal. I suppose I had a bit of a worry when it happened, because I'd just signed, but I'm of the mindset that they won't strike in the same place again.
"The French aren't too worried, they have armed police patrolling the place all the time, which puts the mind at ease."
The sun has been shining brightly and with temperatures of close to 30°C all week, Foley is certain that he has made the right decision in moving to France to join Stade Niçois, known simply as Nice, in Fédérale 2.
"At the moment I couldn't be happier," says Foley, a Crosshaven native.
Foley is showing a determination of his own in his burgeoning rugby career, following a setback with his native Munster.
He joined the province's academy for the start of the 2014/15 season but missed the campaign with a serious knee injury. Foley battled back to fitness and featured for Munster 'A' last season, but the province decided against contracting him for a third year in the academy.
Determined to make a career in professional rugby, Foley now finds himself on the Côte d'Azur as part of Nice's campaign to be promoted into Fédérale 1, French rugby's third tier.
The 5'8″ halfback has been playing rugby since the age of four, when he joined Crosshaven's U7s, and making his way in the oval ball game has occupied his thoughts ever since.
"It's funny because my parents weren't involved in rugby whatsoever, no one on either side had played rugby," says Foley. "In school, I never really paid attention. I was probably good at art and that was it.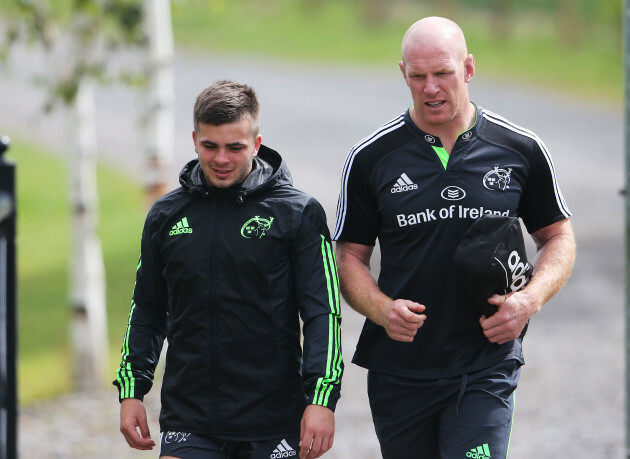 Cathal Noonan / INPHO Foley and Paul O'Connell head for Munster training in 2014. Cathal Noonan / INPHO / INPHO
"I used to take days off sometimes, unless we had rugby training. I don't really know why, but I took a liking to rugby from a young age. I played a lot of other sports but rugby stuck out to me and I just wanted to make it work."
Crosshaven has produced the likes of Scott Deasy, Darren O'Shea, James Rochford and several top-class Irish club rugby players in recent times, with the Cork club setting Foley – an out-half in his early days – off on the right foot.
Foley's desire to play rugby saw him move in to the primary school branch of Christian Brothers College for first class, with his older brother, Daryl – also a scrum-half – also moving into the school's fifth class at the same time.
"I've never had any other ambitions than to play rugby really," Foley says. "My parents sent me to Christians because even at that age, I was saying I wanted to be a pro rugby player. They felt Christians was a good place to go."
Foley never looked back, playing for Munster's age grade sides, Ireland U19s and U20s and advancing into senior club rugby to help Cork Con win the 2014 Bateman Cup. Munster were impressed and Foley was brought into the academy.
The sailing had been smooth, but then serious injury struck for the first time to halt Foley's progress.
"My knee injury came at a very unfortunate time," says Foley. "I was training with the seniors full-time and it seemed like things were going really well for me. Then that happened and I had the year out. It felt like out of sight, out of mind. I dropped back a good few places and when I came back it took a while to get into my stride."
Foley returned last season but struggled to pick up where he had left off. Even at Cork Con, he occasionally found himself behind John Poland in the scrum-half selection stakes.
Professional rugby has little sentiment and though Foley did regain his fitness to play twice for Munster 'A' and impress in Cork Con's drive to the Ulster Bank League final [he was excellent at the Aviva Stadium] and another Bateman Cup title [man of the match in the final], Munster opted to let him go at the end of the season.
James Crombie / INPHO Foley listens to Simon Mannix at a Munster session. James Crombie / INPHO / INPHO
"When I got back I almost took for granted being there, thinking that they might keep me on for the third year," explains Foley.
"It was a bit of a surprise; I got a text at 9.30 one morning asking could I meet at 11.00. Suddenly, it was all over and I was told I was being let go."
It was a tough moment for Foley, but he reflects positively on having had the opportunity to train with close friends like Tomás Quinlan on a daily basis. Incredibly, the upcoming season will be the first time in 15 years Foley and Quinlan won't be playing alongside each other.
Featuring twice for the senior Munster side in pre-season friendlies was another highlight for Foley. Having only just joined the academy, Foley came off the bench away to Gloucester in 2014, before playing against Grenoble last summer.
"The Gloucester game was unbelievable. I went over thinking I might not get a run but I got on for a couple of minutes and there was a full Gloucester crowd and a full Gloucester team – the likes of James Hook and Richard Hibbard, so it was nice to get on.
"The Grenoble game last year was a good one to play in at Thomond Park. I learned an awful lot with Munster."
Having been released by the province, Foley briefly thought he might be best served by remaining with Cork Con and taking on a job. His parents, however, understood that their son's rugby adventure was only beginning.
"My parents said, 'No, you've dreamed of this for too long, you've put in so much training, why give up on it now?'"
Coupled with that support were Foley's strong memories of visiting his sister in Agen during the 2013/14 season, where she was living with her husband, the now-retired Denis Fogarty.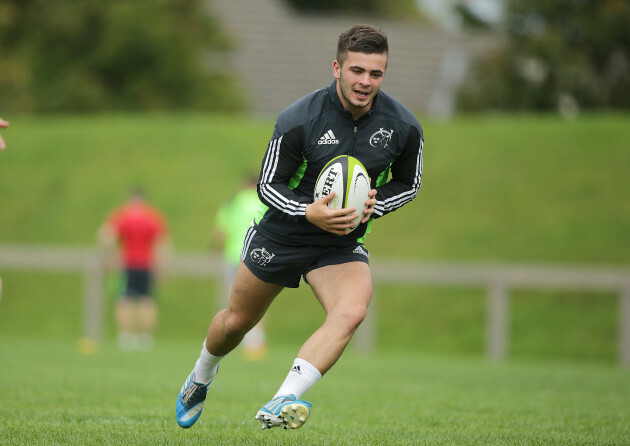 Morgan Treacy / INPHO Foley is excited about his new opportunity in France. Morgan Treacy / INPHO / INPHO
Foley saw first-hand how much ex-Munster hooker Fogarty was enjoying rugby and the lifestyle in France, coming home from training with a smile on his face and jumping into the pool: "It put things into perspective for me. I realised how good a life you can have over here in France."
Foley spoke with two agents in Ireland, who couldn't find an ideal opportunity in France, before his brother Daryl called on some friends at Fédérale 3 club Chartres Métropole, for whom he had played for the 2014/15 season.
Chartres' head coach has strong connections and soon set Foley up with a French agent. Two days later, the opportunity in Nice was presented. Foley had the option to join a Fédérale 1 club, but the set-up at Stade Niçois was hard to resist.
"Nice have big ambitions this year," says Foley. "We're in Fédérale 2 but they're after pumping big funds into the club and you can see that with the players that are at training."
Italy international out-half Luciano Orquera, who played in the Six Nations last year, will be Foley's halfback partner, with the Cork man excited by the prospect.
Nice is not a renowned rugby city, although the club were vice-champions of France in 1983. The Armitage brothers spent their youth learning rugby with Nice, while a number of internationals such as André Herrero and Jean-Charles Orso played there.
Now, Nice are intent on rising up the division and creating a new chapter in the club's history.
Foley's first impressions have been highly positive. The club organised a car for him days after he arrived, while he has a choice of apartments to move into. The head coach is David Bolgashvili, a Georgian, but training is conducted entirely in English.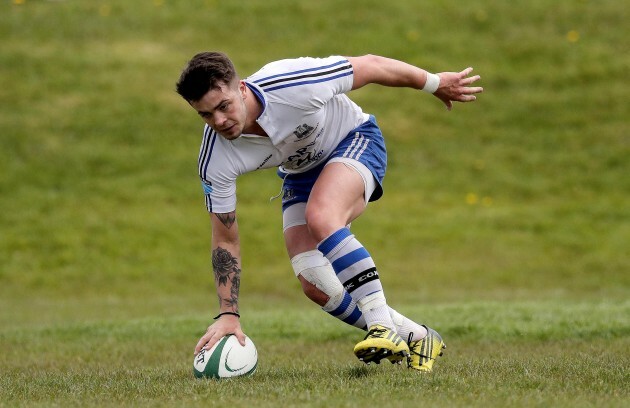 Foley was man of the match in last season's Bateman Cup final.
Foley studied French for the Leaving Cert and is looking forward to the steep re-learning curve with the language. The Cork man is only at the beginning of his adventure but the excitement is palpable.
He has signed for one year with Nice, hoping that their predicted status as title contenders will see them rise into Fédérale 1 at the first time of asking. Foley's intention is to move up the ranks and it seems likely that will be the case, though he would prefer that to be with Nice.
"If an opportunity does come higher up, that would be ideal," says the scrum-half. "I just want to play rugby and enjoy the time I have playing rugby. It's a short career and there's no point in not enjoying it.
"I realised it's not the be-all and end-all finishing with Munster. I enjoyed my time with them but it felt like I did my apprenticeship with them and now I'm moving on and starting something new over here."
The42 is on Snapchat! Tap the button below on your phone to add!