I WAS ON LIVEBLOG duty for days two and three of the Ryder Cup and I've since said my rosaries and erected a Martin Kaymer-dedicated shrub in my back garden.
The 39th edition of the Ryder Cup had Europe over the coals going into the final fourball on Saturday afternoon.
Rory McIlroy, partnering Ian Poulter, started the fightback against the American duo of Jason 'Zen' Dufner and Zach Johnson with a birdie on 13.
'Poults' took over and chipped, putted and eye-bulged Europe back into the contest. What followed on Singles Sunday will go down in American infamy and European golfing folklore.
That being said, the Americans had their moments on Friday and Saturday and found a new sweetheart pairing in Keegan Bradley and Phil Mickelson.
Who will win round two of the Christmas crackers – Team USA or Team Europe?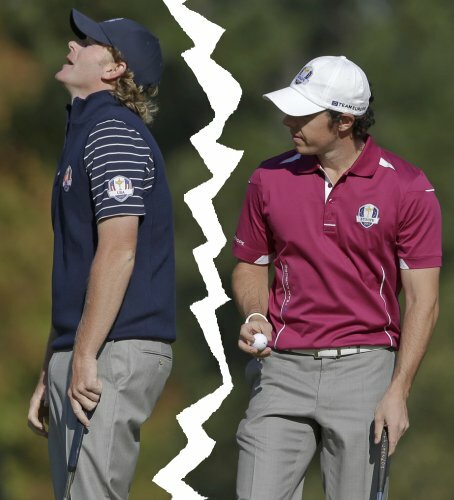 'How did that putt go for you Brandt?' – Snedeker can't believe his putt has not dropped as McIlroy looks on. (AP Photo/Chris Carlson)