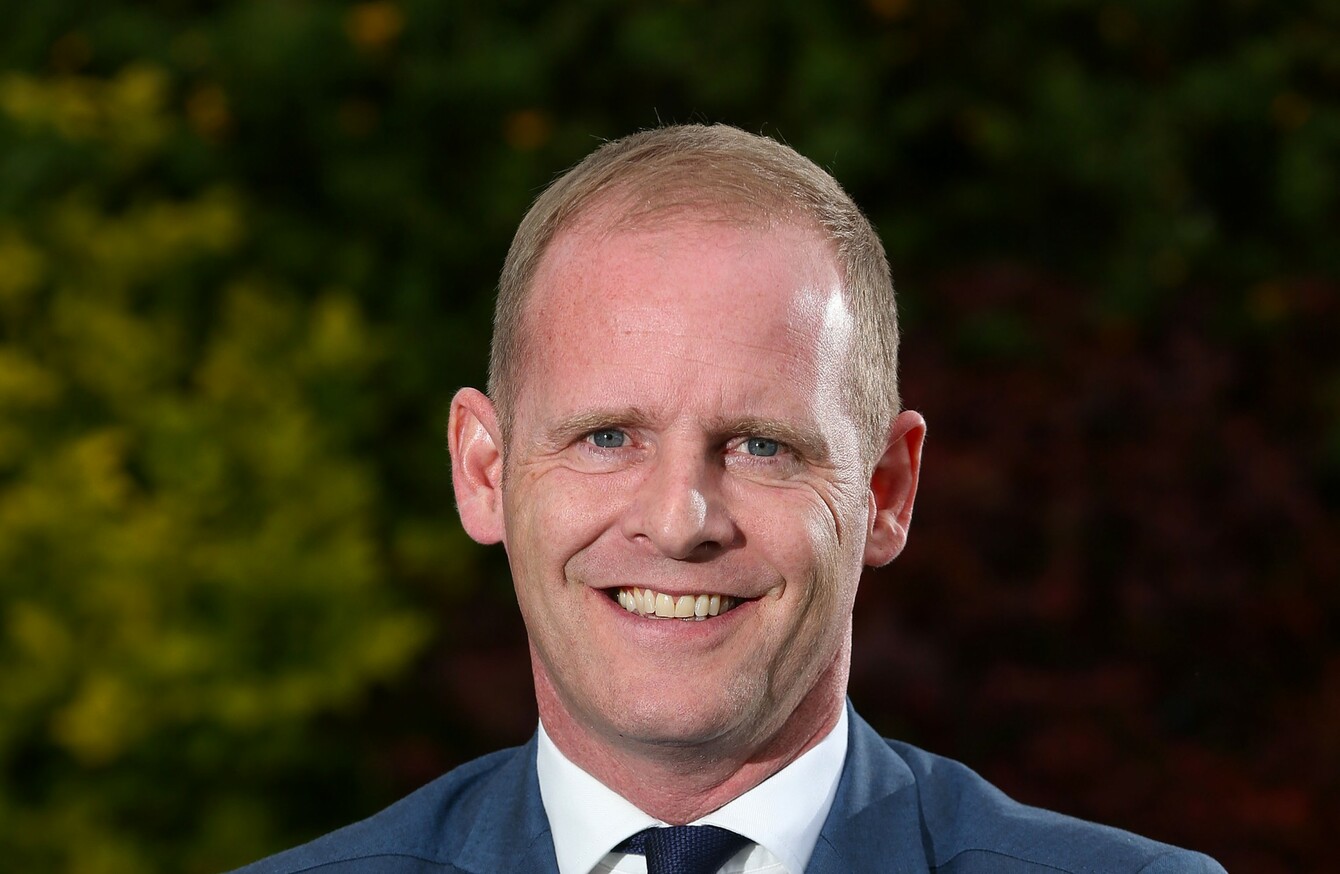 Nugent has been RTÉ's Head of Sport since 2010.
Image: Cathal Noonan/INPHO
Nugent has been RTÉ's Head of Sport since 2010.
Image: Cathal Noonan/INPHO
UNCERTAINTY AND CHANGE.
Two situations most people are not comfortable facing.
But they are the challenges Ryle Nugent must overcome during his tenure as RTÉ's Head of Sport.
It has been an eventful period for the man who is responsible for all the sport output across the national broadcaster, after he oversaw the station lose the rights to several high-profile events including, most recently, the Six Nations and Rugby World Cup.
"Since the economic hardship came for everybody, we had to go away and re-evaluate what were the most important things for the national broadcaster's sports department," Nugent tells the42.ie.
"We very much settled on the belief that it was national teams and major events. But that doesn't mean we'll get them all the time.
"We've had to make some difficult decisions and we had to walk away from some sports and events that we had a long tradition with, but we don't have the financial resources to do all those things anymore."
A changing landscape has seen RTÉ's sport output dwindle.
It can longer claim to be the home of big Irish sport events, but then again, the competition for the right to broadcast the biggest tournaments has never been as fiercely contested.
This has been driven by the new owners of rival stations looking to make a mark in the local television industry and the arrival of British broadcasters, such as Sky and BT, seeking a slice of the Irish sports market.
Last year, TV3 was sold to Virgin Media, which is a subsidiary of telecommunications giant Liberty Global, whose largest shareholder is John Malone.
Before, the broadcaster was owned by venture capitalists seeking to maximise profit coupled with minimal investment.
The game has now changed for TV3, and Virgin Media have since gone on to buy UTV Ireland as well, although the sale is subject to regulatory approval, the channel set to be rebranded by TV3, as they aim to overtake RTÉ as the dominant television station in the country.
Malone is a 75-year-old billionaire, who is also the main shareholder in Discovery Communications that own Eurosport, who themselves are transitioning to a more premium broadcaster, evidenced by their successful bid of €1.3bn for pan-European rights to screen the Olympic Games from 2018 to 2024.
However, this summer RTÉ secured the exclusive free-to-air television rights for Tokyo 2020, continuing the station's long-term history with the event, but it will be a reduced offering compared to the Rio showpiece, with viewers unable to watch any event via RTÉ's digital platforms compared to this year due to the Eurosport deal.
But during RTÉ's coverage of Rio 2016, some viewers were unsure if the event they were watching was being broadcast live, or if the coverage was delayed, but Nugent says it's an issue that happens every four years.
"The principle was to go out and the show the Irish performances where they were available, to show them live. Sometimes events clashed, but that is what we were setting out to do.
"The only thing I can equate it to that people are used to seeing week-in and week-out is golf. It isn't possible to show every match or every shot live. Golf doesn't say to you this shot is live and this shot isn't live, but the principle is that you're trying your best to show that event live.
"It was all live on the online site as it happened – the television has to mix and match as it goes."
The Paralympics, which starts on Wednesday, will be the biggest-ever the broadcaster has put together with a daily primetime highlights programme for the first time, with the event sub-licensed to eir Sports.
However, certain events are already marked to be broadcast live on RTÉ such as the finals of Jason Smyth and Michael McKillop, but Nugent is already aware of the frustrations the audience will face in the coming weeks.
"There is a high expectation of the Paralympics following the Olympics, but the facts are it is not as well supported in technological terms.
"In the Olympics every single event was covered in 39 sports – with the exception of every sailing race, which was outside the capability of the host broadcaster, but in the Paralympics not every event is live.
"Automatically people are going to be annoyed by that. We are putting cameras on the ground and we will have our team (of 10 people, 31 fewer than the Olympic Games) out there.
"We will be endeavouring to get as much back, but it won't be as immediate as it was with the Olympics."
GAA
RTÉ's deal to televise the GAA championship, which Nugent has made clear is the station's most important, comes to an end this season.
The previous three-year deal, signed in 2014, allowed the broadcaster to show 25 of their 31 games per season exclusively live, with Sky Sports having exclusive rights to 14 of their 20 live matches.
But RTÉ may be secretly happy just to maintain their quota of games when the tendering process begins for the next rights contract.
Although the possibility of broadcasting league matches live remains attractive, the championship is by far the priority.
"I've always said, that as far as I'm concerned, RTÉ Sport's relationship with the GAA is the single-most important relationship that we have.
"It's the core of what I believe RTÉ, the national broadcaster should be about – to be at the centre of the biggest matches our national games has to offer.
"Ultimately, it's down to the GAA, or any other rights holder as what they decide what to do with their rights. So really it's their choice, and not RTÉ's decision.
"But we will do everything within our power to engage in a meaningful way on the rights and I'm the same going into this as every rights process – I'm hopeful, but in no way arrogant and I don't believe we have the God-given right to win the rights, because we don't. But the GAA deal is the most important."
Rugby
The disappointment of losing the Six Nations to TV3 from the 2018 tournament until 2021 was a "big blow" that was compounded by the news that eir Sports, (formerly Setanta Sports, which was rebranded by eir earlier this year), secured the exclusive rights to the 2019 Rugby World Cup.
However, like the deal with the Olympics, a selection of the event must be made free-to-air due to legislation, and an agreement with World Rugby.
Consequently, 13 of the 48 matches, including all of Ireland's matches must be sub-licensed to a rival broadcaster, should eir Sports fail to become a free-to-air station in the meantime.
But the race to secure that contract will no doubt be highly competitive, following TV3's successful coverage of the 2015 tournament.
During the last World Cup, TV3 broke their viewing record on two separate occasions, with audience figures peaking at 1.4 million during Ireland's matches against Italy and France.
As it stands however, once the 2017 Six Nations comes to a conclusion, RTÉ will not have the rights to any top-class rugby competitions for the provinces or the national team.
Nugent, who also acts as RTÉ's main rugby commentator, thinks there is a certain irony the way it has all developed.
"People were saying when I got the job that all the money would go into rugby and there you go – over the period I've been in here the sport that has suffered the most in terms of our losses has been around rugby."
Football
This summer, for the first time in the broadcaster's history, RTÉ shared the rights of a major sporting event with TV3 when they sub-licensed 22 of the 51 games from Euro 2016, with RTÉ maintaining exclusive rights to all of Ireland's matches.
In a financially-draining year for the national broadcaster which included significant investment for events outside of the sports department such as coverage of the General Election and 1916 commemorations, RTÉ felt the opportunity to claw back some money by selling a selection of matches from the European Championships to the Ballymount-based station was just too good to ignore.
"It worked well for everybody. We have a very strong relationship with TV3, despite what some may sense from the outside," says Nugent.
The final of Euro 2016, which was the only match shown by both stations, proved to be a winner for RTÉ with RTÉ2′s coverage being watched by an average audience of 782,100 people, just under seven times the amount of the people that viewed the match on TV3.
But as Cristiano Ronaldo's Portugal lifted their first ever major football title, it also signalled the end of one of the stalwarts of RTÉ's coverage over the past 30 years, with John Giles' association with the broadcaster coming to an end.
Giles, who has previously stated his desire to keep working with The Herald and Newstalk, still felt that he had more to give on RTÉ — something that was echoed by the 75-year-old's long-term friend and colleague Eamon Dunphy.
"There will be no past tense here because John's career has been… is, brilliant," Dunphy said on Giles' last appearance.
But Nugent is happy he made the right decision and feels that the rotation of presenters and pundits over the past number of years has helped a new breed of panellists familiarise themselves with their roles and audience expectations.
"When I came into this job, there were a couple of significant challenges.
"One was sports rights and the other was changing our panels which have a phenomenal connection with the audience.
"But I knew when I came in that this can't go on forever. Everything has a finite amount of time.
"It would have been remiss of us as an organisation not to plan and look to the future. I believe it was the right decision [to let Giles go]."
Nugent is more than happy the broadcaster has the right mix of presenters to anchor their coverage in the years to come, which includes Joanne Cantwell, who earned praise for her anchoring of the afternoon Olympics coverage.
"People are saying Joanne doesn't have a regular slot, but she does in terms of broadcasting a significant amount of TV output," says Nugent. "But she also presents our marquee Saturday sports radio programme (Saturday Sport). She'll be in the mix for future events, but so is everybody else."
Not long after Ireland's national team finished their campaign in France, focus switched to see how League of Ireland clubs would progress in Europe.
But out of the 18 qualifying matches involving League of Ireland sides, RTÉ broadcast just one – Dundalk's home play-off tie against Legia Warsaw, a match the broadcaster would have been already contractually obliged to show due to their agreement with Uefa.
Over that period, many viewers were left annoyed that RTÉ did not show Dundalk's historic 3-0 victory over Belorussian champions BATE Borisov, a game that was broadcast live on eir Sports, who will also show all six of the Lilywhites' Europa League group matches.
"I don't regret not showing it," says Nugent. "In this instance, there were other broadcasters who had the capacity to spend their money that they may not be spending in other areas.
"None of us have a crystal ball. We have a finite amount of money and resources both human and technological that we can employ in our sports coverage.
"We have to make strategic, intelligent choices in order to get the very best out of that.
"One thing that comes up regularly is that we don't do enough League of Ireland coverage. We do in my view.
"The audience numbers that engage and watch our League of Ireland coverage, where we do 17 live matches a year, including the two semi-finals and final of the FAI Cup, plus a weekly highlights show, compared to the number of people that watch these programmes, absolutely stacks up.
"In my view, the best way to support the league is by doing the number of live games and providing a highlights show, rather than waiting for the potential of a latter round Champions League tie and riding in our horse."
The Future
As television stations struggle to combat their declining viewing figures driven by the proliferation of on-demand streaming services, live sporting events are seen as one obvious way to attract viewers – and in the process generate much-needed income from advertisers.
12 of the top 20 programmes broadcast in Ireland in 2015 were sporting events, with that domination likely to continue this year due to coverage of Euro 2016 and the Olympics.
Therefore, the competition for the most in-demand rights is now no longer contested by broadcasters, but telecommunication giants such as Virgin Media, BT, Sky and to lesser extent eir, who are bidding to win share in an increasingly competive broadband market.
Tension is evident, as seen by eir's stance of refusing to allow the eir Sports package on the Virgin platform due to the two rivals unable to reach an agreement on commercial terms.
The impact of this intense competition is already being felt by British broadcasters, like the BBC, who dropped their coverage of The Open Championship one year early to Sky this year, due to the escalating costs of broadcasting the event.
That was not an isolated incident.
The cash-strapped public service broadcaster pulled out of its deal to show Formula One three years early, and last year opted to share the rights of the Six Nations with ITV, in an attempt to fend off Sky and BT's interest.
But just like sport, for every winner, there is going to be a loser.
Should the BBC, like RTÉ pay over the market value of a certain event, then something else must be dropped from news or current affairs or drama, for example.
However, from licence fee payers' point of view, it feels you're provided with less content for the same price, based on RTÉ's historical record of showing all of the major events.
Sky Sports and BT Sport already flexed their financial muscle when they signed a three-year deal in the UK with the Premier League to broadcast 168 live matches per season, worth over £5.14 billion
From an Irish sports fan's perspective the trends are worrying.
14 GAA championship matches were contracted exclusively live to Sky, as well as a host of Pro12 fixtures and the 3pm Premier League matches that are available to Irish viewers.
Sky along with BT, will also continue to televise exclusively live all of the European Champions Cup matches, including those of the Irish provinces.
This could be just the start.
The free-to-air list is currently under review, it already includes events like the All-Ireland finals and the football World Cup, but none of the golfing majors, as one example.
In November, Sky criticised the need for such a list.
"Given that RTÉ and other terrestrial broadcasters have the resources to bid for non-listed sporting events in the open market, it is both unjustified and unnecessary to force sports bodies effectively to sell their rights to those terrestrial broadcasters by eliminating competition from pay TV broadcasters," Sky said.
But Nugent believes not everything should be protected for free-to-air broadcasters, that there is enough sport for both.
"The thought the one broadcaster can own everything is not realistic," he says.
"But we are at a time of intense competition, and collectively we are under the gun from some of the UK channels for the ability to show Irish sport, and indeed world sport through an Irish context."
And that could be the most important battle of all.
The42 is on Snapchat! Tap the button below on your phone to add!