SPORTS STARS TEND to utter every word very carefully these days, keen to avoid clangers or putting their foot in it.
So when someone like outspoken Samoan centre Eliota Sapolu Fuimaono comes along and speaks his mind freely, his opinions tend to make headlines.
The Gloucester player has already been under the spotlight for comparing the scheduling of some countries' World Cup fixtures to the holocaust as well as slavery and following his country's exit from the tournament on Friday, he has launched another ferocious tirade. On this occasion it was directed at the International Rugby Board (IRB) and Welsh referee Nigel Owens.
Commenting on what he believes is favouritism towards the World Cup's top nations, he wrote: 'Get s.a into next round. The plan was obvious' and pointed out that if New Zealand had been expected to play four games in 16 days – like Samoa – there would have been a massive backlash from officials and supporters of the All Blacks.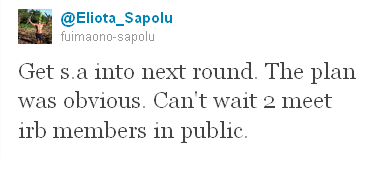 An IRB spokesman has since confirmed that Sapolu Fuimaono will face a misconduct charge over a tweet, which has since been deleted, that labelled Owens a 'racist'. He added: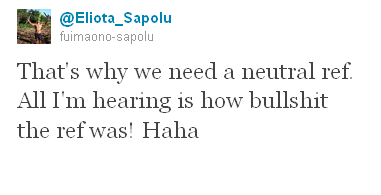 The player did state that he is now retired from international rugby and suggested that he was on a night out when the comments were made. A spokesman for the Samoan squad insisted that the tweets were made on "a personal level" and any investigation would have to be made through the IRB.
Owens, for his part, said the South Africa v Samoa clash was the hardest game he has ever had to referee, using his own personal account to make his feelings known.
What did we ever do before Twitter??