Was dropping Robbie Keane the right call?
It was a big decision and a brave one but it had little impact. What is strange is how Shane Long was deployed. The Southampton attacker was selected for his legs and ability to cause defences problems with his movement. But the Irish strategy was to go direct, use Jonathan Walters as a supply-line and hope Long could pick up scraps from flick-ons.
There was a nice move between them early in the opening period that led to Walters having a strike on goal but outside of that, there was little in the way of intelligent attacking play. The closest Long got to a goal was in the second half, when Walters won the ball in the area and Long instinctively tried to turn a quick header towards goal but Marshall saved.
©INPHO / James Crombie Long endured a frustrating night but the Irish team's strategy was to blame - not him. ©INPHO / James Crombie / James Crombie
Inevitably, given the tactics, Long was starved from having any real impact on proceedings and was replaced after 68 minutes when O'Neill decided to settle for a point and brought in Robbie Brady and Stephen Quinn.
Keane entered the fray after Maloney opened the scoring and was just another white jersey in a sea of blue ones. By that stage, the game had no pattern and it was about thumping the ball into Scottish territory and see what happened.
Ultimately, using Long instead of Keane is fine as long as you play to his strengths. Tonight, that didn't happen.
Ireland's central midfield was overpowered
With James McCarthy and Glenn Whelan missing, it was always going to be a big occasion for Jeff Hendrick in particular. But from the off, the Scottish midfield pair set the tempo and Gordon Strachan should be praised for selecting Charlie Mulgrew over Darren Fletcher. Between them, Scott Brown and Mulgrew managed 72 passes – with 66 hitting their targets. To compare, Hendrick and Whelan racked up 42 with 36 of them completed.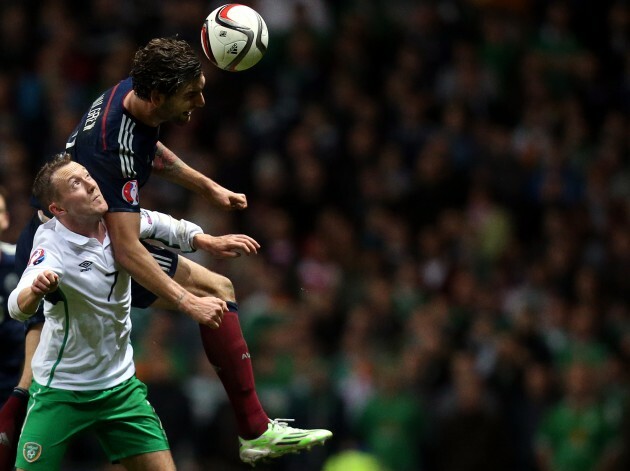 Scott Heppell / AP/Press Association Images Charlie Mulgrew was excellent, as was his central midfield partner Scott Brown and their performances gave Scotland the perfect platform. Scott Heppell / AP/Press Association Images / AP/Press Association Images
Scotland dictated things from the middle of the park – Mulgrew's range and composure was a real treat given it was such a scrappy affair. And though Brown's physicality and combative nature is well-known, he also popped up in the area at the perfect time to set Maloney up perfectly for the winner.
McCarthy's absence was keenly felt – his ability to slow things down and set the tone was sorely missed. As it was, the centre of Ireland's midfield was a frenetic zone – and Scotland had the requisite nous, awareness and intelligence to exploit that.
Scotland's setup and movement caused problems
Ahead of the game, we spoke about the attacking threat that Scotland posed – the pace of Anya and Naismith's ability to drop into dangerous pockets. And we touched on how important it was for Ireland to take the game to the Scots, push forward and engage high up the pitch to try and unsettle a lumbering central defensive duo.
But, the home side started brightly. From the opening exchanges, Scotland looked ominously good on the left side with Anya tying up Coleman, forcing him to sacrifice his usually refreshing and thrilling rampaging runs forward. The Scots doubled up and made sure the exceedingly-impressive Andrew Robertson was pushed high too, bothering McGeady and ensuring he rarely popped up in the attacking third throughout the first half.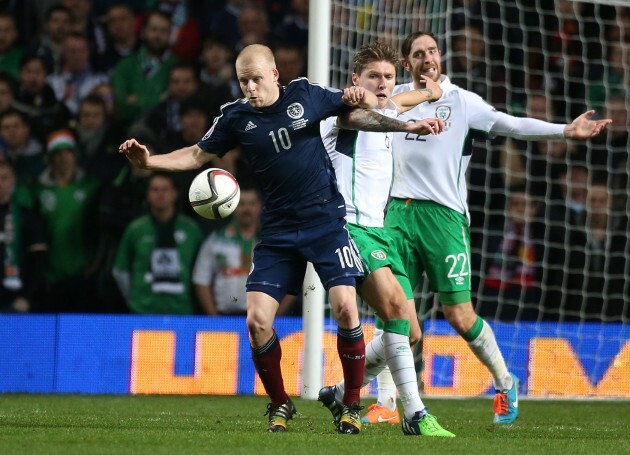 Lynne Cameron / PA Wire/Press Association Images Steven Naismith's intelligence and awareness showed the gulf between the sides tonight. Lynne Cameron / PA Wire/Press Association Images / PA Wire/Press Association Images
Straightaway, the impetus was with the hosts and they never really relinquished it. After the break, they switched focus to the opposite flank once and pushed McClean hard (while Stephen Ward went missing on a few occasions). It was little surprise that Naismith cropped up when Scotland offered anything dangerous in the final third. His intelligence and awareness, sometimes done in a subtle way (the final passages of possession when Scotland were trying to get far up the pitch as Ireland chased a last-gasp equaliser), showed up the gulf in class between both teams.
Should Grant Hanley have been sent-off?
When the centre-back unceremoniously sent Shane Long crashing to the ground after just 12 minutes of the game, many questioned whether he should've been dished a red card instead of a yellow. It was a thunderous, late challenge and Long would've raced towards goal had he not been fouled. But, it was highly optimistic to think referee Milorad Mazic would send-off a player so early on, especially considering the highly-charged nature of the clash.
Jeff Holmes / EMPICS Sport Grant Hanley was involved in two controversial moments in the first-half and many considered him lucky to have stayed on the pitch. Jeff Holmes / EMPICS Sport / EMPICS Sport
But Hanley was involved in another brush with an Irish player later in the period when he clattered into goalkeeper David Forde at a set-piece. The defender certainly raised his arm when jumping to compete in the air though the contact didn't look too malicious and certainly wasn't an elbow, as many claimed at the time. Ultimately, it would've been harsh for Hanley to be dismissed, especially given some other loose tackles that were sprinkled throughout.
How far have we come under Martin O'Neill?
There's an argument to be made that if Giovanni Trapattoni was still the Irish manager and his team delivered that kind of performance, he'd be widely criticised and abused. It was all too passive and, given the derby-like quality of the fixture, that was unexpected.
O'Neill is supposed to have instilled a belief in this Irish side but instead of playing with a fire and determination, it was all too limp and uninspiring. Sure, after the break, the Irish team pushed higher and got more players in the final third. And it had an impact – McGeady picked the ball up wide, whipped in a great cross and Walters' header flew narrowly over the bar.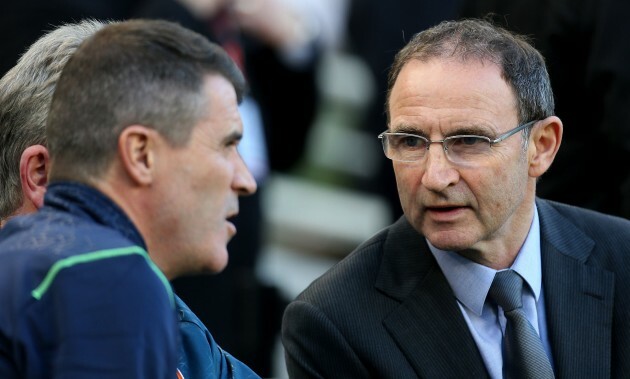 ©INPHO / Ryan Byrne There's plenty to talk about for Martin O'Neill and Roy Keane in the aftermath of tonight's defeat. ©INPHO / Ryan Byrne / Ryan Byrne
But Ireland never grabbed control of proceedings. Instead, it seemed all about survival. On occasion, they'd weather a Scottish storm and struggle on but there was never a time when they were on top.
After the positivity in the aftermath of the 1-1 draw in Germany, we're left with lots of questions again. And if tonight is anything to go by, it'll take some time for us to figure out the answers.