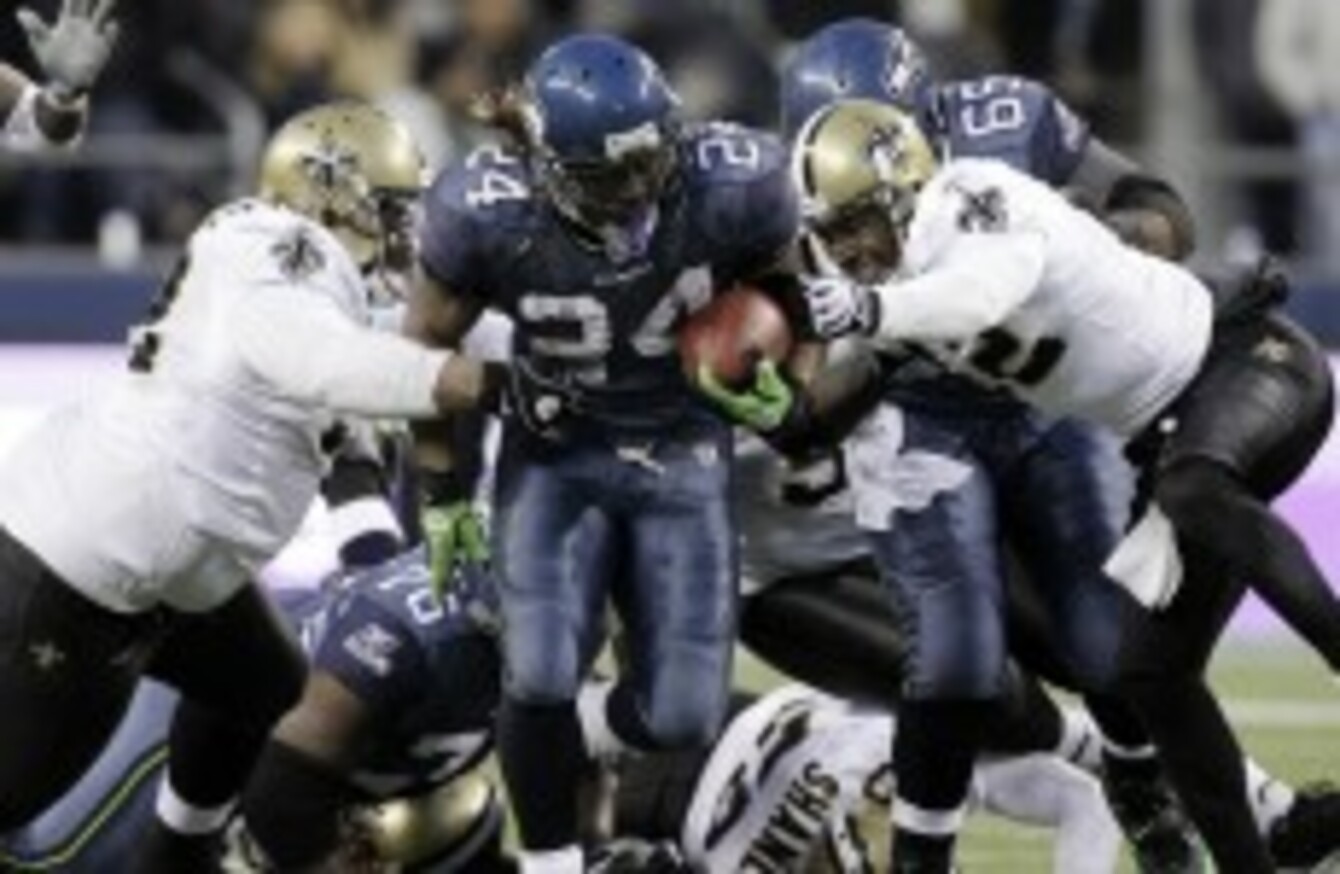 Image: Elaine Thompson/AP/Press Association Images
Image: Elaine Thompson/AP/Press Association Images
AS IF SATURDAY night's surprise victory over defending Superbowl champs the New Orleans Saints wasn't shocking enough, it now appears that the Seattle Seahawks may be responsible for a different type of shock, one of the geological variety.
As their NFC wild-card playoff wound towards a tight conclusion, running back Marshawn Lynch completed a mazy 67-yard run to score a game-clinching touchdown, sealing a 41-30 victory for the Seahawks with 3:22 left on the clock.
Lynch's run, which saw him dodge and break free of countless attempts by the Saints to drag him to the ground, understandably sent the fans at Qwest Field wild. Wild enough to cause a minor earthquake, apparently.
ESPN report the comments of John Vidale, director of the Pacific Northwest Seismic Network. Watching a fan-shot video of Lynch's touchdown, Vidale was shocked by the extent to which the spectators appeared to be shaking and decided to investigate further.
Vidale said a seismic monitoring station located about 100 yards west of the stadium registered seismic activity during Lynch's run. The shaking was most intense during a 30-second stretch about the time Lynch broke free from the line of scrimmage, finished off his touchdown and celebrated in the end zone with his teammates.

After that, Vidale said, the shaking died down, but it took about a minute for the shaking to completely fade away.
That such a phenomenon might occur in Seattle will surprise few. In the run-up to Saturday's "Battle in Seattle", the only area in which pundits and commentators felt that the Seahawks might have an advantage was in terms of loudness.
The architecture of Qwest Field, where the Seahawks play their home games, is designed in such a way that a disproportionate amount of crowd noise is reflected on to the field, making it the loudest stadium in the NFL. As a result, the Seahawks' fans are widely regarded as the team's "Twelfth Man" due to their ability to render their opponent's offensive play-calls practically inaudible.
Lynch's exploits have already been the  source of many YouTube tributes since Saturday evening, the best of which channels the only other man known to be able to dodge hazards with such dexterity. Have a look below.