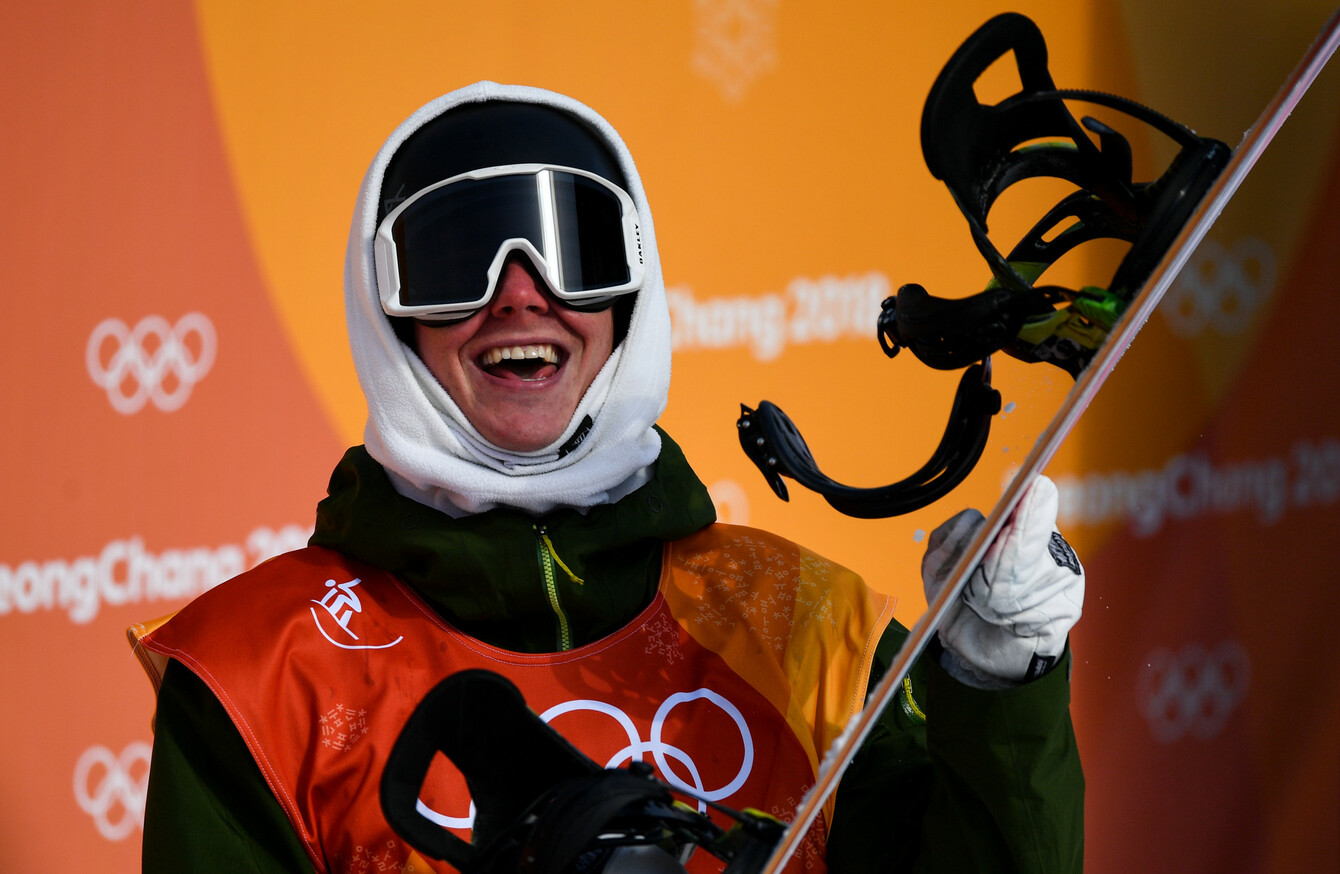 Seamus O'Connor of Ireland pictured after completing round 1 of the Halfpipe Qualifications.
Seamus O'Connor of Ireland pictured after completing round 1 of the Halfpipe Qualifications.
Updated at 10.23
THERE WAS DISAPPOINTMENT for Ireland's Seamus O'Connor at the Winter Olympics today, as he found himself within touching distance after round one but ultimately failed to secure qualification for the half-pipe final in Pyeongchang today.
At the halfway point of the competition, O'Connor was 13th, just 1.25 points off a top-12 spot, which would have been enough to reach the final.
However, a disappointing second round saw the Irish athlete fall back to 18th out of 29 competitors, as the 20-year-old slipped slightly when landing while performing his toughest trick, failing to improve on his first-round score of 65.50 in the process.
O'Connor, who was born in California but qualifies for Ireland through his paternal grandparents, previously represented the country at the 2014 Winter Olympics in Sochi and was flag bearer in the opening ceremony recently.
Four years ago, he finished 15th in the half-pipe in Sochi, in addition to placing 17th in the slopestyle event.
Despite the unfortunate outcome today, there were plenty of positives to take from the experience, particularly considering O'Connor tore all of the ligaments in his knee during a fall in competition just 16 months ago.
"Obviously I would like things to have gone a little better but I'm down here at the bottom of the pipe in one piece with a smile on my face in my second Olympics so I can't complain," he said afterwards.
"I knew I had to go for absolutely everything in that second run. Unfortunately, just on that last landing, I kind of slipped out a little bit.
It's the biggest trick of my run, a front-side 1260 which is three and a half rotations and here in PyeongChang was the first time I'd done it in over two years. It was really close but that's how snowboarding half-pipe is. You're either on it or really close but not quite there."
Meanwhile, another Irish athlete, skier Pat McMillan placed 61st overall on his Olympics debut in the Combined Downhill this morning, with a time of one minute and 25.77 seconds.
"It was great to finally get into my first race and get that under my belt. I had a fairly smooth run," he said. "I had a few line errors towards the bottom and got a little bit pushed back in my seat but otherwise it was better than my training runs and great training for my main event, which is the downhill."
The 26-year-old did not complete the second slalom as he is focusing on tomorrow's downhill.
The 42 is on Instagram! Tap the button below on your phone to follow us!