THERE WERE MANY discussions in in the wake of Ireland's disappointing Rugby World Cup quarter-final defeat to Argentina. Some made more sense than others.
Certainly, depth will always be an issue in a country of such meagre resources and while there is a stronger playing force now than ever before, some of the reserves and a couple of the more established players were exposed in the past couple of months.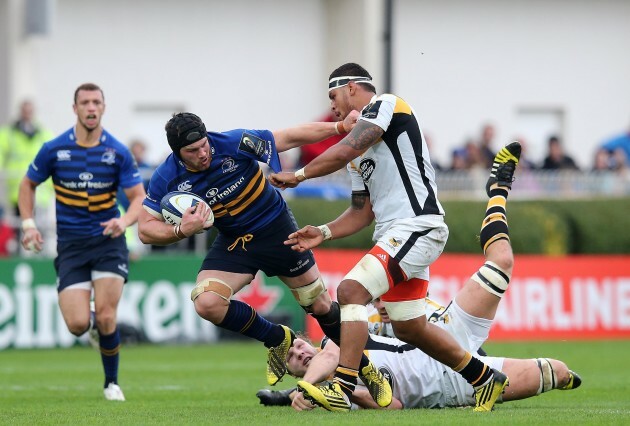 Ryan Byrne / INPHO O'Brien suffered a concussion last weekend against Wasps. Ryan Byrne / INPHO / INPHO
There is a reasonable argument to be made that too many potential players are not making it through because they haven't gone to fee-paying schools.
Many are taking this line for the wrong reason though, believing that an old boys' network will ensure progression for someone from the conventional route, rather than a product of the less traditional avenue of the club and youths scene.
This might have been the case in the past – in fact it certainly was.
The structures weren't in place to facilitate a rise along unfashionable avenues to the top. That isn't the case any longer, yet even the poster boy of that untraditional path, Sean O'Brien, maintains that players going to schools will have an advantage over those learning the game with clubs.
However, it is clear from listening to him that O'Brien isn't talking about the old biases that once held true.
The former Tullow player, who retains close links to the Co. Carlow club, simply explains that playing rugby every day – the same as if you are hurling every day with St Kieran's College – will make you a more skilful and conditioned player than getting out a couple of nights a week with the club.
For that reason, O'Brien contends that there will always be a greater proportion of players progressing to the international stage from schools than clubs.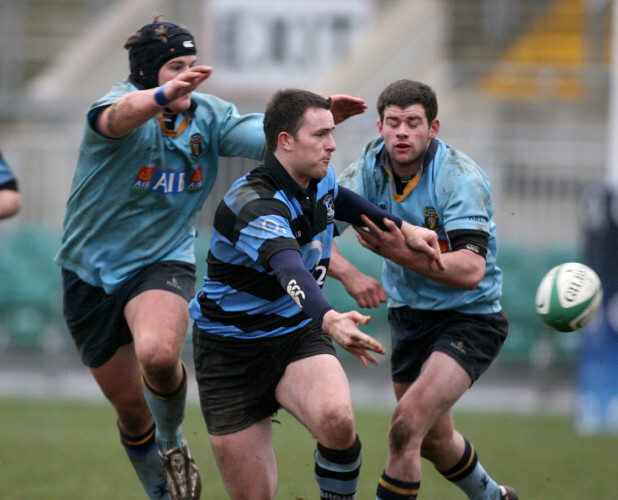 Lorraine O'Sullivan / INPHO O'Brien (left) and Fergus McFadden playing for UCD in 2007. Lorraine O'Sullivan / INPHO / INPHO
The IRFU have put a lot of resources into making rugby more accessible, he suggests, with yesterday's announcement that Peter Smyth had been appointed as manager of the Leinster academy accentuating the point.
"I think it has been looked at a lot better in the last few years and you look at the Leinster and Ireland youth squads in the last few years – and they would be the ones I am following – there is a lot more talent coming through now than before, a lot more raw talent is being spotted," says O'Brien.
"They are probably still in their development stage, they are probably not at the level where they are ready to go into the senior set-up just yet. But if you look at likes of the Connacht Youths for the last couple of years, for instance, they have been incredibly strong."
The Schools system remains the best for preparing players, he argues, because it is more professional in terms of being almost full-time. So he can't really envisage a time when the national team will be split 50-50 down the middle in terms of how they made it.
"I still think the schools are going to dominate because there is more participation, a better level of coaching," says O'Brien. "You know they are there; they are training every day whereas at youth level they are training at their clubs twice a week.
"So it is a natural thing, the more you practice the better you get at skills so I think the schools are going to have a bigger part to play. But the raw talent from the youth side of it (is there and) things are being looked at a bit more."
Certainly in his own experience, the step up from club rugby in the provincial leagues to playing with UCD was significant.
Exclusive Six
Nations Analysis
Get Murray Kinsella's exclusive analysis of Ireland's Six Nations campaign this spring
Become a Member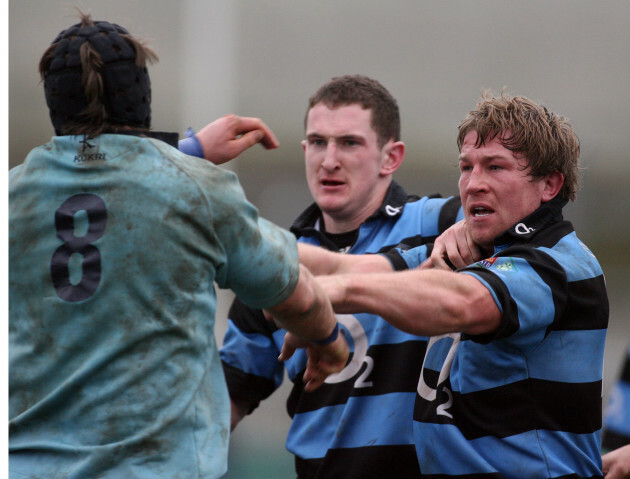 Lorraine O'Sullivan / INPHO O'Brien squares up to Jerry Flannery in 2007. Lorraine O'Sullivan / INPHO / INPHO
"In terms of even my fitness levels, coming up from training twice a week from the club is completely different from training every day with a school.
"It took me a pre-season to get up to their level as such, but you do catch up and adapt pretty quickly if you want to work hard, but there's always a transition. You see it with the Youths coming into the academies and sub-academies; you'll see them improving and gradually getting better and better in all of those aspects."
He agrees that merging the schools and youth teams at international level might help expose players coming through the clubs to a higher level earlier in their development and would certainly have helped him.
"When I was there – it's a long time ago now – but I saw that, I saw lads were better at passing off their bad side than I was and they were fitter and stronger at that stage.
"It's a good realisation for people coming through the system when the two do mix that 'This is where I've to get to, this is what I'm not good at, this is what I'm good at' and developing yourself as best you can."
Sean O'Brien, who is himself a beef farmer, was speaking at a press conference to mark Supermac's commitment to Irish farmers to an excess of €20m, increased in part due to the fresh 5oz 100% Irish Beef Burger, the first fresh meat burger available in a quick service food chain in Ireland.