Updated at 17.00
HE WILL ALWAYS be remembered as the man who scored Ireland's only goal at Euro 2012.
But at just 32, Sean St Ledger admits that most people think he has retired from football.
A serious knee injury means the defender hasn't featured in a competitive match since October 2015, when he lined out alongside international team-mate Kevin Doyle in the MLS for Colorado Rapids.
The former Preston North End and Leicester City man had opted to move Stateside two years ago after a brief spell at Ipswich Town didn't work out.
He joined Orlando City and played in the same team as Brazilian star Kaka before being released by the club five months later for "a serious breach of club policy".
St Ledger was offered the chance to remain in the US with the Rapids and became a regular starter until he required surgery on his knee. There were several complications and, released at the end of the 2015 campaign, he has been trying to work his way back to full fitness as a free agent ever since.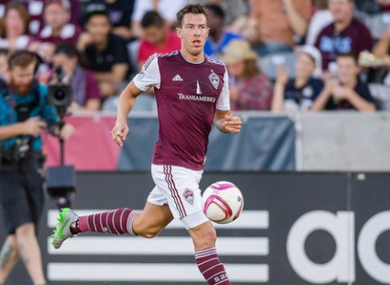 Twitter / Colorado Rapids Lining out for Colorado Rapids. Twitter / Colorado Rapids / Colorado Rapids
"Basically what happened was I was in Colorado and my knee kept swelling up so we decided to have surgery," St Ledger explains.
"On an MRS scan, [the problem] came up on the lateral side of my knee that I'd had surgery on before. So I had the operation and they said I had a little tear on my meniscus and loads of debris floating around. So that was that, it was a pretty normal procedure and nothing major.
"I tried to come back and train but my knee was just blowing up. It was hurting when I kicked a ball. So I went back to the surgeon and he said there's nothing much else we can do surgically. He told me I hadn't got that much meniscus left in my knee and the surfaces were a bit rough.
"He said there was not much else they could do unless I wanted a meniscus transplant, which puts you out for a year and also gives you a 20% chance of playing again."
The other option that was suggested to St Ledger? Pay world-renowned German doctor Hans-Wilhelm Müller-Wohlfahrt a visit.
"I went to Müller-Wohlfahrt in October time and he has a guy there who gave me a rehab programme," he says. "He just did a simple test where I tried to jump over a hurdle with my right leg and I wasn't able to do it.
"He said 'well, if you can't do that, how do you expect to run?' So he stripped me down from the beginning and, yeah, I've been jumping over hurdles a lot."
Understandably, it's been a testing time for the man from Solihull in the West Midlands of England. Without a club and having to pay for the treatment out of his own pocket, St Ledger admits that he has considered the idea of just calling it a day.
I did think about it because the surgeon also told me that later on in life I'm probably going to need a knee replacement. I thought about it but then I miss football so much.
"I decided to go to Müller-Wohlfahrt and see what happens. I just need to do everything I can really to give it one last go."
Six months have passed since he began the rehab programme and it will soon come to an end. In order to keep busy and stay in the game, St Ledger has been recently doing some scouting for Leicester City and he also took his Uefa B Licence coaching badge with the help of the FAI.
"They [the FAI] and [coach educator] Tom O'Connor have been brilliant," he says. "I've just seen it from another side. I always used to think coaching was easy, but now 15-year-old kids make me nervous! It's been strange but really good.
"Because of the injury I know I've not got that long left. It's not as if I'll play until I'm 40 so I need to start thinking about what's going to happen after football. I've done my coaching badges. Whether I want to go into professional coaching or soccer schools, I don't know.
"But I just wanted to get something done. Like I said, football has been my life. It's difficult to go away from that. It's probably a natural thing to go into coaching."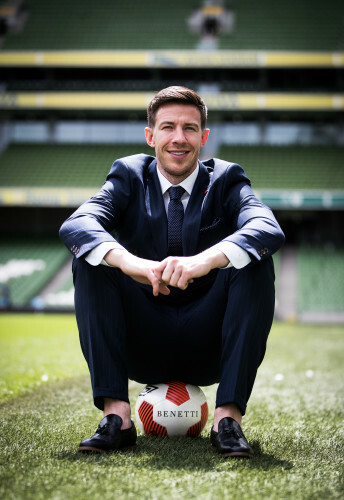 Bryan Keane / INPHO St Ledger launching the FAI's partnership with Benetti at the Aviva Stadium yesterday. Bryan Keane / INPHO / INPHO
If all goes according to plan, the aim now is to find a club for the start of pre-season in July and have one final bash at it.
Given his time on the sidelines, however, that is likely to mean going on trial and St Ledger is unsure what level it will be at. Before he left Sligo Rovers, Dave Robertson expressed interest in the centre-half and he would be open to a spell in the League of Ireland.
"Listen, I'm 32 and I've been in America so everyone I see, it's like 'oh, are you retired?'. And I'm like 'not officially, no'. So, yeah, I want to see how it goes and then at least I can say I've done everything I can to try and play football again.
I'd just be thankful to play again, to be honest. It's been quite tough mentally. I've missed it so much and it's been such a good career, fantastic, and you don't want it to ever come to an end. And I've felt like it is. So if I can play somewhere, I just want to enjoy it again."
Handed his international debut by Giovanni Trapattoni in May 2009, St Ledger went on make 37 appearances and started all three games at Euro 2012 — scoring a header in the defeat to Croatia.
He earned the last of those Ireland caps in a friendly against Poland back in November 2013, which was also Martin O'Neill's second game in charge.
You'd have to imagine that the chances of him donning the green shirt again are slim to none, but he was consistently a solid performer for the Boys in Green and enjoyed several highlights at the Aviva Stadium.
"This has probably given me the best moments of my career, without a shadow of a doubt," he says, standing on the pitch at Lansdowne Road. "I'd give up everything to be able to walk out in this stadium."
Sean St Ledger was at the Aviva Stadium yesterday to launch the FAI's partnership with Irish menswear brand Benetti as the official tailor 
The42 is on Instagram! Tap the button below on your phone to follow us!