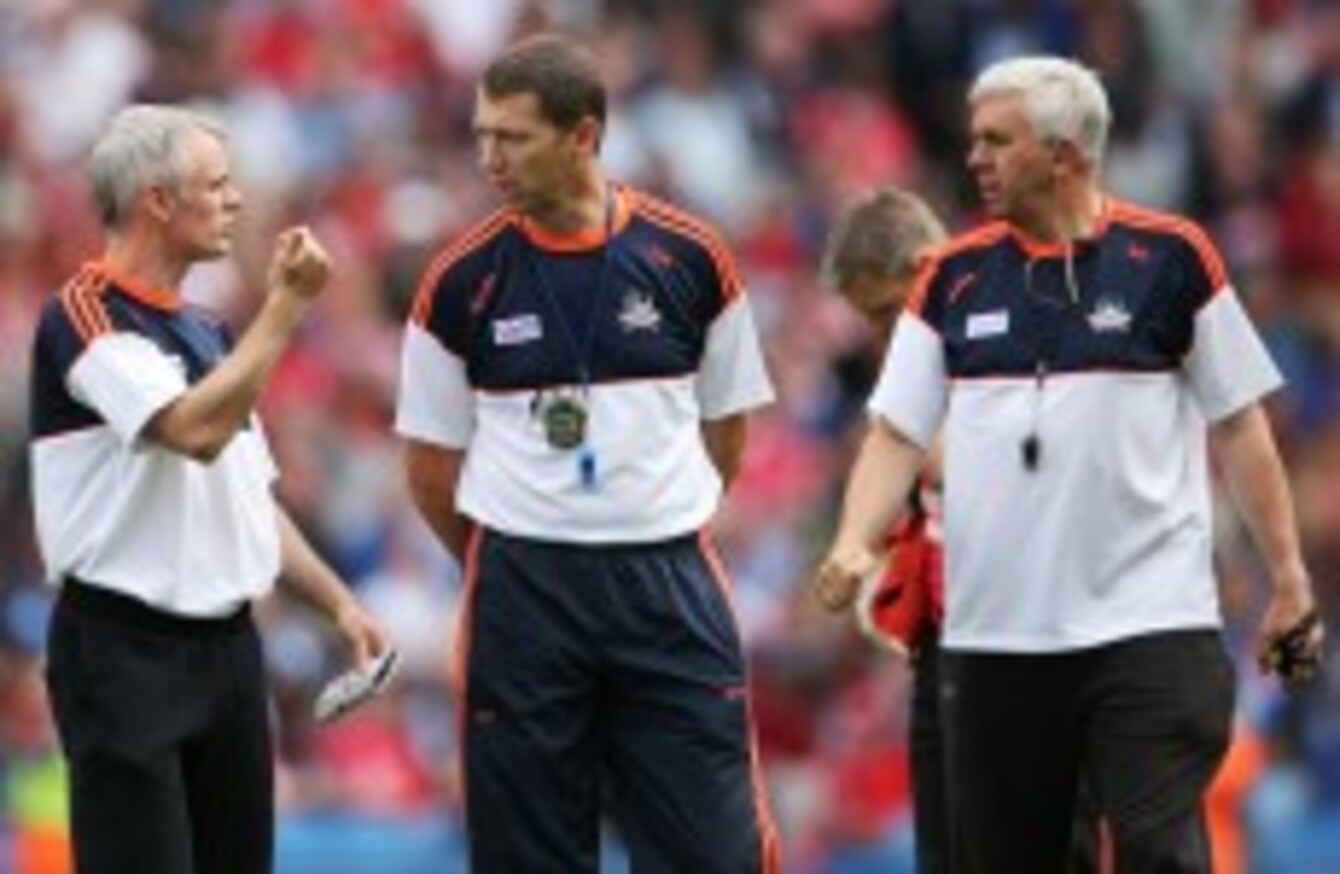 Selector Seanie McGrath, trainer David Matthews and selector Ger Cunningham.
Image: INPHO/Cathal Noonan
Selector Seanie McGrath, trainer David Matthews and selector Ger Cunningham.
Image: INPHO/Cathal Noonan
CORK SELECTOR Seanie McGrath has rubbished rumours that they considered drafting in football stars Aidan Walsh and Ciaran Sheehan to face Clare.
It was reported in the run up to the All-Ireland hurling final replay that the duo, both talented hurlers, were training with Jimmy Barry-Murphy's panel.
McGrath claimed there was no truth to the speculation but admitted he would love the pair to sign up for the whole of the 2014 season.
Walsh and Sheehan stuck to football this year but with a new football manager yet to be appointed, it remains to be seen what their future plans are.
"No, there was never anything in that," said McGrath. "At the end of the day it has to come from the lads. They didn't come in at all. We had a couple of games ourselves, an A versus B game last Monday week and they weren't in for that.
"But look, if they want to get involved, we'd be more than delighted, the door is always open. In Cork, the dual thing is a huge thing. But I mean they're physical, they're strong, it would be a fantastic tonic for us if they did come in. But as regards this year, no, they had no involvement."
Barry-Murphy, McGrath and the rest of the management team will remain in place for 2014 to see out the last of a three-year term.
McGrath admitted that they do need to uncover new talent to push on and launch an even stronger challenge for the MacCarthy Cup next year.
"Look, we'll scour the county," continued McGrath. "We know we have a couple of positions to shore up. We have to find a few players. We have to be critical of ourselves and we'll do everything we can in the next few weeks to get a hold of them."
McGrath defended full-back Shane O'Neill who endured such difficulties, particularly in the first-half, on Clare's prodigious full-forward Shane O'Donnell.
"To be honest, I don't think anybody could have expected the young fella to get 3-3," said McGrath. "And Shane O'Neill is, for me, one of the top defenders in the game at the moment. The damage was done out the field where we weren't curtailing them. They put great ball in.
"It was the same in the drawn game when the delivery into the full-forward line was superb. Any decent corner-forward with that kind of ball in is going to do damage."