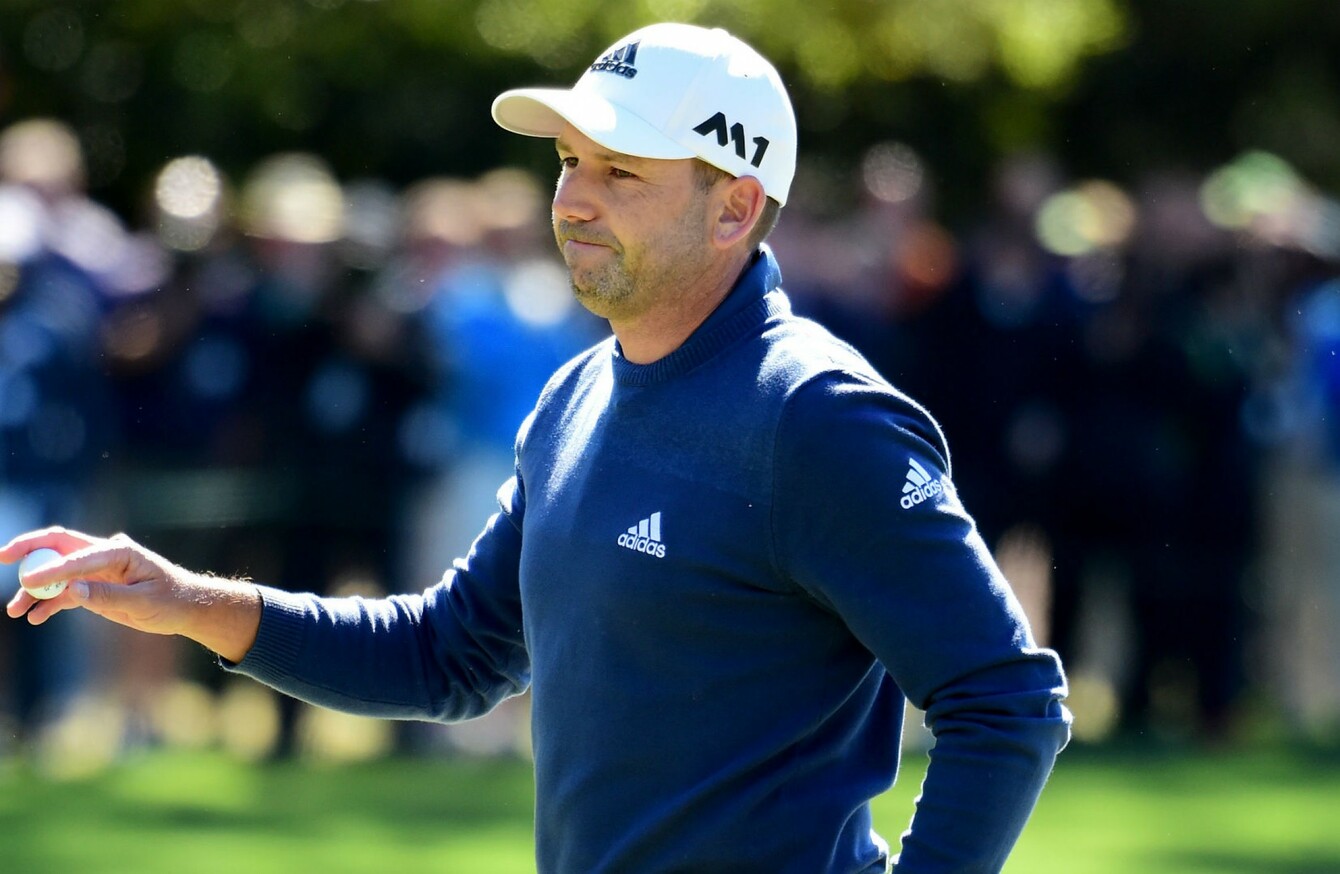 Sergio Garcia at the Masters.
Sergio Garcia at the Masters.
THIS SUNDAY WOULD have marked the legendary Seve Ballesteros' 60th birthday.
So how fitting it would be to see his compatriot and perennial nearly man Sergio Garcia win the Masters, one of the tournaments with which his great idol was so synonymous.
Garcia is certainly firmly in the running to pull on a green jacket on Sunday, after a well-constructed second-round 69 left him in a four-way tie for the lead at four under with Charley Hoffman, Rickie Fowler and Thomas Pieters.
And the sense of opportunity is not lost on the Spaniard.
Speaking of Ballesteros, Garcia said: "He was so charismatic in the way he played. I'm going to try to keep being myself and see if I can make him proud.
"He was one of my idols, so hopefully I can get at least close to what he achieved."
However, there is an unsettling sense of deja vu in the air. We have been here before with Garcia.
Cast your minds back to 1999 and that brilliant duel between golf's young thoroughbreds Garcia and Tiger Woods at the US PGA Championship at Medinah.
It was Woods that came out on top on that occasion, but it seemed unthinkable that 18 years later Garcia would still be seeking a first major win.
The heartbreaks and near misses have racked up over the years; Garcia has posted 22 top-10 finishes in majors without getting over the line.
Perhaps the most memorable close call came at The Open at Carnoustie in 2007. Garcia led after the first three rounds and by four strokes on the final day only to lose a play-off to Padraig Harrington.
A year later and there was another collapse, this time at the PGA, as Harrington once again capitalised.
Augusta, a venue of which Garcia has been openly critical in the past, has also provided pain. An average third-round score of almost 75 is one reason a green jacket has never been placed on his shoulders.
Indeed, it was a third-round 75 in 2012 that led him to declare he was not capable of winning one of golf's biggest prizes.
"I don't have the capacity to win a major," he stated. "It's the reality. I'm not good enough and now I know it. I tried for 13 years, thinking I can win. I don't know what happens to me."
Garcia later stated that he regretted making the claim, but if offered an insight into his psyche.
Plenty of fine players have failed to win a major. Colin Montgomerie and Lee Westwood immediately spring to mind, and the latter is the only man to have played more majors without winning than Garcia.
Rarely, though, has a player been so openly negative over his own major chances and it only added weight to the argument that Garcia does not have the mental attributes to get the job done.
There are technical questions, as well. From tee to green, there are few players more gifted, but with the flat stick in hand Garcia has often been found wanting.
In that regard, there were positive signs on Friday. A 20-footer at the third completed a birdie-birdie-birdie start, the first time he has achieved such a feat at Augusta.
The frailties were still there, though. A stunning approach at the last left a presentable opportunity for birdie. It was the kind of putts that champions make. Garcia missed.
Garcia's talent remains blindingly obvious, epitomised by a stunning shot out of the bunker from a plugged lie at the 12th.
Even a 'scoreboard error' at the 10th, which saw Garcia briefly credited with a triple-bogey seven when he had in fact made five, failed to derail his round.
"The most important thing is I knew where I stood," he said. "I knew I wasn't one under for the tournament, I knew I was three."
It might, and it is important to stress might, be a sign that the tide is turning in Garcia's favour.
There is no doubt many would be delighted to see the 37-year-old in a green jacket. Perhaps this is Garcia's time to make Seve proud.