IRELAND CAPTAIN JOHNNY Sexton said it's "the stuff of dreams" to have a chance to win the Grand Slam on home soil against England next weekend.
Andy Farrell's Ireland side set up their tilt at history next Saturday in Dublin by beating Scotland 22-7 in Edinburgh despite losing five key players to injury.
The Irish resilience shone through in a three-try win that featured an excellent final 30 minutes. While the injuries to Garry Ringrose, Dan Sheehan, Rónan Kelleher, Caelan Doris, and Iain Henderson are a big concern, Ireland are one win from the Grand Slam.
They will take on an England side that was obliterated by France in Twickenham yesterday and Sexton is excited about the prospect of leading Ireland to their fourth-ever Slam.
"It would be the stuff of dreams really," said Sexton, "what you grow up wanting to do.
"I don't know why you grow up wanting to be the captain of Ireland, maybe because the players you admire the most were captains but to do it would be dream come true stuff."
"It's a great group of lads so leading them is very special. So who wouldn't be? Who wouldn't be proud? Even just playing for Ireland to win a Grand Slam would be something.
"It's going to be a big week, there's going to be plenty of hype, there's going to be lots of distractions, tickets and family and all that and we need to really get down to business and get a big performance because these guys are going to be really tough to play against.
"They're going to be hurting from yesterday, they're going to be wanting to show what playing for England means to them and they're a good team, a better team than they showed yesterday. So it's going to be a really tough game."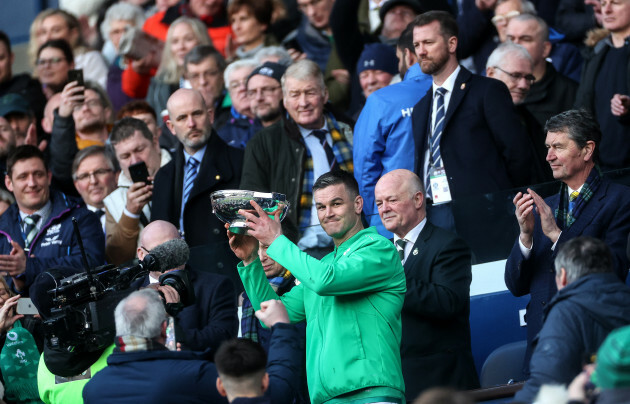 James Crombie / INPHO Sexton lifts the Century Quaich trophy. James Crombie / INPHO / INPHO
It will be a huge week for the Sexton family, given that Johnny's brother, Mark, is an assistant coach for the Ireland U20s, who can also claim a Grand Slam next Sunday against England in Cork.
"We actually beat them in the Aviva couple of weeks ago, so wouldn't be a true Grand Slam for them!" joked Johnny, alluding to Ireland's recent training session against the U20s.
"They've got some really impressive players and Mark is doing a great job. I'm very proud of him."
Sexton's seven points for Ireland today mean he is now level with Ronan O'Gara's record of 557 Six Nations points.
"ROG will be trying to pay me off to retire now," said Sexton with a laugh.
"It's obviously a nice thing, hopefully I can get back on the pitch next week. It's all about winning. These other things come along but they are not at the forefront of my mind."
Sexton also took pride in Ireland's adversity at Murrayfield. They could have collapsed after the incredible spate of injuries, but instead they went to another level to overcome the Scots.
The Ireland skipper credited their coaching team. 
"When you've got coaches like Andy and Paulie [O'Connell] talking to you all week, you can't but be motivated," said Sexton.
"We know what we want to achieve in this competition, we're motivated for it and we just had to dig in.
"And we spoke about it last night, that there'd be times we'd have to dig in. We did, there was plenty that went wrong and they threw everything at us. In fairness, they're a good side, big, strong, quick, they throw the ball around.
"They made life really tough for us, but we got hold of it and had a good second-half performance."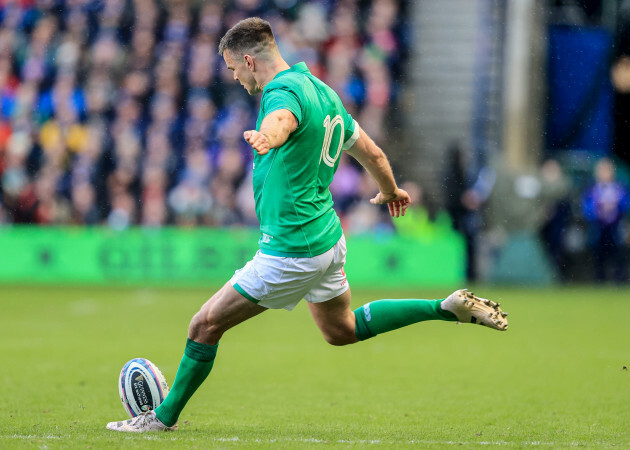 Dan Sheridan / INPHO Sexton equalled O'Gara's record of Six Nations points. Dan Sheridan / INPHO / INPHO
Sexton said Ireland's work in framing previous games as 'finals' will be crucial as they now look to take the last step.
"We've built it over the last three years and it's nice for it to come to fruition today I think," he said.
"So look, a very special day but ultimately it's a semi-final and the big one is next week.
"For so long, you play in a lot of finals, you win some you lose some, with different groups.
"We played a final in New Zealand, we played a final last year in terms of trying to win a Triple Crown against Scotland, we've created finals for ourselves over the last number of years so it will be no different. We are used to playing in them."