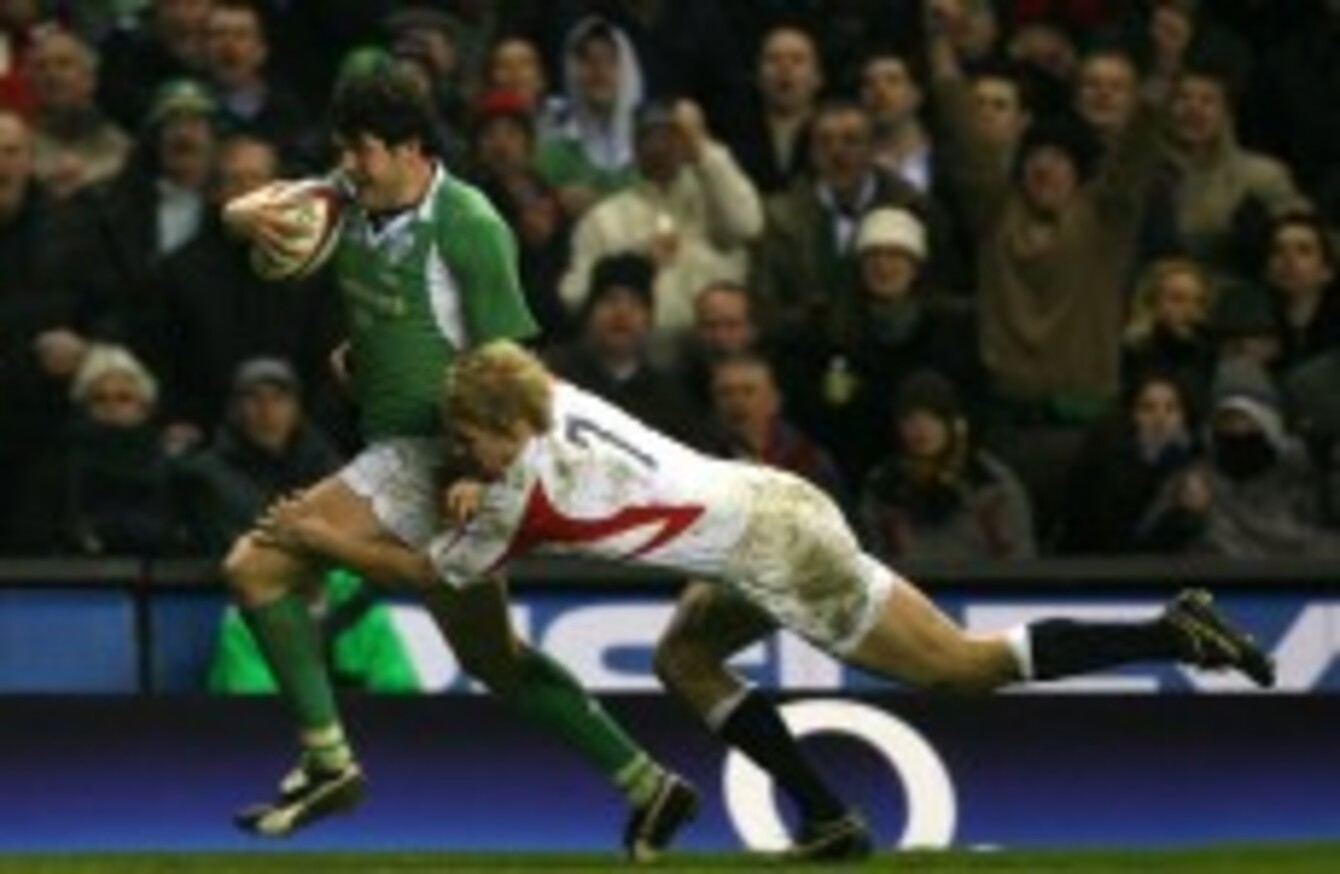 Horgan broke English hearts in Twickenham in 2006.
Image: ©INPHO/Billy Stickland
Horgan broke English hearts in Twickenham in 2006.
Image: ©INPHO/Billy Stickland
SHANE HORGAN HAS many fond memories of playing against England for Ireland, but now the 35-year-old is a little more removed from the action in his role as an analyst for RTÉ. 
His television work has demonstrated that Horgan has a sharp technical and tactical rugby mind, as well as an ability to articulate his thoughts well. Here, the former Ireland and Leinster wing gives us some insight into what we might see this evening at Twickenham.
Clearly, the much discussed line-out and maul will have major roles to play in this game, so the focus in this piece is on other areas.
Ireland can use their backs to break the line
"I think with that 10, 12 and 13 for England, Ireland will reckon they can sit them down; I reckon they'll sit them down from a first phase starter play. I think we haven't seen it a lot since Joe took over, but traditionally Irish teams go after the opposition on first phase.
You've got eight forwards at the line-out or scrum and it means more space. Traditionally we went after teams and looked to break them down there, and not a lot of teams in the world really do that.
"I think Ireland will recognise that they can sit down those three English inside backs and go for a proper line-break off first phase. Look at Luther Burrell, with Drico playing 13. If he [O'Driscoll] comes on a short line, Burrell is going to stop and sit down for Drico.
"These guys grew up with Brian as a hero and they're dazzled by the personality as much as the skill now. The first couple of balls, I think Burrell is going to sit where Drico is and then the break comes a little bit wider."
England will be direct in attack
"They're really strong and they do play to their strengths. That's the overall game plan and this is the way Lancaster is smart, because they don't try to do things that they can't do. If you get players that know their limitations and just do what they do really well, it's hard to stop.
"If you know something is coming, it doesn't necessarily mean it's easy to stop. When England do things effectively, they're very difficult to stop. I don't think that their centres move the ball very well and if you look at Twelvetrees, who's supposed to be a bit of a playmaker, he doesn't put any pace on the ball when he takes it; no pace on the ball! That's massively dangerous.
I know the likes of Gordon D'Arcy and O'Driscoll are unbelievable defenders, they'll never commit to him because he doesn't put any pace on the ball, he doesn't commit the inside shoulder. The ball is just shifted out to the next channel and that will effectively mean there'll be no overlap.
"I don't think England will pass a huge amount of ball. Ireland will have to make a lot of tackles; Sexton, D'Arcy, O'Driscoll and Henry will have to make a lot of tackles.
Be part
of the team
Access exclusive podcasts, interviews and analysis with a monthly or annual membership.
Become a Member
Ireland are likely to kick the ball often again
"It depends on the weather for starters. What we saw from Joe was real pragmatism in the way Ireland played against Wales. The way they defend, they give you areas of the field to kick into and it's almost against your natural urges to take that option, to take that space. It's cheaply given and it also appears easy to take.
"What happens is that because you want to play rugby, you don't take that space and you start moving the ball. Because they give you that space, their defensive line is very full and, generally, you get knocked down behind the gainline. What was brilliant against Wales was that Ireland just kept doing the right thing.
"Against England, I think it will be vitally important to do that again. It may be monotonous and boring, but if it's the right thing to do, you have to keep doing it again and again and again. If they keep showing that defensive pattern, you have to do it again. That takes a strong character and a mental strength to do that.
"But also you have to find out what the key to crack this defence is. I think the cross-kick and the little chip over the top are both areas that could be exploited, because England have a very good defensive wall.
"They get very straight off the line, but the last man can get very flat and there's an edge there. It may always be that chip over the top, which is a high-risk play. More likely the cross-field kick, that's not as high-risk a play."
It's all about finding the space
"Joe is a pragmatist, he's a winning coach. He recognises that the players have to have the skillset to play what is presented before them. He also wants players who can read what's in front of them.
If you're in the 22 and the opposition have dropped three men back, the second last defender in the line isn't really interested and it's on to go, if you do not take that option, he'll say that is a mistake.
"It's not just good enough that we kicked the ball out and got 30 metres, then it's their line-out and everyone's clapping. He'll say, 'That's the wrong decision, it's poor.' I think that's really important for him, that whatever the decision to play the game is, that you have the skillset to react in other ways.
"If England sit players in the backfield, then the skillset is good enough to be free-flowing and get the ball to the space efficiently. He's not a coach who says 'This is the only way to play rugby.' Pragmatism is more what I feel is his maxim."
Shane Horgan is an ambassador for the Guinness Plus App, which is giving fans the chance to fly three mates from anywhere in the world for 'An Epic Reunion' at Stade de France! You can download the app for iPhone and Android Smartphones from the iTunes App Store and Google Play Store now.