MONAGHAN CAPTAIN Sharon Courtney says losing a TG4 Ulster semi-final to Donegal was a valuable dose of reality heading into today's huge round-robin clash with Armagh.
In the only all-Ulster tie at this stage of the revamped TG4 Ladies senior football championship, both sides are looking to bounce back from provincial defeats to Donegal, when they meet in a live TV offering at St Tiernach's Park in Clones (12.30pm).
Armagh came unstuck in the Ulster final while Monaghan suffered a 3-17 to 1-9 reversal by Donegal in the previous round.
The Donaghmoyne defender and three-time All Star winner says the experience of losing so heavily to a close rival could propel Monaghan forward.
"You set out your stall early and you think you're going somewhere and then maybe that Donegal match for us showed we were not where we thought we were," said Courtney.
"It was a blessing in disguise for us in that we went and got hammered and then we had a look at ourselves to see what we have been doing up to now.
"We changed a few things since and maybe there was a blessing in disguise that allowed us to go away and maybe do something different. Look, time will tell, Saturday will tell us where we're at now.
"We went into the Donegal game probably not having played in a long time and we struggled to get a few challenge matches in so we did not where we were at. And then when we played we weren't just ready for what they hit us with.
"Donegal are really good outfit but we just didn't play to our potential. The panel has changed and our team is changing at the minute and we had a couple of debutantes and their eyes were opened and they were a bit shell-shocked."
Monaghan haven't won an All-Ireland since 1997 and with Cork completing Group 2, it's crucial a victory is secured against Armagh.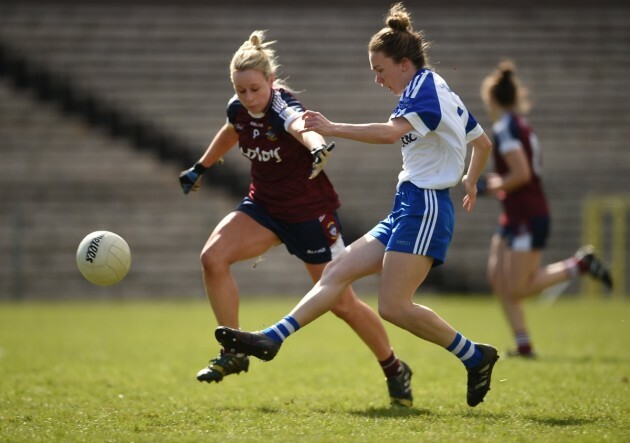 Armagh game today will be key for the Farney.
Two teams from each pool will go forward to the quarter-finals, so there is huge importance placed on winning game one.
"It will be tough. We played Armagh recently and right down through the years. "Last year we played them in the Lidl National League relegation match and thankfully we came out from the right end of that," said Courtney.
"We played each other twice last year in the League. I can imagine there won't be a whole pile between us, but Donegal beat us and Donegal beat them, so we are both wounded animals at the minute. It will be interesting but I think we will have enough to come out the right side of it.
"On any given day we can beat anybody. I would have absolutely no problem facing Donegal down the line. Essentially if you want to be at the top table come September you are going to have to beat the top teams and I wouldn't fear Donegal, like I wouldn't fear Cork who are also in our group.
"When we are good we are good, but we probably haven't been consistently good in the recent past."
The42 is on Instagram! Tap the button below on your phone to follow us!